The choice of Düsseldorf was no accident. For sure it's just over the border from France and the Tour de France likes its foreign starts, think of Yorkshire, Rotterdam and London in recent years. These foreign starts pay handsomely for the privilege and Düsseldorf paid close to €5 million. Look at this is an investment by Tour de France and the sport in general in the future of cycling in Germany, Europe's biggest consumer market but a barren land for pro cycling.
Germany is Europe's largest country when measured by population, wealth and, increasingly, political clout. Only for years it's been outside of the pro cycling circuit when measured by the calendar and race days in German, the supply of sponsors and pro teams or the crucial television audiences. For such a nakedly commercial sport where races are supposed to make money, generate publicity and teams are named after consumer brands, being absent from Germany is a commercial headache. How can the sport talk about globalisation if it can't even reach Germany? Why would a multinational sponsor invest in a pan-European marketing campaign that misses out Europe's most populous and wealthiest nation?
Sprechen sie Radsport?
It's a long term problem that the sport is trying to resolve today. Over the last century Germany produced few top cyclists, there was Rudi Altig who won the Vuelta, the Tour of Flanders, Milan-Sanremo and wore the yellow jersey among the highlights but he was an exception because the sport never took off in Germany like it did elsewhere. Another way to look at this is language, to follow the sport is to speak of bidons and the gruppetto, where meta is something you reach rather than abstract, cola del pelotón is place not a drink and we read of Flandriens doing the dubbleslag. But German? Not in the peloton, there's no cultural crossover and instead Germany is a linguistic island with words like Zeitfahren, gelbe Trikot and Tigersprung that have never travelled beyond the Rhine; there is Radler, the beer-lemonade mix but that's not a sporting term.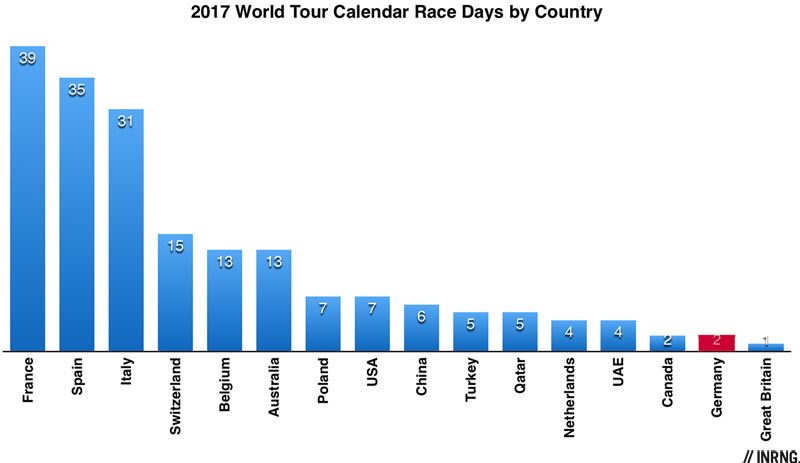 Meanwhile what have Austria, Belgium, Czech Republic, Denmark, France, Luxembourg, the Netherlands, Poland and Switzerland all got in common? A border with Germany wins you one point. Three points if you knew they all have a national tour, a race that lasts several days and purports to cover the whole country. Only inside this circle of nations Germany doesn't have a home race. On the World Tour calendar this year there are only two days of racing in Germany, the Rund um den Finanzplatz Eschborn-Frankfurt and the Cyclassics Hamburg. Outside of the World Tour? Just three one day races, the Rund um Köln, the Rad am Ring and the Sparkassen Münsterland Giro.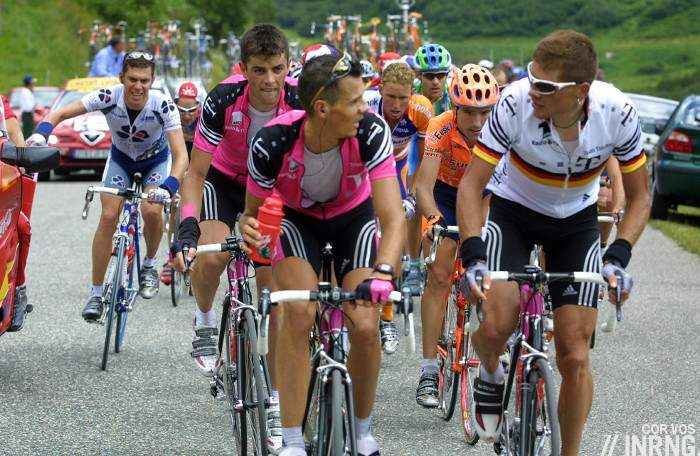 It wasn't always this way. There used to be a Deutschland Tour, it started in 1911 and lasted one year, returned in 1927 and endured constant interruptions until 1999 when the race managed to string together 10 editions before vanishing again after 2008. 1999 happened because Germany became infatuated with Jan Ullrich, the pure product of the East German Sportschule system marrying West German Kapitalismus with the Telekom team, sponsored by Germany's freshly privatized national telecoms carrier. After serving an apprenticeship while Bjarne Riis won the 1996 Tour de France, Ullrich won in 1997 and, perhaps conditioned by years of Miguel Indurain, the consensus was that Ullrich was going to win again and again. Only it never happened, he came up against his own demons plus Lance Armstrong but this didn't stop him from being a serious contender every year and enjoying celebrity status in Germany that rivalled other stars like Boris Becker, Stefi Graf or Michael Schumacher. The audiences ballooned, in turn attracting further sponsorship with the Milram and Gerolsteiner teams in the Pro Tour. Only as quickly as the public warmed to him they cooled faster in the wake of Operation Puerto scandal and the shutters fell down on Germany cycling, or at least pro cycling.
Only the sport has been flourishing elsewhere, arguably everywhere else, in Germany except for the men's World Tour. For all the astonishing boom in Britain, measured by proxy in the rise in British Cycling Membership to 125,000, the Bund Deutscher Radfahrer has more members making it Europe's largest federation. For a country where cycle sport is supposed to be in the doldrums there's a tailwind behind popular Jedermann rides, literally "Everyone" or "Anybody" and the German label for cyclosportive or gran fondo rides.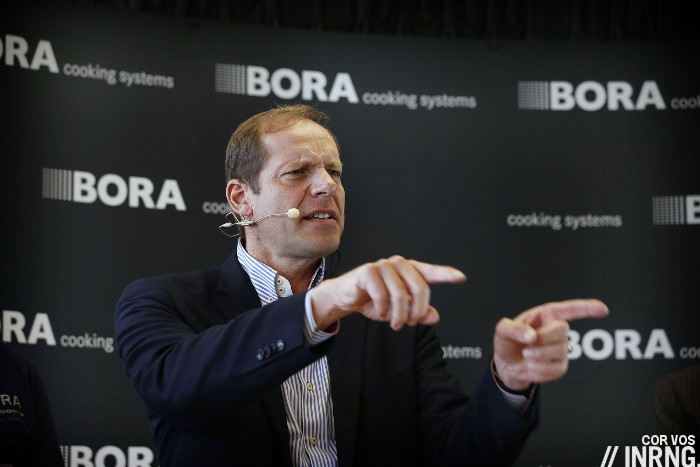 Now a handful of sponsors are getting on board again. There's Bora and Hansgrohe, two German manufacturers behind their eponymous team which joined the World Tour after encouragement with some helpful wildcard invitations, Christian Prudhomme even attending their team presentation when he didn't visit the likes of Caja Rural or Direct Energie. Specialized acted as a marriage broker, putting Peter Sagan together with this once modest outfit. Alpecin, the shampoo brand was launched into the pro peloton at the French embassy in Berlin in 2015 and switched teams to Katusha but stay in the sport. Sunweb ride under a German flag but it's a little ersatz: a core Dutch management, a core Dutch roster and a Dutch sponsor in Sunweb, a brand belonging to Dutch-Swiss group Sundio but they ride under a German flag, presumably to help tap into the German market.
TV is back too. In the wake of repeated doping scandals Germany's ARD channel dropped the Tour de France. A moral stance? Maybe but business too, the audience had fallen so it made sense to cut the cost of touring France for a month. Now they're back, helped by a deal from ASO that saw them purchase the broadcast rights for Germany for a bargain €5 million, one third of the going rate during the Ullrich-mania. John Degenkolb and Marcel Kittel helped too. On a winter's day ARD visited Kittel discuss the state of the sport over a coffee and what was supposed to be a quick meeting turned into five hours. The broadcasters left reassured and impressed by Kittel. The UCI had long meetings with ARD too to convince them. It's still a cautious return by TV and there's a get-out clause in case of a doping scandal. But it's crucial to filling the hole so that sponsors interested in backing a pro team or the Tour de France itself know their brand will reach German households.
Finally the missing piece of the jigsaw returns with the new Deutschland Tour for 2018, labelled Deutschland. Deine Tour or "Germany. Your Tour", a joint project between ASO, sports marketing agency AEG as well as the German federation and based on a festival concept, a pro race but with open events for the public to take part in too.
Summary
The Tour began with a time trial in Düsseldorf but think of this as prologue for the sport's race to reach into Germany. It's not that the sport is back in Germany, arguably it never really got going and the Ullrich-Telekom years were merely a brief bubble that burst. However the wreckage left behind is taking time to clean up, there's been a lot of work from riders, teams, sponsors race organisers and the UCI, all conscious that Germany is too big a market to ignore, the missing piece of a marketing jigsaw puzzle. But underpinned by good participation and varied geography there's plenty of room for decent pro racing to grow and this time the foundations seem stronger.