After a look at the written rules time to explore the issue of the unwritten rules, the code of the peloton. It sounds vague, mysterious even but it's merely part the glue that holds society together, a set of etiquette and customs that help a group to function.
Apologies if you expected a list like yesterday's highlights of the UCI rulebook. It'd be a thankless task because there's a good reason these things aren't typed up, they're often contextual and circumstantial. To illustrate this let's imagine a hypothetical scenario of a crash:
Hard luck and there's no implicit obligation for the peloton to stop or slow
But what if lots of riders went down?
But what if it was through no fault of their own, perhaps there was oil on a corner or a dog ran into the bunch?
Now imagine many of the fallen riders are up and trying to get back to the peloton, one accepted practice here is for those uninvolved in the crash not to attack because it would be unseemly to profit from an accident
But what if those at the front of the race were already trading attacks or going "full gas" at the time of the incident then to attack now is to continue what was happening already
But it also depends on a range of factors, is it a stage race or a one day event?
If a stage race then was the race leader involved (because the leaders jersey has weight)?
If it's a stage race and the race leader was involved was it early during the stage or is it during a decisive phase of the race closer to the finish?
You get the point, there are so many questions and scenarios, "is it X, if so then Y, but if not then maybe Z could apply". Imagine trying to draw all of this as a flow chart: you'd need a giant canvas just to try but it would never capture the nuance, nor the moment. Besides it would only apply to scenarios following a crash. What about a puncture and is that different from a dropped chain? What about all the other things that can happen during a race?
That's why we have etiquette rather than prescribed rules. Consider a simpler dilemma: should you hold a door open for someone? Now we could try to note down the considerations, perhaps it depends on the person's distance from the doorway, their approach speed and other factors like whether they're a frail 99 year old, the weight of the door and more. But we don't, it's a matter of instinct and mood that's processed quickly. This doesn't guarantee a rational result but society, or at least public doorways, work for most people without requiring regulation. The peloton is similar, if there's an incident then riders make their minds up in the moment, often swayed by the race leader or the patron of the peloton or at least the race leader who becomes a figure of authority not always. There's no rule on who is the wisest or most convincing.
Information asymmetry
If the peloton has long had its ways a recent phenomenon is the outpouring of comments on social media while the peloton remains more indifferent. Our reaction to events is shaped by our vantage point and this often means television. We can sit outside Italy yet have a better view of the front group during a mountain stage of the Giro than riders and officials thanks to prodigious television production. So when Tom Dumoulin stops at the foot of the Umbrailpass it's live on TV. The camera dwells on him, a helicopter can pan in. Meanwhile for those racing it's possible that many in the group don't even notice Dumoulin. The point isn't the precise chain of events on that day, just television affords us multiple views that are replayed and parsed for significance and context. This is what makes for good television and it gives viewers a lot more information than racers, not to mention the ease of analysis from a sofa compared to a saddle. This helps explain why social media erupts following an incident while riders often don't demonstrate the same concern.
Another effect of TV and social media these days is that private actions can be public. There might be some road rage during a race, a bottle thrown or a fist flying. Etiquette says a handshake in the hotel or start village can calm things, the done thing among people who need to work together in the peloton but staging this in public can help diffuse tensions online too among fans.
Sometimes things are sorted internally. The peloton is a microcosm and what goes around will eventually certainly come around. If a team picks up the pace after a crash to profit from the moment – this is still their right, no commissaire will stop them – there may be a price to pay. They could find themselves being chased or blocked later in the race; perhaps even years later when a cold dish of revenge might be served up. Because the peloton is only a few hundred riders someone who is regularly transgressing accepted norms risks trouble in a sport where you need your rivals to help you win: what is a breakaway but a temporary alliance with rival teams?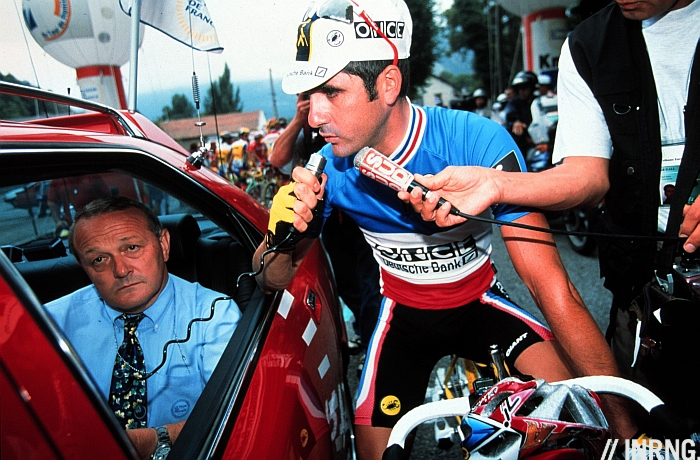 In the past the peloton has self-regulated itself to the brink of disaster. Look at the height of the EPO years, a pharmaceutical version of Lord of The Flies where the group had its own code in spite of UCI rules and even national criminal laws. It seems bizarre these days but in the wake of the Festina affair in 1998 the peloton was protesting about police raids and displaying a sense of self-entitlement that suggested riders felt immune from the law. All this is a far cry from today's more frequent post-stage polemics about whether someone should have waited following a bungled gear change or whether a team accelerated after a crash but a reminder that the peloton can't ride in the opposite direction to society, that internal rules can't pull too far away from outside society.
Conclusion
Because they're unwritten these codes and practices can seem shrouded in mystery, like private rituals or secret handshakes. But there's nothing particularly covert, these customs are more about helping the peloton function as a society from day to day, a place where trust counts for mutual security during a fast descent or rivals temporarily cooperating during a breakaway.
Listing or even outlining such these ideas is pointless, they change and depend on circumstances and this flexibility might confuse at times but the fluidity helps the peloton, like any group, rub along. Should someone have done something following something happening? Maybe but it will depend on who, why, where, what, when and so on and there's not necessarily a correct answer, even with hindsight.