Roger Pingeon, an early advocate of marginal gains and a fighter of adversity who often came off worse, has died aged 76, a few months short of the 50th anniversary of his 1967 Tour de France win.
The fourth of five brothers, Pingeon grew up on a farm outside the remote village of Hauteville-Lompnes in the Jura mountains. He joined the Vélo Club Hauteville-Lompnes where Joseph Carrara, a future Giro stage winner and Volta a Catalunya winner, was an early team mate. Pingeon's path to the peloton was not the usual story of a young rider bounding up through the ranks of the sport. Pingeon left school and trained as a plumber which later led to the nickname of le plombier zingeur. This was not a flattering title nor was his other nickname, le grand échassier which translates as the "big stork" or "wader" on account of his long thin legs. Only later did he earn the affectionate term of Pin-pin as sidekick to Raymond "Pou-pou" Poulidor.
Plumbing
Pingeon never had it easy. His first attempt to get a racing licence was thwarted by a doctor who detected a cardiac arrhythmia and refused to sign the paperwork. Undaunted Pingeon found another medic, only they said the same. Seeking a third opinion he found a medic with a ready rubberstamp. According to a biography ("Roger Pingeon" by Roger Guillerminet) he joined a decent regional team but was called up for military service and returned to find the team had folded. Pingeon resumed work as a plumber and married Dany with whom he'd have two children. He kept riding and took a three month pause from plumbing in a make-or-break move to get results riding as an indépendant, a full-time rider outside of the structure of a professional team. The focus worked as he got results and then a contract with the Peugeot team, albeit on the minimum wage, or "misery" in his own words.
His pro debut in 1965 was so good he found himself leading the Midi Libre, a stage race held in May and then as important as the Critérium du Dauphiné today. Only the race organiser couldn't stomach a novice winner and wanted a prestigious name. Pingeon found his own Peugeot team in on a conspiracy to stop him winning. André Foucher won, no star either but he'd won the previous year making him an acceptable face. If this adversity was distressing it didn't show as Pingeon was selected to ride the Tour de France and took a second place on one stage and promising third in a time trial on the slopes of Mont Revard before finishing 12th overall. One account called him "the revelation" of the race.
Pingeon's hopes for 1966 took a cold shower when Peugeot signed a promising Belgian called Eddy Merckx. Merckx had yet to win big but that was only a matter of time and by March Merckx and Pingeon were both team mates and rivals during Paris-Nice. In the Tour of Corsica Pingeon took the race lead only to lose it but he hatched a plan to reclaim it. He duly attacked but puncture twice and it wasn't just his tires that deflated, that day he announced his immediate retirement, telling journalist Pierre Chany:
"It's settled, I'll never ride a bicycle again. Ever since last year cycling doesn't give back to me what I put in. In the end, I'm probably just not cut out for this job."
He rode on and finished eighth in the Tour de France won by Lucien Aimar on the rival Ford team.
En tête à Jambes
1967 was Pingeon's glory year. The Tour de France was changed with national teams replacing trade teams after the organisers felt disappointed with the previous year's format. 130 riders rode for 13 teams representing nine nations as well as other teams like the Diables Rouges ("red devils") and Esperanza ("hope"). France manager Marcel Bidot picked Pingeon but only as the team's third rider after Aimar and Poulidor. Pingeon's destiny changed on Stage 5 from Roubaix via the cobbles to Jambes in Belgium, a day that should have had L'Equipe's Antoine Blondin in rapture only he never mentioned the racing in his column that day. What happened was Pingeon joined an early breakaway and went solo to win the stage and put six minutes on the main GC rivals, perhaps at the time this didn't seem consequential but imagine a previous top-10 rider taking six minutes today on a flat stage? Of course back then the time gaps were bigger but this was still a coup. What's certain is that Pingeon never looked back, he briefly surrendered the yellow jersey but took it back and Julio Jiménez and Felice Gimondi could only close the gap on him. This was the year Tom Simpson died and our shorthand labeling means that year's Tour vintage equated with a fatality rather than its eventual winner. Raymond Poulidor, the pre-race pick, worked for Pingeon and his act of self-sacrifice while wearing the French jersey only endeared Poulidor even more to the French public. It's said when the riders rode into the Parc des Princes in Paris the crowd cheered Pou-pou more than Pin-pin.
1968 was supposed to see Pingeon help Poulidor in return, only for Poulidor to get struck by a motorbike and forced out of the race with head injuries. Pingeon enjoyed two stage wins including a huge raid in the Chartreuse mountains, taking a 235km stage from St. Etienne to Grenoble but a knee injury got the better of him and he conceded ground in a race eventually won by Jan Janssen, the first Dutch winner. In 1969 Pingeon won the Vuelta a España after another successful early breakaway put him in the lead which he defended to the end with only one team mate left by the finish in Bilbao. The same year he finished second in the Tour de France but a distant 16 minutes behind a ravenous Merckx. Pingeon's career continued by was regularly interrupted by a persistent knee injury – two Tour de France withdrawals – and anti-doping suspensions too after being caught for using amphetamines, then a recurrent issue in the peloton and almost an administrative matter, akin to a motorist getting a parking ticket rather than the scandal and taboo associated with today's infractions. In 1972 he won the first stage of the Dauphiné, his last triumph before retirement in 1974, closing a career that included 30 wins. He was one of the best but in an era where Anquetil, Merckx, Poulidor and others monopolised the results and public imagination.
An outsider or the ultimate insider?
If Pingeon became Pin-pin during the age of Pou-Pou he was still the outsider, or rather the media were keen to portray him this way. His fragility meant he'd abandon races because of a sore knee or the cold and this made people see him as individualistic rather than the team player. He'd be happy to room alone during a stage race, not necessarily because he was a loner, he said to France Télévisions' historian Jean-Paul Ollivier that it was down to recovery, he could just sleep more. In a recent interview with François Thomazeau for "Pingeon Le Marginal" in En Boucle, Un Autre Regard Sur Le Tour he listed a catalogue of disadvantages such as a smaller lung capacity than his rivals, he couldn't tolerate the cold – "I was as thin as a nail" – and he need much more time to train than others, and when he'd get back on the bike in winter "I couldn't do more than 40 kilometres without being drained. Then I went to 50, then 80 then 120. It was very slow". His was the triumph of what Thomazeau calls gains marginaux. Pingeon knew his weaknesses and set about improving what he could like his position on the bike, diet and sleep. He'd be the first to bed and the last to rise so over a grand tour "I had one more night of sleep than everyone else", living proof of former Tour winner Antonin Magne's dictum that "the Tour is won asleep". When not sleeping he'd lie in bed and on rest days during the Tour de France when others would ride and stuff their faces Pingeon would rest, sweat in a hot baths and cut back the calories: highly eccentric at the time. Today it makes sense, here's Richie Porte telling Skysports in 2014 about his rest day routine:
"You don't want the body to shut down and you hold on to a bit of water retention. You have to be mindful and you can't go crazy with what you eat."
Pingeon retired and tried his hand at several jobs, he remarried twice and moved around France, first the north and then the south where there's a Pingeon cyclosportif in the Hérault area, a irony given his event continues to this day unlike the Midi Libre, the race he was robbed of the same roads because he wasn't famous enough. He eventually returned to his native region but to Beaupont, a village on the plains rather than the Jura mountains of his birth. He worked for Swiss TV as a co-commentator for the best part of 20 years, perpetuating a low profile in the French media.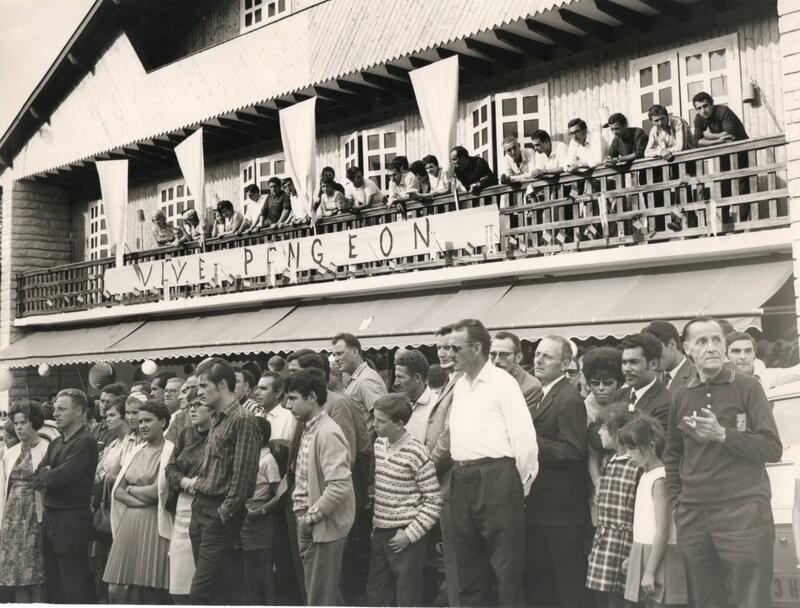 He might have moved away Hauteville-Lompnes but it was the one place where he was never forgotten. 46 years after his Tour de France triumph he returned to unveil a plaque when the local sports hall was renamed in his honour and last summer the Tour de France passed through and the place was decked out in yellow in his tribute.