The date is set and the clock is counting down. If all goes to plan and he can avoid injury along the way then in 50 days' time Tom Boonen will be on the eve of Paris-Roubaix and retirement, pinning on his last set of numbers. He'll be missed by many, especially the Belgian media and the Quick Step team who lose their totemic rider.
Boonen's status in Belgium is above and beyond every other rider. The likes of Greg Van Avermaet, Philippe Gilbert and Sep Vanmarcke are rightly respected but arguably their combined media profiles don't reach the heights of Boonen's popularity. "Golden Greg" has gone up a level since his Olympic win but they don't seem close. There are even several Tom Boonen songs, take your pick from folk to rock to trance. In recent years Boonen has been tracked by the Belgian media every spring. Even an innocuous crash in Oman makes the news back in Belgium as Dutch journalist Raymond Kerckhoffs noted this week when he wrote about the Tom Boonen Circus in his De Telegraaf column. Boonen's crash wasn't just "cyclist crashes" clickbait for Belgian sports websites, it made the headlines on the evening TV news bulletin alongside the Publifin political scandal in Flanders and the resignation of Donald Trump's national security adviser Michael Flynn.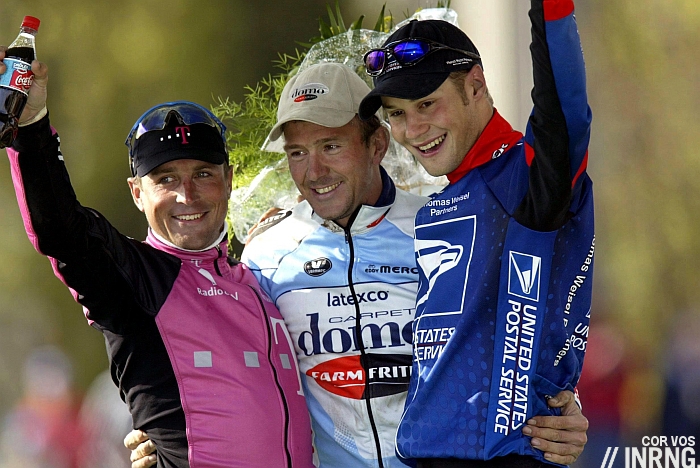 Boonen's status owes itself to several factors. A long career helps, he's 36 now and hit the headlines as a neo-pro when he stood on the podium of Paris-Roubaix back in 2002 (pictured). Along the way he's packed out his palmarès with plenty of crowd-pleasing results including the world championships in 2005, several national titles, stages in the Tour de France as well as three wins in the Tour of Flanders and four in Paris-Roubaix.
Antoine Blondin once described Eddy Merckx as a the kind of champion "who loses when he doesn't win" by which he meant that second place in a race might be nice for many but it was a defeat for Merckx. It can be applied to Boonen too, his second place in Paris-Roubaix to Mathew Hayman last year was a good result when viewed against an otherwise disappointing spring season, so much so that it persuaded Boonen to ride on for another year. Yet second place was also seen by sections of the Belgian media (here, here, here etc) as a loss that was preventable.
It's testimony to Boonen's status that even as an active rider we've seen several names ventured as "the next Boonen" with Guillaume Van Keirsbulck and Yves Lampaert among the pretenders. These "the next so-and-so" labels are always too reductive and too convenient – just as Boonen wasn't the next Johan Museeuw – but the use of the phrase points to shoes that need to be filled.
Boonen's popularity isn't just down to time and wins, there are more subtle issues like charisma and here Boonen doesn't doesn't look so obvious, there's none of the staged stunts performed by Peter Sagan, not even a wheelie let alone a viral musical extravaganza. Yet he's regularly available to the media and by several accounts charming to interview. His popularity is also notoriety and he's had his moments in celebrity gossip pages thanks to costly car crashes, cocaine, a tax scandal and a young girlfriend. For good or ill Boonen isn't just a staple of the sports pages, he's a national figure in Belgium. This suggests that he'll retire from cycling but won't get the quiet life as he's part of the Belgian celebrity circuit where is private life is tracked by paparazzi. Boonen has expressed interest in a new career in motorsport – he collects supercars – and this is bound to fill column inches for years to come.
Team Building Exercises
Back to cycling and the post-Boonen era brings questions for the Quick Step team. We still see them as the exemplary outfit for the spring classics even if they've had many several barren campaigns, or at least not lived up to the high standards expected of them. Boonen has acted as the cornerstone around which to build their tactics, able to charge away solo on his day but crucially he could play the sprint card. This enabled, or perhaps emboldened, Niki Terpstra to win Paris-Roubaix in 2014 when he had the force to ride away from the front group after clearing the last pavé sector because nobody else wanted to chase with Tommeke sitting on. There's the looser question of identity, the team does have a Belgian core with nine riders but it's become cosmopolitan with 15 different nationalities. Do the team persist with this footloose strategy or do they try and find a Belgian rider around whom they can anchor the team for April? Not easy, Greg Van Avermaet seems happy at BMC Racing and Sep Vanmarcke has signed with Cannondale-Drapac for two years. Even recruiting a marquee foreigner for the Flemish classics isn't obvious; team bike sponsor Specialized craves the validation gained from a successful cobbled campaign but has Peter Sagan doing the business over at rival stable Bora-Hansgrohe now.
Among the candidates for internal promotion there's Zdeněk Štybar who is still a promising rider but also 31 years old and Niki Terpstra is a year older. Yves Lampaert should be back after injury took him out of the spring classics last year after his girlfriend rammed into him with trolley by accident during a visit to the supermarket provoking an Achilles tendon injury. These three could conceivably win Paris-Roubaix this year or the next but none are celebrated, or just rated, in the same way as Tommeke.
Conclusion
Fabian Cancellara's retired and now the countdown is on for Tom Boonen's final cobbled classics campaign. His retirement will be a national event in Belgium because he's more than pro cyclist, he's a national celebrity. Some cyclists have stopped and taken the media circus with them but there's no danger of this in Belgium because no other country venerates the sport so much. But Boonen's retirement will leave column inches bare and it'll be interesting to see what his team is planning for the coming years without him.