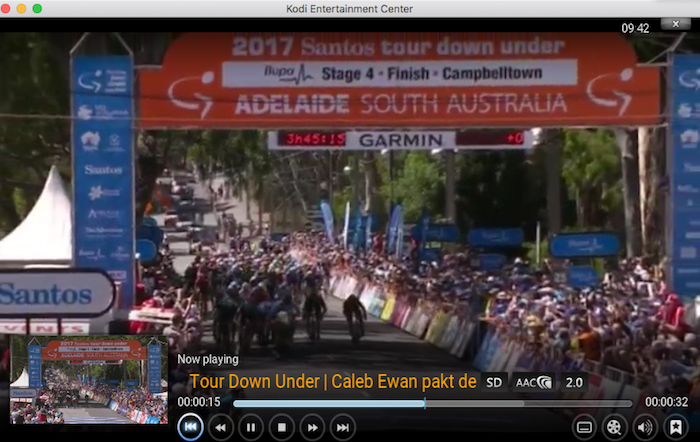 You're looking forward to another season packed with racing, right? But actually watching it can be problematic. Often a race may be on TV somewhere but there's no way to watch it from your home or work so you resort to a dreaded pirate stream, complete with whack-a-mole pops ups and more viruses than a kindergarten. There's a better way: Kodi.
Or at least this technology is promising but there seem to be frustrations along the way. Here's an introductory explainer and it'd be great to hear feedback from any users in the comments.

What is Kodi?
It's open-source media player software that plays and streams audio and video content. It grew out of the XBox Media Center, XMBC, and in 2014 the software was renamed Kodi. It's not much different from the likes of VLC Player but we'll get to the software difference in a moment.
You may think the hardware is different, that Kodi comes in a box or stick much like Apple TV, Amazon's Firestick or Google's Chromecast. It can be bought and this way and you can set up a Kodi box, plug it into your TV and then watch streamed video content this way.
But, and here's the important part, you can also download Kodi to your Windows computer or Apple Mac too and then run it on your home computer or laptop to watch racing within a window without having to buy any hardware.
What sets Kodi as software apart is the availability of "add-ons" where users can download and install these third-party scripts to use with Kodi. For example I downloaded an Australian TV add-on and watched the Tour Down Under coverage on Channel 9 via Kodi. There was a good, free and official livestream on Channel 9's website but the picture quality on Kodi was way better and the images about 20 seconds ahead of the stream too, handy if you watch a race with simultaneous social media.
Can I Watch Every Race For Free on Kodi?
Probably not. For example you can get an add-on for Australia's Channel 7 if you want to watch the Cadel Evans road races this weekend but it's geo-restricted. The same if you want, say, Italy's RAI TV channels so if you're outside Italy you can't watch, say, Tirreno-Adriatico this way.
However there's a but so big Sir Mixalot would rap about it because there are also add-ons for pirate streams too and there are also peer-to-peer add-ons that allow people to watch sports and other content online for free. Indeed the exponential growth in Kodi use seems to be driven by people using Kodi to watch Premiership football, NBA basketball and other premium sports. This is far from ideal whether in principle or practice but if you're already resorting to pirate streams to watch bike races, perhaps because there's simply no other way to watch a race in your home country, then Kodi seems superior because the video quality is much better and you don't get those pop-up ads forcing you to play whack-a-mole while trying to watch a spring classic. However be careful downloading random things from the internet.
Tech Support
Interested? Then you can buy a Kodi box for streaming or you can just download it onto your computer and then install it as you would with any other piece of software.
In order to get content you need add-ons and this is where things start to get complicated. Obviously there are many add-ons serving sports fans but few if nothing for cycling fans, instead you need to look up the likely channels and then the installation process is more complicated than one or two clicks, it involves copying URLs and rooting back and forth around in Kodi's settings but there are plenty of only guides to walk you through this process and once you've done it a few times you'll get the hang of it. This is probably the most painful part but it's still little more than clicking a few times and some copy-paste work; Kodi maybe open source but users don't have to tweak a single line of code.
The Verdict
It would be something if you could open the software, search for your preferred channel and sit back. With Kodi this is technically possible but it's not there yet in reality. As such this is more evolution than revolution, a story of additional choice. Currently finding content, even legitimate streams, is not plain sailing. You have to find an add-on, work out how to install it, and then see if it works because plenty don't. This means it's as much an exercise in fishing as it is in streaming.
You can watch legitimate streams in a clean format on your device and if inclined you can find those pirate streams too, only in higher quality and without those suspicious pop-ups. The fundamental frustration of many bike races being televised but not being available to watch in your home country remains. Kodi can help but it won't fix this.