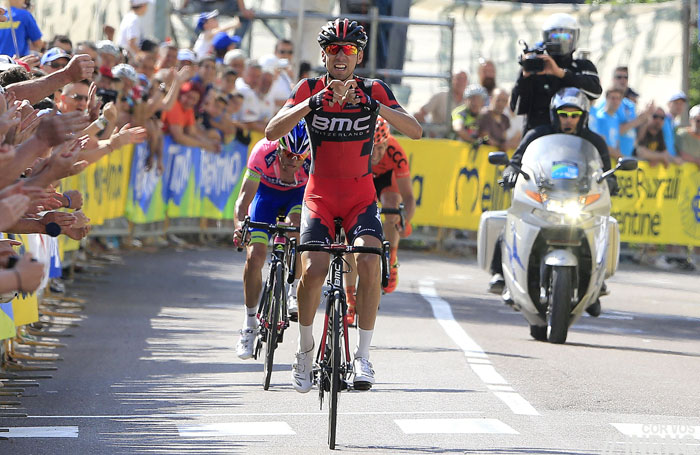 A Christmas quiz with 40 questions. Some are obvious, some odd, most can't be Googled and a few are fiendish. By all means have a go and there's a token prize for the winner but most will probably find fun in the answers that will appear here next week.
1: Name the "Santa" dressed in red pictured above.
2: Name the (sometimes) helper dressed in green(edge) kit below.
That Was The Year That Was
3: Which team won the Giro d'Italia's "fair play" award for the fewest fines and penalties accumulated during the race?
4: Slow: who finished as lanterne rouge in the Tour de France?
5: Name the one day race that saw a significant diversion to its route because of a landslide on the day of the event?
6: What was the biggest winning margin for the overall classification in a grand tour?
7: Chris Froome famously ran up Mont Ventoux. Name a rider who won a World Tour race by walking their bike across the line.
8: What's Nacer Bouhanni's victory celebration about?
9: Which pro cyclist took the most wins in 2016?
Whose Legs Are Those?

10 and 11: Name the owners of these legs in the photos above and the photo below.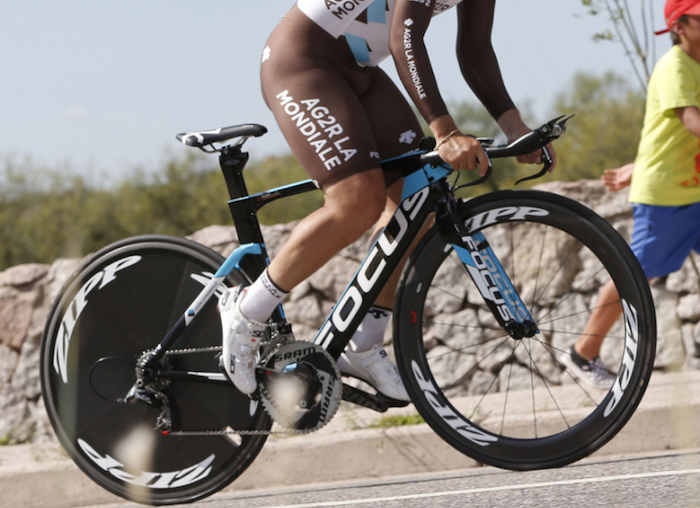 In the moonlight
12: Ag2r La Mondiale's capitaine de route Samuel Dumoulin launched a new business venture this year. Doing what?
13: Giant-Alpecin's Max Walsheid and BMC Racing's Floris Gerts both wanted to do something else before turning pro. What?
14: Name a pro cyclist who has worked as a police officer.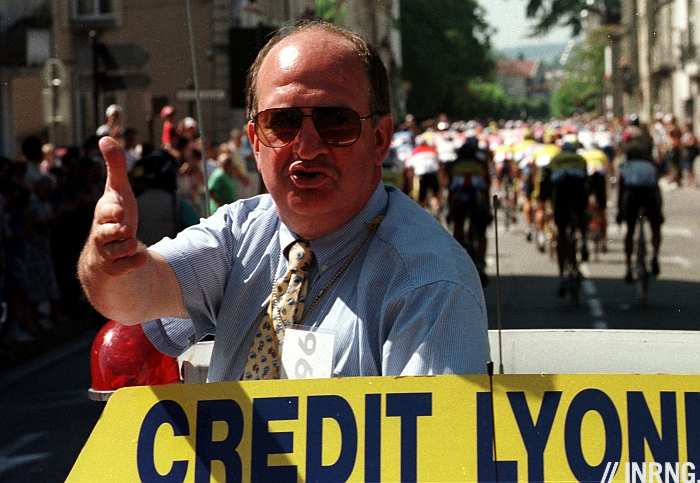 UCI Commissaire
15: Can a pro team change its clothing design for the second half of the season?
16: What's the minimum wage for a 27 year old male World Tour rider?
17: What's the minimum wage for a women's World Tour rider?
18: When was the last time a rider finished outside the time limit in the Tour de France and was disqualified?
Geography

19 and 20: Name the snaking climb above; and the road below that's so steep following cars are not allowed up.
21: Name three British Tour de France stage winners who were born outside Britain.
22: What was the highest summit finish in the World Tour this year?
Tech
23: Which men's World Tour team has the heaviest road frames?
24: Which squad has team cars with hybrid (combustion/electric) engines?
25: On-board cameras are becoming a thing. Are they included when weighing a bike to check compliance with the UCI's rule on the minimum weight of 6.8kg of the machine?
Business and Money
26: According to their last published accounts, who has the the bigger budget: Team Sky or the sport's governing body the UCI?
27, 28, and 29: What line of work is Drapac in? What does Soudal make? What does the Jumbo in Lotto-Jumbo do?
30: Which 1990s pro team was a money laundering front for organised crime?
Christmas Past and History


31: Lucien Bluyau died this year. He was famous in the peloton for handing up drinks to the riders but he'd been a pro in his time. Name a race he won.
32: When was the last time Paris-Roubaix actually started in Paris?
33: The Tour de France has the yellow jersey, the Giro d'Italia has the pink jersey. Name three colours used for Vuelta a España leaders jersey over the years.
34: Alberto Contador's most recent stage win in the Tour de France was in which year?
35: Name the 1980s rider featured in this mural which was unveiled in Sallanches, France this year?
Family Gathering
36: Like father, like son: name a current male pro cyclist whose father was a pro cyclist.
37: Like father, like daughter: name a current female pro cyclist whose father was a pro cyclist.
38: Like father like grandson: name a current pro cyclist who is the third generation of professional cyclists in their family.
And Finally
39: Which the Tour de France podium finisher is that strutting about on a celebrity dancing TV show?
40: Who's this rider showing some air?
The Prize
This is a genuine quiz rather an email harvesting attempt. I don't expect many to try and answer all 40 questions. Still if you want to have a go or maybe readers collectively crowdsource their way together, feel free to leave your answers in the comments below and the deadline is midday Euro Time on Tuesday 27 December. As an incentive the winner gets some packets of Segafredo coffee from Italy and two INRNG supporter caps.
The most correct answers wins and if there's a tie then a name gets picked at random.
Obviously people can copy off each other which spoils the point of it all but if you want to wheelsuck your way to victory by copying someone else's answers and then sprinting past them with a final correct answer… …well that's cycling.