New for 2016 is the UCI's Extreme Weather Protocol, a rule that concerns itself with bad weather of all kinds and it got its first use in the World Tour yesterday in Paris-Nice. As rule explainers go this is a quick one but worth exploring.
The rule came about after a series of incidents involving, you guessed it, extreme weather. Riders were flaking at the end of an infernally hot stage of the Tour of California and snowflakes were falling in the 2014 Giro d'Italia. Something had to be done.
The result is new protocol, a PDF copy of which you'll find online at UCI.ch (go to regulations, Part II – Road Races, download/open the rulebook and it's in Annex B). Note that according to rule 2.2.029 bis it only applies to World Tour and HC events (making it oddly applicable to male races only). The premise is simple:
the compulsory convening of a meeting between the stakeholders (organisation including race doctor and chief of security, riders, teams, President of the Commissaires Panel,) when extreme weather conditions are anticipated prior to the start of a stage
What are these extreme conditions? Anything but the rule makes some suggestions:
1. Freezing rain
2. Snow accumulation on the road
3. Strong winds
4. Extreme temperatures
5. Poor visibility
6. Air pollution
What happens in the event of bad weather? The protocol is more prescriptive and says "the following actions may be taken", meaning it's one of these seven and nothing else.
1. No action
2. Modification of the start venue
3. Modification of the start time
4. Modification of the finish venue
5. Use of an alternative course
6. Neutralization of a section of the stage/race
7. Cancellation of the stage/race
It's sensible stuff but it amounts to a meeting if the forecast says extreme weather is due. There's no advice on what to do if freak weather arrives or conditions turn worse than expected during a race. There's no definition of extreme weather, for example when does a warm day become too hot? Above all there's just a meeting.
But this meeting matters, it creates a formal discussion so that everyone is involved and there's some thought, discussion and accountability. It means, for example, a zealous race organiser can be kept in check by the riders' union; or everyone agrees to race and ignores the peloton patron worried about a chill. But it's also just a meeting, the rule doesn't specify a vote should be taken and it's easy to imagine splits within each camp, for example borderline conditions on the morning of the Tour of Flanders could see some teams happy to stay warm and dry while others, like a domestic wildcard invitees, desperate to race given the publicity bonanza they crave.
A lot of the action points are sensible but easier said than done. The start can be moved, for example in 2010, the last time when Paris-Nice was altered by the snow, the start of Stage 3 was moved further along the race route to avoid the worst of the conditions, the race resumed and, for the anecdote, Peter Sagan took his first career win.
The route can be changed but this is not always easy. Take yesterday's abandoned stage in Paris-Nice, there was no low road to take instead of the high road. The race was crossing the Beaujolais hills via the direct route via the Col des Écharmeaux – a large road used by trucks and more poetically by Napoleon on his march back from exile – rather than some of the smaller, higher roads around. So there was no way around and it's easier just to stop the race. By contrast the Giro d'Italia in 2013 simply moved the snowy finish of one stage lower down a mountain given the snow and a truce among riders meant one pass on the way over was neutralised. So there can be solutions but it depends on circumstances and logistics.
Right now cold weather is the obvious extreme but as the season progresses there will be windy days and hot stages. There's no guidance on what is too windy and it's hard to set a threshold at N km/h given a strong wind on a sheltered course is not the same as on open terrain or gusts can vary the danger. The same with heat where the shade temperature, the common measure given in weather forecasts, isn't so helpful for race taking place on tarmac and where humidity counts a lot; marathons often use wet bulb thermometers but this isn't happening in cycling yet.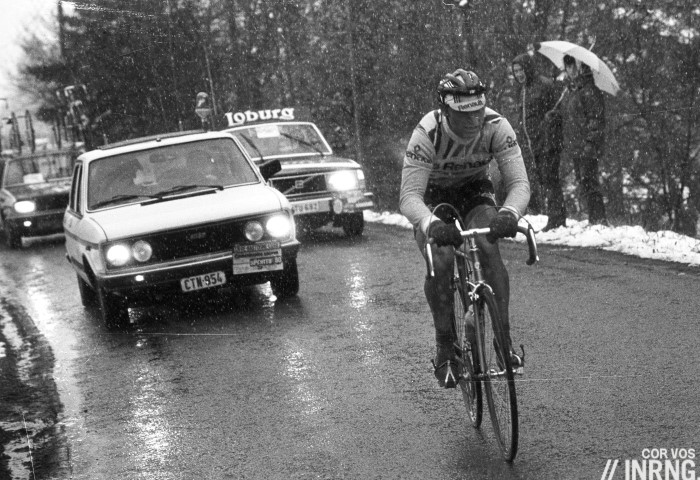 Conclusion
One of cycling's charms is its open nature, the way it crosses the landscape rain or shine. It's a genuine outdoor sport but it's also a professional activity and workplace too. It's one thing to fancy a six hour ride in wet conditions, it's another to impose it as a working condition. Maybe all those "epic" old days might be on their way out but many countries have said goodbye to the days when construction workers built skyscrapers without safety harnesses and so on.
The UCI had promised to work on the protocol and it was always a tricky subject. You can probably tell the point when snow goes from a few frosty flakes to dangerous but writing it down is another matter. The same when trying to work out how hot is too hot. As a consequence the protocol is just an agreement to meet, debate the weather forecast and review the options. This is no bad thing as it brings accountability to all sides but it won't stop the polemics about racing in bad weather nor the competing interests at stake. There will surely be more wintry discontent and heated debates.