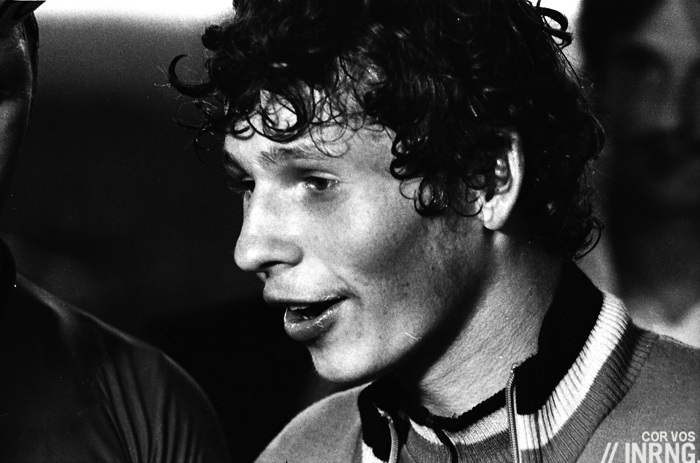 A Christmas quiz with 50 questions. Some are obvious, some odd, most can't be Googled and a few are fiendishly. By all means have a go and there's a prize for the winner but most will probably find fun in testing themselves and seeing the answers that will appear here in the coming days.
Festive Greetings
1. Can you name the joyous Noël pictured above? He's now a sports director with a large team.
2. Jesus H! Nothing blasphemous, just the first name and initial of two World Tour pros. Name them.
3. Which Danish pro has a name that sounds like Christmas?
That Was The Year That Was
4. One Hour: who was the first rider to break the UCI Hour Record in 2015?
5. Minutes: What was the biggest winning margin for the overall classification in a grand tour?
6. Seconds: Which Monument Classic had the biggest group finishing on the same time as the winner?
7. Sour grapes: what's just happened to make Jürgen Roelandts look so miserable?
8. Beer: Name two pro races where the podium featured some beer drinking antics.
9. High: Name the highest altitude finish of the World Tour this year.
10. Slow: Which World Tour team was the last to win a race this year?
11. Stop: Which pro team was first to test disc brakes in a World Tour race?
12. Pink: the Giro d'Italia launched a new mascot. What is its name?
13. Red faces: which team was the first ever to get a collective suspension under the UCI's new anti-doping rules?
14. Red: who was lanterne rouge in the Tour de France?
15. Yellow: Name two riders who retired for good this year – not Bradley Wiggins – who've worn the yellow jersey.
16. Polka-dotted: Daniel Teklahaimanot wore the Tour de France mountains jersey for four days. Which race did he win the mountains competition outright?
Christmas Past
17. Erik de Vlaeminck died this year. He won the cyclo-cross world championships seven times. Which rider is alive today with the most titles?
18. Which Tour de France winner was born in a village with a name that translates as "The Handlebar"?
"Those who created cycling as a sport went to work on their bikes from dawn to dusk. The kids who work for the baker today travel by scooter. They no longer want to pedal. Cycling is dying because poverty is coming to an end and with the end of poverty we are seeing the end of all sports of the poor."
19. In which decade was the quote above made?
Celeb Gossip!
Des cyclistes en une des magazines people, pas de doute, on est bien en Belgique! Une fois! #TweetCyclos pic.twitter.com/vqR5GHrLUG

— Marion Gachies (@MarionGachies) February 26, 2015
20. Name five languages spoken by Katarína Smolková, also known as Mrs Sagan.
21. Name three cyclists who have moved to the mountain microstate of Andorra for the fresh air, the mountain roads and its 10% tax rate.
22. Which pro has a pet dog called Colin that can often be spotted at races?
Absurd World
23. How many days does the Four Days of Dunkirk last?
24. The Tour de Langkawi has eight stages, how many of these are in Langkawi?
25. Where does Paris-Roubaix start?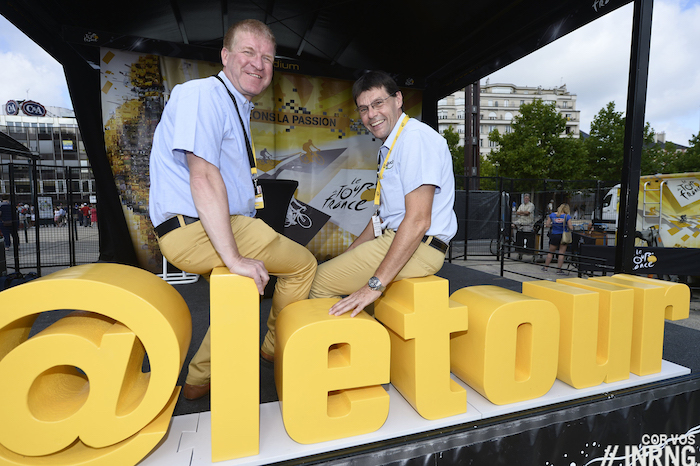 Chief Commissaire
26. Taxi! The video of Vincenzo Nibali holding onto the team car during the Vuelta a España went viral. Which rider took a ride inside a team car during the Tour de France?
27. Unless stated otherwise what percentage of the winner's time is the time cut?
28. After Richie Porte's Richard III puncture moment in the Giro hopefully everyone knows you can't take a wheel from a rider on a rival team by now. But can a rival team's mechanic offer assistance?
Business
29. World Tour races must pay teams a fee to start. What is the minimum amount payable per team for a one day race?
30. Saxo Bank isn't really a bank. Name a pro team that's actually sponsored by a bank.
31. Cervélo is a brand belonging to Dutch company PON Holdings. Name another of their bike brands in the World Tour.
Politics
32. The GP Frankfurt was cancelled because of a terrorist threat. Name a race that has been bombed by terrorists in the past.
33. Lampre-Merida are Italy's sole remaining World Tour team but which country is their registered address?
34. The talks over Iran's nuclear energy ambitions leading to the Lausanne Accord this summer were briefly delayed when a cyclist crashed on a mountain pass in the Alps. Who?
Where in the World?

35. An old road but a new route for racing in 2015, can you name the climb above?
36. The picture above shows the final bends of what Gianni Brera once described as "the poor man's spaceship" for the way it allowed someone with a bicycle to copy Neil Armstrong and go up to the heavens. It's better known as which climb?
When They Were Young

37. Which future World Champion is this in the picture above?

38. Which future World Champion is this in the picture above?

39. Which future World Champion is this in the picture above?

40. Which future French champion is this posing with Samuel Dumoulin?
Amateur Hour
41. Which national team won four of the seven stages of the Tour de l'Avenir?
42. Name the rider who rode the U23 Liège-Bastogne-Liège but got so lost he made it to the finish four hours late and in the dark.
43. How many riders have won both the U23 Liège-Bastogne-Liège and the pro Liège-Bastogne-Liège?
Tech Talk
44. Derailleur gears took off in popularity among cycle tourists in the 1920s. When were they first allowed in the Tour de France?
45. Who went public with criticism of their team's bike sponsor leading to tales of the company withholding its sponsorship payments?
46. Lotto-Soudal are sponsored by Campagnolo and have a full groupset and wheels from the Italian firm but which one component do they swap out for a Belgian-made one for their bikes?
Final Kilometre
47. Which pro rode the most race kilometres this year?
48. Name the road used as the finishing straight for this year's Milan-Sanremo
49. Name the road used as the finishing straight on Alpe d'Huez
50. What's the most used climb in the Tour de France?
The Prize
This is a proper quiz rather an email harvesting attempt. I don't expect many to try and answer all 50 questions. Still if you want to have a go or maybe readers collectively crowdsource they way together, feel free to leave your answers in the comments below and the deadline is midday Euro Time on Sunday 27 December. The winner gets some coffee. The most correct answers wins and if there's a tie then a name gets picked at random.
Obviously people can copy off each other which spoils the point of it all but if you want to wheelsuck your way to victory by copying someone else's answers and then sprinting past them in the finish line… …well that's cycling.