The AIOCC, the Association Internationale des Organisateurs des Courses Cyclistes, yesterday issued a press release rejecting the UCI's proposed reforms to pro cycling following a 77 to 6 vote. Ironically the press release isn't public but L'Equipe broke the news and German website Radsport has a good synthesis.
Someone somewhere has a working copy of the UCI reforms. In recent years they've emerged buried in a PDF located in a dusty corner of the UCI website but these versions have been superseded by other proposals that are not public with only summary details sketched out by the occasional press release instead of a detailed masterplan to which everyone is working.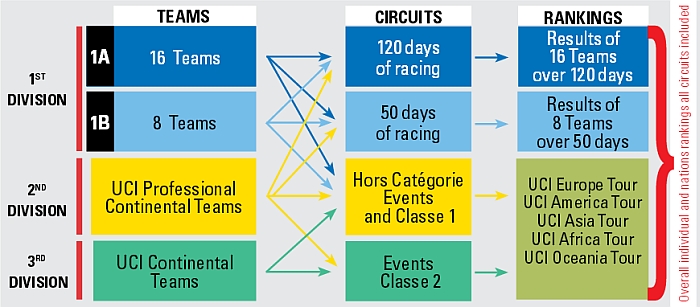 Loyal readers will remember some of the older reforms, like the confusing chart above. All of this was dropped a long time ago although if these plans were once made public they were abandoned in quiet. The secrecy is part of the problem. Rather than a clear roadmap to reform which everyone is working towards the project is private. We got a press release in September but there's been no more detail in public since.
What seems to have happened is that the proposed reforms started out with general agreement but the practicalities started to pose objections. Take calendar reform, everyone agrees on the idea of World Tour races that don't clash but squint at the proposed calendar above, look at June and see what happens to the Dauphiné and the Tour de Suisse: both shrink to six day races in order to fit into the time available in June between the Giro and the national championships. This matters because the shrunken events can't earn as much income from host towns and a shorter race means fewer broadcast hours meaning reduced TV rights, especially if they only cover one weekend instead of the current two as the weekends bring higher audiences and a wealthier demographic. We don't know if this particular change caused upset, but it illustrates how turning nice ideas into practical realities isn't so easy.
"The annual general meeting of the AIOCC expressed its great concern on the subject of reform in its current state which doesn't have anything to do with the original project presented to the meeting back in 2014."
– AIOCC press release (translated)
As we've seen before there's a split with the UCI and Velon (the corporate venture owned by many World Tour teams) on one side and ASO and other, smaller, race organisers on the other. The AIOCC's press release mimics the message of ASO that the current version of reforms have drifted too far from the original plans with implied message that the UCI has been captured by Velon. The AIOCC group comprises many race organisers and they vote according to how many events they run, for example ASO gets many votes because it runs the Tour de France, Paris-Nice, Liège-Bastogne-Liège etc, the same for RCS with the Giro, Strade Bianche and so on.
"a limited number of new races will also be added to the UCI WorldTour from 2017, with an application process opening later in 2015. It is hoped that the addition of new high quality events will help the UCI WorldTour re-inforce its global profile as the elite series of the sport"
– UCI press release, September 2015
The statement above seems to be a point of contention. The UCI announced new races will join the calendar but according to the Radsport piece the AIOCC members say new races should only be added to the World Tour after they're proven for five years. This infuriates the UCI's attempts to fast-track preferred events like the Abu Dhabi Tour. It's an attempt by the race organisers to control the calendar, or at least set the terms of entry, something normally well beyond their role. It's a bad idea but perhaps the race organisers probably feel that if the UCI keeps dipping its toes into race promotion, notably with Abu Dhabi, then the AIOCC wants to have a go interfering in the UCI's role. Either way it points to the arguments. We don't know where RCS stands in all of this? Perhaps it voted against but it has 10 races so normally it'd have 10 votes against if it felt this way.
One call from the race organisers that got unanimous support is to have smaller teams, notably 8 rider teams in stage races instead of the current 9 meaning a field for the Tour, Giro or Vuelta of 176 riders instead of 198. This might be more achievable given many have an interest in this. Fewer riders per team make it harder for teams to control the race which appeals to broadcasters, fans and it's also cheaper for stage races as they don't have to put up so many riders per night. The riders may support it too as a smaller peloton is marginally safer and it also boosts their bargaining power, as long as they're not the ninth man being ejected… which makes it a tricky call for the CPA rider union. Some teams might back it too although the likes of Sky, Astana and BMC Racing lose an advantage given they have the resources to employ a ninth rider who'd be a leader or lieutenant on another team but reduced teams means reduced wage bills and wage inflation is at the heart of team's funding concerns. Christian Prudhomme has been expressing support for this idea for years:
"It would be a genuine solution, but I've got to remind you that we're not in charge here, and I could remind you of the general panic that followed a proposal to bring down teams of nine riders to eight riders in the grand tours. So let's not even think of six."
– Christian Prudhomme, La Dépêche du Midi, July 2012
Other rejections and points of contention from the AIOCC include administrative details like the higher fees the UCI wants to levy races, an obvious area for pushback from races who will wonder what they get back in return (answer: increased anti-doping funding).
Radsport also mentions a clearer system of wildcard invitations. You might remember fellow blogger Jim Ochowicz's regular questions of how smaller teams get invites into big races (by fulfilling the UCI Pro Conti criteria and being a viable source of entertainment Jim). Now the big races seem to agree and want wildcards, or at least two of them to go to the best ranked teams in the Pro Conti ranks. That said, away from the AIOCC meeting, we should note RCS is trying to rip up the agreement that says the Coppa Italia team prize winner gets a Giro start with Mauro Vegni wanting more control over who he invites given he's been burned time after time by doping scandals.
One recurring problem is the atomistic governance of pro cycling where various groups compete rather than cooperate. You might see the UCI as the governing body but it doesn't have a strong grip on the sport, it merely coordinates the calendar, sets the rules and supplies commissaires. Its central position is important but teams, riders, races, broadcasters and others all have different and sometimes competing interests. Besides there are divergences within these groups, for example ASO and RCS don't always see eye to eye or take the teams where some are investors in Velon and some are not and even within Velon opinions vary. In an ideal world the UCI should be the arbitrator capable of finding a consensus, even a modest one, but September's announcement of agreement seems to have fallen apart now.
Conclusion
It wasn't long ago that a raft of reforms was coming down the track but now these seem to be on hold. The uncertainty is part of the problem, nobody knows what is happening. Previously floated ideas for 2017 have been binned and now it seems the plans approved last September by the UCI's Management Committee are now facing opposition from the races. The UCI can push on but it doesn't control the sport and the opposing voice of the AIOCC probably requires yet more backroom discussions.
Not that it's all war and bickering, cooperation happens too. Teams will get longer licences as agreed and resolving the wildcard system is possible too. A move to smaller teams could well happen, perhaps on a trial basis first. All this and more is due for 2017 so next year's programme of racing looks untouched. But does anyone have a vision of what the sport should look like in 2020?