I'm going to pick five moments from 2015. They are a personal choice. With any list you often omit more than you include but I'll explain each moment. They're presented in no particular order.
First up is Gent-Wevelgem, the spring classic that took place in a storm. Only 39 riders made it to the finish, here was a race that merited the abused adjective "epic" and it was even tiring to watch.
What makes a good race? There are a lot of ingredients and suspense is one obvious ingredient. If Gent-Wevelgem was a film the genre would be Hollywood action movie. No explosions or alien invasions but the storm that hit northern France and Belgium was ripping branches of trees and blowing riders off the road into large drainage ditches, as apocalyptic as things get these days.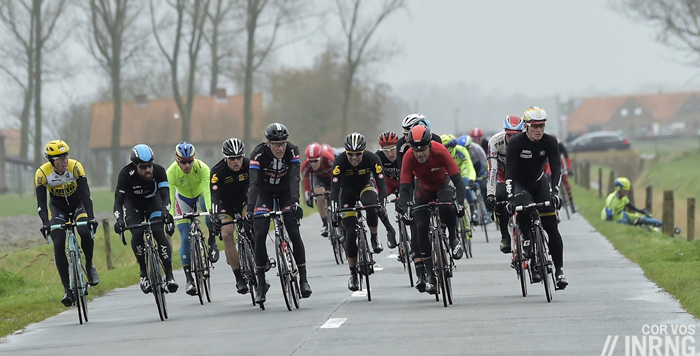 It saw the race split to pieces with 120km to go as the race tackled Mont Cassel. This meant hostilities started early and there was was no peloton procession across the landscape. Even before Mont Cassel this riders had been blown into the ditch, literally being scooped off the road and some were making representations to officials to cancel the race. The TV pictures had you tilting your head as riders were leaning diagonally into the wind.
There was an element of voyeurism to it all, should we really enjoy watching such dangerous racing? It was wild at times and dangerous but riders were not necessarily crashing more than usual and in time the conditions calmed down. Perhaps some tuned in for the Wacky Races element but this was a sophisticated race with complex team tactics. For a long time Lotto-Jumbo's Maaten Tjallinigi was up the road allowing Sep Vanmarcke to rest in the chase group, then Jurgen Roelandts went solo with 75km to go fand this allowed team mate and brother in law Jens Debusschere to sit in. At one point Roelandts was riding away and it began to look like he might win. Behind the small chase group had Niki Terpstra and Stijn Vandenbergh of Etixx-Quickstep, obvious chasers but neither could sprint so how hard should they work? All these calculations are hard for us to make from the comfort of a sofa or desk but they had to be done by rain-soaked riders with over 200km in their legs.
With hindsight
Looking back with what we now know is valuable. Obviously Luca Paolini's win has been tarnished by the news of his A-sample "non-negative" for cocaine during the Tour de France. Yet on the day Paolini's win was almost a let down as once he got away the others behind could not work out how to react and after a crazy afternoon suddenly the outcome looked fixed. It would be worse for Gent-Wevelgem if the race was a masterclass by Paolini but he was a stealthy figure and the day really wasn't about the bearded veteran.
Looking at the others the race was in March but we got a glimpse of Etixx-Quickstep's problems without Tom Boonen, a team packed with strong riders but nobody to clean up in the sprint. It meant Niki Terpstra had to work with Alexander Kristoff in the Tour of Flanders rather than sit on and play "policeman" knowing Boonen could deliver in the sprint. Geraint Thomas had just won the E3 Harelbeke and remember he'd go on to shine in the Tour de France, a remarkable versatility. This shocked some in July but presumably they hadn't been watching his results in the spring when he won the Volta ao Algarve and placed second to team mate Richie Porte on the Col de la Croix du Chaubouret, the Queen Stage of Paris-Nice. Greg Van Avermaet had a great season, finally converting some runner-up places into wins but his exchange rate is still low. Jens Debusschere is a valuable and underrated rider who can win sprints but this ride showed how he can master the classics and he'd go on to a top-10 in Paris-Roubaix and he should bring more options to Lotto-Soudal in 2016. Finally Sep Vanmarcke who seemed to be the most unlucky rider of the spring classics. He punctured at the worst times and cramped in other times, hopefully it's not been too hard on him and he returns for 2016.