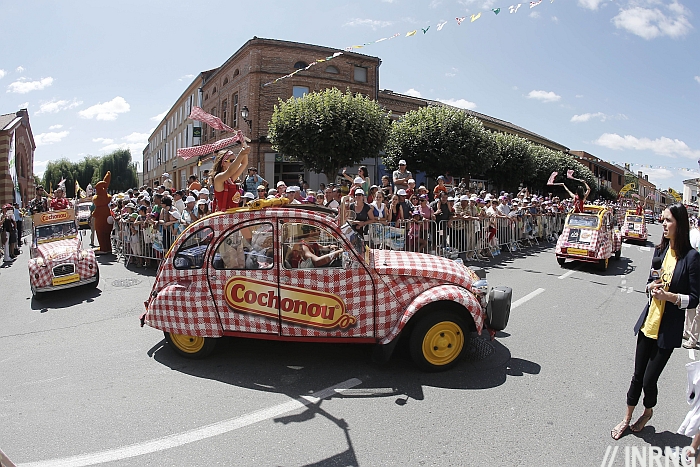 Adults were hauled folding chairs and picnic coolboxes, children carried hats, bags and small packets of sweets. They were moving in the opposite direction to me and this was worrying. I'd planned on watching the Tour de France and many were leaving. Surely I of all people hadn't got the time wrong? Perhaps the racing was so furious it was over an hour ahead of schedule? No, the exodus turned out to be people going home after the Tour de France's publicity caravan had been through, they'd got their loot of freebies and didn't want to stay for the race.
Here's a look at the business of the Tour de France's publicity caravan, the show you never see on TV but an astonishing marketing success.
The Tour de France's publicity caravan precedes the race and is the show you don't see on TV. It began in 1930 when Tour organiser Henri Desgrange found trade teams plotting – plus ça change – and decided to call their bluff and invite national teams to participate instead, using bicycles provided by the race. Only this meant an extra cost and he came up with the caravan, letting companies drive vehicles ahead of the race with branded vehicles equipped with loudhailers to broadcast slogans to the attendant crowds. Today it sees elaborately designed vehicles and millions of goodies are given away during July.
Sausage fest: saucisson manufacturer Cochonou will throw 460,000 taster packets – one for every seven metres of the entire route – into the crowds from its seven Citroen 2CV cars, it screams French rustic charm only the parent company is Shuanghui of Luohe, China. A first for this year is an electric vehicle being Fruit Shoot, a brand of British firm Britvic. In total 14 million objects get chucked at the crowds
It's an absurd experience, as if Times Square or Shinjoku was being wheeled through rural France. This is blatant marketing on a very unsophisticated level yet the crowds love it, it's dynamic, noisy and at times raucous. The French rugby team could talent scout as people dive into ditches and elbow each other out of the way just for a keyring, biro or hat. In age of channel-hopping and adblocking the caravan reaches parts of France that other ad campaigns cannot and once it arrives it then has people scrapping for free samples. If sales staff handed out sachets of detergent in a market square most people would be indifferent or even suspicious of the marketing. Estimates put the roadside crowds at 12 million of which 10 million are French, or a sixth of the country's population.
20km long: It's a tight show with its own commissaire. In a feature in L'Equipe on 2 July Aurélien Janssens explains he's got GPS tracking on vehicles so he knows where the caravan is. When viewed from the sky it spans 13km but can extend to 20km during the course of a stage and normally it takes 35 minutes to pass. The sheer size means the Tour has to avoid some roads, the caravan can detour around a short pavé section without problem but you wonder if some enchanting mountain passes are excluded from the Tour route because they're too narrow or steep.
Money maker: The costs vary from €15,000 if you just want to drive one car with your own decals up to about a million Euros according to Philippe Lavergne of Haribo, again in L'Equipe (owned by Amaury family, like the Tour). This includes the entry fee payment to ASO of around €250,000, the cost of the fleet of vehicles, hiring 20 people, 1.5 million sachets and also related in-store marketing campaigns with Haribo sellers, "It's a substantial budget but the Tour remains the event that attracts the most people and lets us reach our target of families." Cochonou and Senseo, a brand of coffee belonging US group Mondelēz, both reported a 20% increase in sales during July last year.
Big brands: there are some small cars in the caravan but you might have noted names of blue chip corporates above and we can add names like Nestlé, Škoda, Bostik, LCL, McCain and Bic among others. All are happy to sponsor the Tour de France in order to reach its audience but, for now at least, they won't go near pro team sponsorship. It's seen as too risky given the doping scandal-prone past.
Which bring us to the exodus of day trippers. The sun was beating down and they'd got their of freebies and it was time to go home. The race itself just didn't interest them, here was a chance to get a few free pens, sweets, hats and washing powder. It's not just anecdotal, there's data too with surveys by TNS Sofres, a marketing agency, showing the prime motivation behind the decision to go and watch the Tour de France is the publicity caravan itself. Forget illusions of cheering on a local hero or the deity of the maillot jaune, believe the report and the largest segment of the crowd is there for a Bic pen and a Skoda hat and will even go home before the race arrives. It's like walking out of the Superbowl final once you've seen the half-time show. Disturbing for those of us who want to think the race is everything? Yes but it brings in the crowds. It's not new, in the 1960s L'Equipe wrote that after the joy, music and cheers of the caravan had sped across the countryside, the race itself was the "tail of a comet". As marketing stunts go, there's nothing like it.