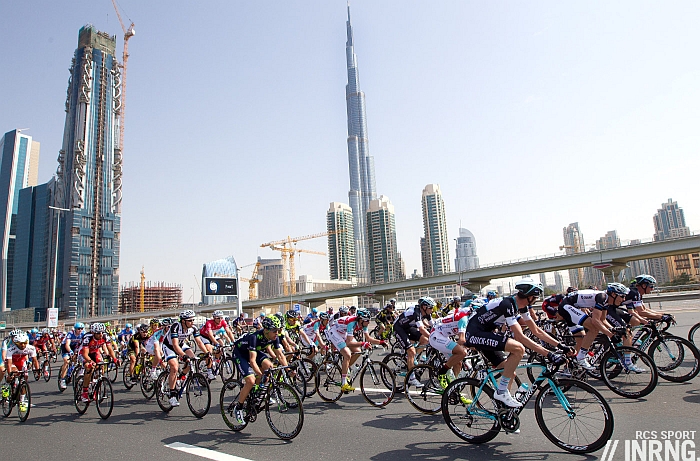 This should be a piece detailing the finances of the Giro d'Italia but it turns out the event and its finances are mere footnotes buried with the accounts of RCS Mediagroup, an Italian media conglomerate. As great as the Giro is, it is no money-spinner.
Money can be made though and the Giro's heritage is being exploited for new revenue opportunities in the Middle-East and perhaps beyond where a brand new short stage race can prove more lucrative than an established grand tour.
The Company: Rizzoli Corriere della Sera MediaGroup is the full name of the company more commonly known as RCS Media, pronounce it "Air-Chee-Essay" to sound like a local. It is quoted on the Milan stock exchange and valued at €631 million ($720 million). The largest shareholders are typical of the Italian corporate sector where companies and holding companies all own shares in each other, here Agnelli, Pirelli, Mediobanca are among the big investors. The income for 2014 was €1,279.4 million.
The activities: It is the market leader for print media in Italy and Spain with titles like Corriere della Serra and La Gazzetto Dello Sport in Italy and El Mundo and Marca in Spain, respectively accounting for the first two areas in the chart above and includes many more titles from daily newspapers to monthly magazines. The third, RCS Libri, is Italy's second largest book publisher. RCS Pubblicità does pubblicità ("advertising") – especially via its IGP Decaux venture with hoardings across Italy – and eventi, mainly sports events. It's within this group that the RCS Sport sits, the entity that runs the Giro. RCS Sport has a portfolio of sports events:
Cycling: Giro d'Italia, Tirreno-Adriatico, Strade Bianche, Roma Maxima, Milan-Sanremo, Il Lombardia, Dubai Tour, Abu Dhabi Tour
Other sports: commercial advisor to Serie B football and Italian basket ball, Milan marathon, Color Run
The money: The table above shows the accounts of RCS Pubblicità for 2014, almost €300 million of income from advertising and promotional events, €48 million from sports events. This means that all of RCS's bike races and other sports activities generate a combined income of €48 million. It looks low but that's what the accounts say.

2014 was a good year too for RCS Sport with the Belfast grande partenza raking in €3.1 million which goes a long way to explaining why the Giro opts for so many foreign starts these days. Interestingly the new Dubai Tour earned €4.5 million: a four day pre-season stage race in Dubai is 50% more lucrative than the high profile three day start of the Giro itself. No wonder RCS are so keen on the Dubai Tour and are launching the season-ending Abu Dhabi Tour in October to shakedown some more petrodollars. Now this is income and not profit, a lot of the money earned is spent inviting Diego Maradonna to the lavish opening ceremony, paying teams to race and flying out the media. Meanwhile domestic races like Il Lombardia and Tirreno-Adriatico turn over much less and don't make much money.
Loss sharing: Again the dismal sums dampen talk of revenue sharing. Assume wrongly that €48 million comes from cycling and then assume a 25% operating margin and this implies €12 million in profit a year for RCS, assume RCS is so generous that it would pay half of this out to strangers and £6 million divided by 18 teams or €0.33 million per team. Use more realistic assumptions and the sum is far smaller, a welcome sum but irrelevant to stabilise team finances.
Conclusion
The Giro might be a giant race but it's little more than a one-liner in the 377 pages of RCS Media's accounts. Instead the company is all about print publishing and faces the same challenge as every other newspaper: how to make money from journalism in the internet age.
Cycling helped to make the group what it is today with the Giro and other cycling events helping to sell newspapers by the million in the past. Today a race is no longer a viable newspaper promo. If anything the Giro almost looks like a brand, something that can be used to make money abroad while the actual race itself isn't a valuable asset. Careful exploitation of the Giro's heritage along with RCS's marketing flair means there's money to be made from foreign starts and launching new races in the Gulf.