It had all been looking so good for Tirreno-Adriatico. The "fantastic four" of Alberto Contador, Chris Froome, Vincenzo Nibali and Nairo Quintana were supposed to clash for the first time together in a stage race only for Froome to fall ill, while we were promised a sprint royale between Marcel Kittel and Mark Cavendish but the German's got a virus. Still even in the absence of Froome and Kittel the Italian stage race has a stellar startlist that trumps Paris-Nice by a variety of metrics, whether sheer anticipation or the cold logic of UCI points. Why?
Tirreno-Adriatico has evolved as a race, for years the route wasn't too remarkable but of late RCS have tried to include more spectacular finishes and have added some ski station summit finishes. It's become a mini Giro d'Italia with mountain-top finishes, time trials and other adaptations to suit stage race specialists. This has attracted the big grand tour names but glance at the list of winners and it's only since Cadel Evans in 2011 that the list correlates with the famous names of grand tour glory. So the race has become an alternative to Paris-Nice by adopting a comparative route.
The route too plays a part in other ways as Tirreno-Adriatico offers more for more riders. The opening two stages of this year's Paris-Nice have been a bore to watch as the race crosses featureless roads between Paris and central France. A spiky finish a top a short climb might prompt a few more puncheurs to start.
Some riders say Paris-Nice is a stressful race, the opening stages can be flat but if the crosswinds are blowing then there's a fight for position while Tirreno can be more formulaic, the moment the race was won is usually in the set-piece time trials and summit finishes. There's more media coverage of Paris-Nice too, Italy offers relatively quieter prep for now too.
Some riders have short-term objectives and Tirreno-Adriatico allows those aiming for Milan-Sanremo to get a harder ride closer to the race. The Italian race finishes on a Tuesday, less of a gap until Milan-Sanremo but enough time to recover. Tirreno-Adriatico also has longer stages, typically the race has one long "Sanremo" stage so that riders can the feel of the distance.
Longer-term objectives come into play too. If you want to win the Giro then racing in Italy helps a little, you learn the feel of the roads, to spot the warning signs used by the race and to handle Italian press conferences. Similarly Vincenzo Nibali rode Paris-Nice last year to get some extra experience in France. This notion won't alone explain Contador's presence in Tirreno-Adriatico but it's a factor on the list.
The weather is a factor. Paris-Nice is "the race to the sun" yet the key word is the preposition, "to" the sun on the Côte d'Azur. In recent years Paris-Nice has seen glacial stages and riders with bigger objectives in mind will want to avoid the harsh conditions. Not that Tirreno-Adriatico basks in glorious sunshine, the inland stages can be very cold too, it's more that on average you expect Tirreno-Adriatico to be warmer.
Business is another factor. Tirreno-Adriatico is owned by RCS who also own the Giro and Paris-Nice is owned by ASO who also own the Tour de France. Since many top names build their season around the Tour de France this is a chance to shine some limelight on an RCS event and give the Italian organiser a boost. Tirreno-Adriatico has been suffering financially and support for the race helps it and RCS.
Does appearance money count? We don't know is the simple answer but I understand RCS has paid riders and teams for the Giro in the past.
Fashions and routines count as well. If you've tried one race a few times then why not do something different? Here there's no driving factor, just the sake of change.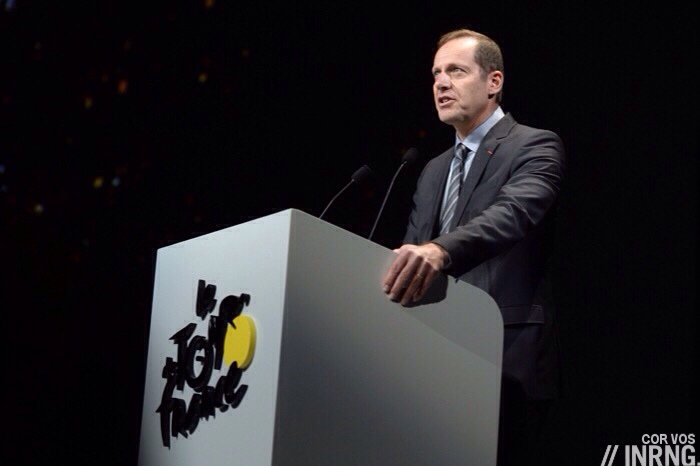 When I saw the "fantastic four" were going there, the first thing I said was "shit"
– Christian Prudhomme, L'Equipe, 8 March 2015
Merde said Christian Prudhomme. You can sympathise but it's up to him and his colleagues to do something rather than wait for the startlist to come out, it hints at passivity.
Update: Another reason could be the course announcement, as suggested by friend of the blog Manuel Pérez Díaz. RCS announce the route months in advance which gives teams plenty of time to prepare whereas ASO only announce the route in February. In 2014 Sky provisionally entered "defending champion" Richie Porte only to later see the route announced which didn't suit the Tasmanian so he went to Italy instead.
Finally the two races are in opposition because of the calendar clash. Having two similar World Tour events on at the same time forces riders to choose. They're not alone as sections of the media must decide which race to cover while fans too have to follow two races. Channel-hopping is easy if you can get both races on TV but reading two sets of stories and more is confusing. Ideally there'd be no clash but it's not as easy as you'd think. Neither race can go back much earlier on the calendar as it would be colder and neither can moved forward either otherwise they'd clash with Milan-Sanremo. You could have Milan-Sanremo on the Sunday, finish Tirreno-Adriatico on a Wednesday and then run Paris-Nice a whole week earlier. But just because two races don't overlap doesn't mean everyone would ride both, many star riders would look at a premature Paris-Nice and avoid it because of the cold weather. Then again if every race saw the same top riders race each other the risk is repetition.
Conclusion
Tirreno-Adriatico has a constellation of star riders. This is new as for years Paris-Nice was the premium event, now the French event stagnates although it's relative, the likes of Michał Kwiatkowski, Tony Martin, Tom Boonen, Alexander Kristoff, Philippe Gilbert and many more hardly mean everyone's sent Team B to France.
There's no one reason to explain why RCS has assembled a better field than ASO but a mix of the elements listed above help to explain why the Fantastic Four and others opted for Italy.