March is a busy month for pro cycling. Even if you had the free time and inclination trying to watch as many races as possible it would not be easy, you'd need determination and several screens. Races are spread over several channels and for many fans there's sometimes no legal way to watch a race because it's not on TV.
The internet's changed expectations leaving fans wanting to watch every race going and thanks to the web it's often possible, at least if you resort to so-called pirate feeds. But there's a better way: use a VPN.
A what? A VPN is a Virtual Private Network and it can allow you to get around geo-restriction technology. Normally if you try to watch Sporza's coverage of a race from outside Belgium you are blocked. There are reasons for this, they don't have the rights to broadcast the Omloop Het Nieuwsblad internationally for example. With a VPN you can select "Belgium" and it tunnels your internet connection right into Belgium, fooling Sporza into thinking you're a local and so you can watch the race. Typically you can subscribe to a service or, if you use the Firefox or Chrome browsers, try the Hola plug-in.
Of course you might be used to pirate feeds but these are a horrible way to watch a race. Yes they're free but you get low resolution images that are as pixelated as a Picasso painting while you play whack-a-mole with the pop-ups, all while risking malware and the prospect of the feed dropping with 5km to go. With a VPN you watch what the locals watch and it's usually a lot better. Of course this means foreign language commentary but if you're already watching a pirate feed chances are you've got foreign language commentary.
Some US fans use a VPN to pretend their internet connection is in the UK and then sign up for the Eurosport Player service, a subscription version of the sports channel on the web. This means paying twice, first for the VPN, second for Eurosport but you'll get English audio and you can go "full screen" on your computer for a high quality image. Also for US fans keen to watch RCS's Italian races, note that BeIn Sports offers an online option now too, you can watch via your browser if you or a friend has a subscription; if, say, your apartment block can't get BeIn, you can pay for a friend to have it and ask for their log-in.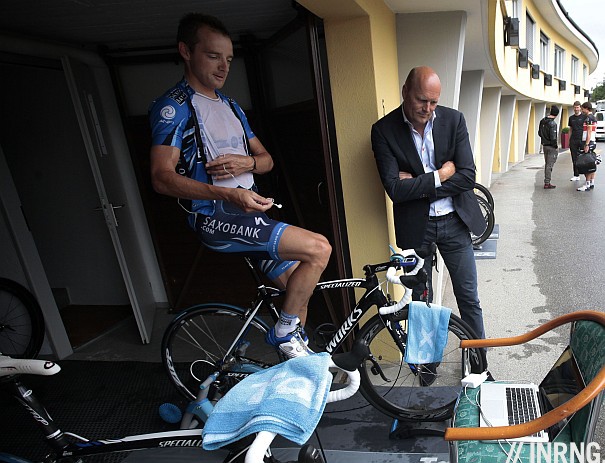 Don't fear foreign commentary: There can be long moments when nothing is happening and you'll have no idea what the TV commentators are saying: but that's only because there's nothing happening. Once the action picks up you'll hear names being called and things get obvious. A vall on Sporza is a fall, an attaque on RTBF is an attack and of course English language commentary is infested with foreign words like peloton, bidon and pavé.
Motoman: watch enough races and you'll start to learn more terms and the local broadcaster is often superior because they have a reporter on a motorbike, Sporza has Renaat Schotte and for the Tour de France France Télévisions has two roving reporters, one covering the break and the other monitoring the back of the bunch.
Right VPN: there are some free VPN clients but you need to select a provider that will tunnel to the destination of your choice and offers enough bandwidth. For example Tunnelbear is free but it has a fixed allowance per month. So before you install any software, yet alone pay for a VPN subscription, check that you've got the countries covered. The Hola plug-in for browsers is a good free service but is sometimes blocked by broadcasters. Some VPN providers offer several options including apps for your smartphone so you can watch a race via a 4G connection.
Tip: if you watch on a computer plug it in to your TV via an HDMI cable and the image quality can look sharper, despite the larger screen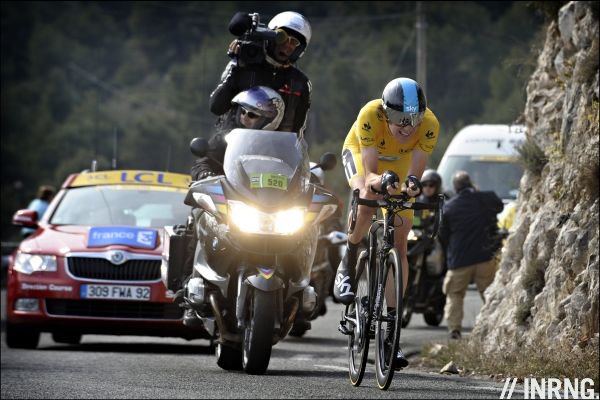 Immoral?
It feels wrong to explain sneaky tricks to watch races and if a VPN isn't a pirate feed, it's a submarine-like tactic. There are three justifications or excuses:
sometimes there's no other way to watch the race, even if you subscribed to every sports channel going at home the race is simply not being shown in your country
"everyone else is doing it" line. A flimsy excuse but even pro TV commentators who work for one channel do it to keep up with the sport
chances are you're already using pirate feeds and if you are, a VPN is better than a pirate feed. There's no malware and you're not implicitly or explicitly contributing to illegal streams. Plus you'll show up on the domestic broadcaster's audience stats, a little boost their ad revenue
Summary
You're almost always better off watching a race properly on TV, the image quality is superior and whether it's by adverts or subscription you are paying towards the costly coverage. However this sometimes isn't possible and many endure dodgy pirate feeds. If you're in this rogue boat you'll find a VPN connection offers smoother sailing. Some VPNs are free, some have a charge. It's hard to recommend a single provider, shop around. But it's a superior way to watch a race if you cannot find it on TV at home, a small price to pay to get rid of the pirates.