Roma Maxima has fallen off the calendar for 2015. It was one of the few races left in a capital city. France, Italy, Belgium, Spain and the Netherlands are all seen as cycling's heartlands but all suffer from a dwindling if not total absence of pro racing in their capital cities. Of the three grand tours last year only the Tour de France visited its capital city.
Various national capitals do have a bike race but that's it, often just one pro race a year if they're lucky. Yet these are the biggest cities with ready audiences only the sport stays away for the rest of the year. This is a problem as the sport needs sponsors and its absence from major cities implies a lack of visibility in the very places where decisions are taken, views are formed and deals are signed.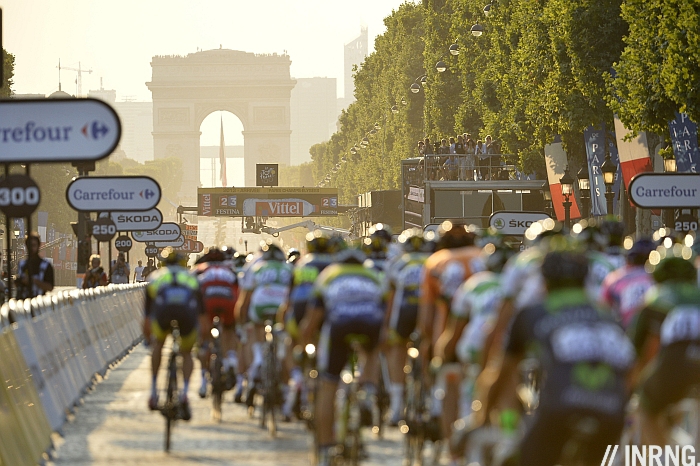 Major races end in small places like Sanremo, Roubaix, Oudenaarde rather than Rome, Paris or Brussels. A century ago Paris had too many races to list. Of course the Tour de France finishes in Paris but it's the exception, a one-off and the only bike race to visit the French capital during the whole year. Paris-Roubaix, Paris-Tours and Paris-Nice all start way out of Paris but cling to the Parisian label, perhaps it's just history but it's also a grand lie. Last year's Paris-Tours started in Bonneval, a full 120km to the west of Paris.
Even in cycling-mad Belgium the capital is light on races with numerous events to the west in Flanders and east in Wallonia but just the diminished Brussels Cycling Classic, once Paris-Brussels, left. London seems to be the exception with the Tour of Britain and the Ride London Classic bolstered by the Tour de France visit last summer.
As a rule, each capital has one race but not much more, for example the Berlin Velothon is the one event in Germany with more races elsewhere. Worse, races are dropping off the calendar. Roma Maxima has vanished, depriving us of the wonderful imagery of the Colosseum. RCS hope to bring it back but it's always twice as hard to resurrect a race that's vanished from the calendar than it is to run it for another year. Vuelta a la Comunidad de Madrid vanished last year but is promised to be back for 2015, hopefully it happens.
Easier said than done
It's not all bad, after all we long to see a race on a cobbled track or a remote mountain pass rather than a boring boulevard or a city centre and if these are hard to ride on, they're easier to stage a race on. Logistics mean it's hard if not impossible to close the roads and capital cities are so large that closing roads for a race means disruption for a lot of people. Sometimes a race just can't visit a city any more says former Tour de France technical director Jean-François Pescheux:
"The roadside landscape has been changed incredibly by the will of public authorities to put chicanes, speedbumps and roundabouts. All this makes a new shift for the Tour because it's impossible, for example, to have a stage finish in Nantes or Lorient. There are some towns that have been modified so much that the Tour can never go back."
Liberation
As Pescheux points out, if the sport can't visit the capital cities it often can't reach the centre of other cities either which helps explain why some Tour de France finishes head for a city or large town only to finish on the outskirts next to a drab sports complex rather than the historic and charming centre ville.
It all makes for a provincial and even rural sport where the sport skirts around cities. Yes you can watch many races on TV but what of those that are not broadcast? If the major races struggle, imagine the challenges facing amateur and local events?
Conclusion
Cycling races cover much of Europe and beyond but the sport often avoids capital cities. It's not totally absent but it is surprisingly rare, even in Belgium. You wonder if this retreat brings a lack of visibility for decision-makers, whether sponsors or politicians? Logistics, hassle and more make it hard to send a peloton of 200 riders into town and it's not going to get easier.