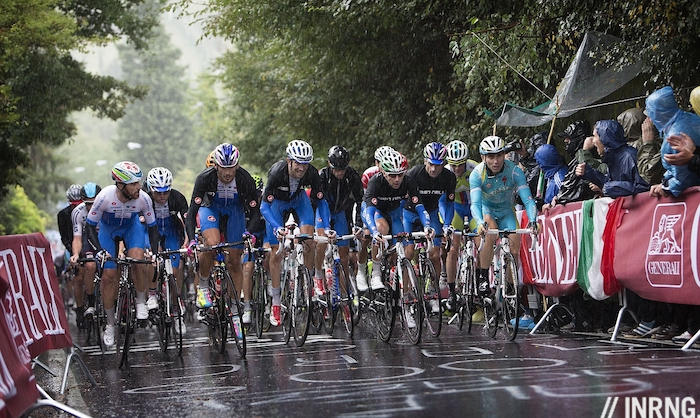 Watching bike races in August feels like being in a seaside resort out of season because after the Tour everything feels slower, quieter, smaller. There's also a lack of a story, riders are racing to win each day but it's hard to judge their efforts against a wider criterion or a bigger upcoming goal. Even if the Vuelta might's fast-approaching it's hard to judge form levels and some riders aren't racing before starting the third grand tour. But there's one immediate event coming up and its qualification for the World Championships this week. Here's a look at how various can qualify and which ones will send large squads to Spain.
Qualifying for the World Championships road race is a complicated task. Each nation is offered a quota of places and it's up to the national team selectors to pick the individual riders to suit their goals. The quota is based on the UCI rankings due out on Friday and set out as a PDF on the UCI website. Here's the summary:
The 10 first nations in UCI WorldTour classification by nation on 15 August 2014 may enter a long list of 14 riders and start nine riders on the day of the race, as long as all nine riders are classified on the UCI World Tour or continental rankings, eg Europe, Asia
So in short a selector from a large or well-ranked country can pick up to 14 riders and race nine on the day as long as they're ranked somewhere. Here's are the current standings and they seem unlikely to change substantially with the Eneco Tour sprints this week.

Each nation from Spain to Great Britain can have nine starter but it's not certain… it depends on having nine riders listed the UCI World Tour rankings, otherwise it only qualifies for six riders. As of today Spain, France, Netherlands, Australia, Belgium, Germany all have nine or more riders on the World Tour rankings. Colombia and Great Britain have eight and Poland have three riders. So Columbia and Britain get eight riders while Poland gets the minimum quota of six.
Note how this means some nations can be ranked in the top thanks to one or two riders and so they struggle to fill the rest of the nine places. For example Poland have "only" Michał Kwiatkowski, Rafał Majka and Przemysław Niemiec in the World Tour rankings and the country's high ranking is due to the first two meaning the national selector has work to do to find support riders. So Poland qualifies three riders but it can bring more based on their rankings in the UCI Europe tour. The same applies for other nations who can all top-up their quota if they are ranked high on the regional tours.
Now for those nations without a presence at all in the top-10 of the World Tour rankings which is then based on the national rankings in each regional tour.
| | |
| --- | --- |
| Africa Tour | 1st = 6 riders / 2nd, 3rd = 3 riders |
| America Tour | 1st and 2nd = 6 riders / 3rd, 4th, 5th = 3 riders |
| Asia Tour | 1st = 6 riders / 2nd, 3rd, 4th = 3 riders |
| Europe Tour | 1st to 6th = 6 riders / 7th to 14th = 3 riders |
| Oceania Tour | 1st = 3 riders |
| | |
The allocations are "excluding the nations qualifying via the UCI WorldTour classification" so for example in Oceania, Australia qualify already so it's New Zealand that can start three riders.
Each nation in the UCI WorldTour classification which has not otherwise qualified but has:
a rider among the first 100 in the individual classification of the UCI WorldTour classification on 15 August 2014 can have three starters
three riders in the individual classification of the UCI WorldTour classification on 15 August 2014 can have three starters
two riders in the individual classification of the UCI WorldTour classification on 15 August 2014 can have two starters
one rider in the individual classification of the UCI WorldTour classification on 15 August 2014 can have one starter
The come more rules where if an individual is well placed on each of the regional tours they too qualify their nation to start. Finally if the World Champion is not able to start via these rules he gets to start… but Portugal will qualify and so Rui Costa is likely to start.
Does it matter?
Yes, the rules above are pretty dry stuff but having a big team in the road race is very useful if a rider has ambitions to win. We saw the British team execute a plan to help Mark Cavendish win in 2011 and one part of "Project Rainbow" involved targeting qualification with riders aiming to bag UCI points in order to boost Britain's rankings so that the team could start with a full squad of riders. Not that every nation does this, for example we can expect rivalry among several teams, perhaps Philippe Gilbert and Greg Van Avermaet on the Belgian squad for example. Indeed there's a variety of approaches with some nations merely picking riders and paying for their flights while others hatch long term plans.
The Course
Ponferrada in Spain has a long circuit of 18km and two hills, one gradual drag and one sharp climb of 8% for one kilometre. With the distance of 250km it'll be selective and probably too much for a pure sprinter. Having teams to control the race is a big help.
UCI Rankings
Since we're on the topic of UCI rankings, why are these only updated periodically? National selectors and a few dedicated fans alike are left manipulating their own spreadsheets to calculate rankings while everyone else just has to wait. It shouldn't be too hard to publish the rankings in real time rather than produce irregular updates to the various UCI rankings. Hopefully the mooted new website improves this.
Conclusion
It's not something you can explain a few seconds or a tweet so hopefully the above helps set things out. In short it's the national rankings in the World Tour that determine the biggest teams but countries need to have plenty of riders in the rankings to be sure of having a full squad. As set out in the Polish example above it's not enough to have two riders around the top-10. Team work counts for plenty but it varies from nation to nation and ensures the Worlds is always a different event with varying tactical choices.