200km and then a decisive summit finish, a brutal change of rhythm from a high speed approach to a grinding uphill climb. Each time the Giro has finished on Montecampione the stage winner has gone on to win the Giro.

Stage 14 Wrap

A brilliant win for Enrico Battaglin, two in a row for Bardiani-CSF. Manuel Quinziato and Albert Timmmer led up final climb having jumped clear of the breakaway. A mechanical halted Quinziato and gravity got to work on Timmer. It was on the upper slopes that Timmer was caught and passed by Dario Cataldo and Jarlinson Pantano but behind others were coming back too and entering the final corner Battaglin got to the two leaders and, in a furious sprint over the cobbles, took the stage to end a great stage, albeit one where TV viewers were hampered by a lack of graphics on time gaps and other vital information.
This summary of the finish doesn't do the stage justice though, there was a lot of action with different moves and a fierce pace from the start. We even got another Pierre Rolland Energy Wasting Attack™ where he surged on the penultimate climb and, accompanied by Ryder Hesjedal, secured 14th place on the day. It wasn't futile though, he's back in the top-10 overall.
If Battaglin's name is familiar it's because he won a stage of the Giro last year… there's Giovanni Battaglin, the framebuilder and winner of the 1981 Vuelta and Giro. Enrico is related but just a distant cousin.

Domenico Pozzovivo attacked again and took more time. Ag2r's tactics are obvious but effective: hit the front, turn up the pace and then when everyone is on the rack, Pozzovivo dances away. It took two moves to go clear and he had the inscrutable Nairo Quintana for company. The Colombian is on antibiotics for a lung infection. This can cause fatigue to build but if he can shake the bug, imagine what he'll do in the third week once his Vo2 returns to the max? Rigoberto Urán looked steady but was giving away seconds in the final moments of the stage.
The Route: the Pantani tribute tour continues with a third hommage, this time to Montecampione, literally "Mount Champion" but remember the word champion is derived from the Latin word for field, campus, rather a hero. To get there, 200km across the plains of Lombardia. These are regular roads and largely unremarkable.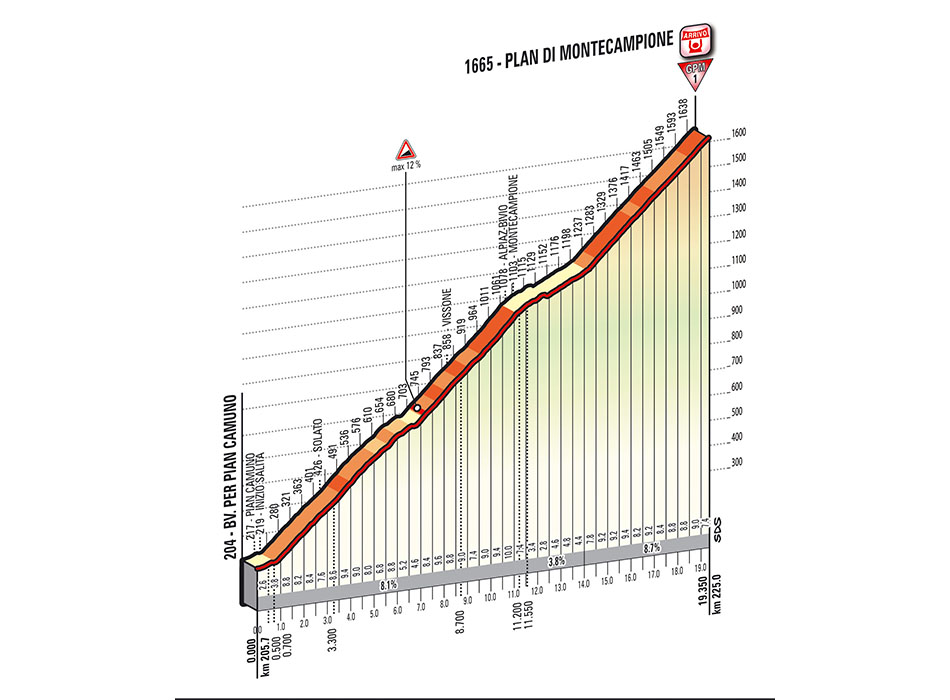 The Finish: 200km in the big ring and then a sudden change of gear. It's not the mechanical operation but the change of rhythm that disturbs riders. All day at speed in the peloton and suddenly it's everyone for themselves.
Montecampione is a ski station. As a rule ski resorts have easy access, it'd be bad for business if customers could not drive up or, having got there, felt sick from the journey. It's 19km uphill and all on a very regular slope that's a selective 8%. There are some covered sections and many hairpin bends. The road gets narrower and rougher towards the top as the gradient nudges 9%. This isn't high altitude but it's from a low base, 1,400 vertical metres or 40% more gain than Alpe d'Huez.
The Scenario: breakaway or GC showdown? The heart says a breakaway sticks but logic says they're caught. The stage is predictable and linear, ideal for the chasers.
The Contenders: today's long climb is a pure test of form for the climbers, break out the stopwatch and VAM calculations. Domenico Pozzovivo is making it look easy and Nairo Quintana appeared relaxed yesterday. Fabio Aru's confidence should be high after yesterday's ride but let's note he caught Pozzovivo on the flatter upper sections of the climb and today's 9% slopes are something else. Rafał Majka and Cadel Evans climbed well yesterday too and if Rigoberto Urán lost a few seconds yesterday, he might find today's climb more suitable – the real test is to see if he has any team support on the second half of the climb.
We should watch Julia Arredondo too. This time there's little point going up the road to get mountains points, he'll probably sit tight until the final climb. There's no obvious name for a breakaway but whoever builds up a lead on the plains will need to climb fast at the end, think the likes of Stefano Pirazzi and Edoardo Zardini (CSF Bardiani) or Europcar's Romain Sicard.
–
Domenico Pozzovivo
Nairo Quintana

Rafał Majka, Robert Kišerlovski,

Julian Arredondo



Urán, Aru, Evans

Weather: sunny with a temperature of 24°C. There's a mild headwind of 10-15km/h.
TV: the race is on a variety of TV channels according to where you are in the world. Eurosport is covering the race across most of Europe. beIN SPORT has the rights in the US and France. There's cyclingfans.com and steephill.tv for TV schedules and pirate feeds and more.
The race is due to hit the final climb around 4.00pm Euro time but tune in before to see the approach to the climb and see who is fighting for position . The finish is expected around 5.10pm.
History: the race has visited Montecampione twice before, in 1982 and 1998 with stage wins for Hinault and Pantani respectively. Hinault dispatched Lucien Van Impe to win solo. Pantani famously struggled to shake Pavel Tonkov and even removed a diamond nose stud in a bid to save weight before riding away solo. Each time the stage winner went on to win the Giro. Maybe that is why it's called Montecampione after all?