There are 18 World Tour teams and 17 Pro Continental teams. One difference from most other sports is that cycling teams come with naming rights meaning the squad is named after its sponsors. But who are these backers and what do they do?
You might know about Garmin or Cannondale but do you know what Belisol, Lampre or Quick-Step are about? Do you know your Drapac from your NetApp and what links Johnny Hoogerland to Hello Kitty?
Ag2r La Mondiale: an insurance and savings company. Note the team name is not two sponsors but Ag2r La Mondiale is the name of one company. The firm offers retirement savings, healthcare insurance and other forms of social insurance. And why are the shorts brown? Well the corporate logo is blue and brown but note the company's Parisian headquarters are located at 35 boulevard Brune. Brown Boulevard.
Astana: not a company but a city and a nation. Astana is the capital city of Kazakhstan and the team is funded by the state to promote the country, a bid to counter the "Borat" image. They also fund motorsport and more. The jersey features the names of various state-owned companies. Note team manager Vinokourov was on a winning list in the last parliamentary elections, showing the close links between the team and the state.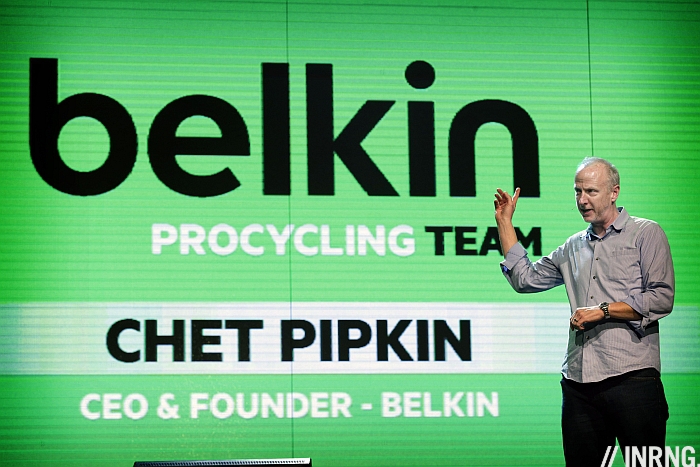 Belkin: a US consumer electronics and accessory company that owns router company Linksys. Company founder Chet Pipkin, the -kin in Belkin, owns the company outright and has visited the team to see it in action.
Cannondale: the bike brand has had its ups and downs. In the 1990s it supplied bikes to the Saeco team in Italy and was famous for its oversized alu tubing. The company moved into motorcycles, offering innovative lightweight offroad bikes but this was a commercial disaster. The brand was bought by Dorel, a Canadian conglomerate that also owns Sugoi, Schwinn and GT as well as a range of brands supplying infant products like Bébéconfort. Another sponsor is Sho Air – which isn't what Peter Sagan does in a stunt – instead the firm handles logistics for trade shows including air freighting materials to events.
BMC Racing: a brand of Swiss bicycles. The team is registered in the US but funded by the Swiss francs of Andy Rihs, a billionaire cycling enthusiast who owns BMC and other bike brands. Registering the team in the US helps the team to tap this giant, lucrative market whilst trading on the image of Swiss quality. Some of Rihs's other assets feature on the jersey like his La Coquillade hotel.
FDJ.fr: is short for La Française des Jeux or "French Games" and is the French state lottery with regular draws, scratchcards and more. The sponsor has backed a team since 1997 but almost quit in the wake of doping scandals but courageously decided to stay in the sport on the condition the team rode clean. This meant lean years. The Fondation FDJ also supports other sport, a funding scheme to help Olympic athletes. The team features the bleuet de France cornflower war memorial this year as commemoration of the First World War.
Europcar: is a privately-owned vehicle rental company with operations around the world. The green brand is a common sight at airports and beyond. In France you can spot the likes of Thomas Voeckler painted on the side of rental vans. Other sponsors include worldwide hotel giant Accor and Harmonie Mutuelle, a health insurance provider.
Garmin – Sharp: Garmin is a US satellite navigation company, although if it is from Kansas its corporate HQ is in Switzerland. It was founded by Gary Burrell and Min Kao which explains the Gar-Min name. Some have questioned the company's future in a world where smartphones replace many GPS devices but the cycling and sports equipment is proving to be a big new area. Sharp are a Japanese electronics company but the sponsorship is with the European subsidiary as the firm wants to promote its brand in Europe. The team cleverly has a team bus decked with Sharp solar panels and a flatscreen TV on the side.
Giant- Shimano: Giant is appropriately named, it is the world's largest manufacturer of bicycles. Shimano is obvious but note their European base in the Netherlands which part-explain the Dutch direction.
Katusha: is the abbreviated version of Ekaterina or Catherine in English. It's the name of a famous Soviet wartime folk song in Russia which still gets patriotic hearts stirring today. In English you'd call them Team Kathy but there's nothing diminutive about the sponsors: Gazprom and Itera are rival energy giants and Rostec is a Russian state agency designed to fund and control various technology and defence companies making this a team funded from the heart of the Kremlin. Curiously the list of co-sponsors includes an Italian cheesemaker and a French winegrower, suggesting gourmet tastes in the team management.
Lampre – Merida: a fixture in the peloton but many still have no idea what Lampre is about. They make rolled pre-coated steel. The name itself derives from the abbreviation of lamiere meaning a sheet of steel and pre-coated, Lam- and -pre. If you're still unsure what this is take a look at your washing machine or refrigerator and the laminated steel encasing it. Also check your filing cabinet, garage door or the steel shelving in a shop. Owned by the Galbusera family Lampre have been in the sport since 1991 with Colnago-Lampre and then in 1992 the Lampre team was born with the blue and fuchsia jersey that lives on today. Merida is a Taiwanese bike manufacturer linked to Specialized that's keen to make a name for itself in the pro peloton.
Lotto – Belisol: Lotto is the Belgian state lottery and like FDJ in France, has the monopoly in Belgium. Founded in 1934 to raise funds for the sick in the Belgian Congo, the company has continuously sponsored a pro team since 1985 although at times it has been the number two name, for example Omega Pharma-Lotto. It also sponsors the Standard Liège football team. Belisol make aluminium and wooden windows and doors and the firm has branched out into domestic renewable energy products like solar energy panels.
Movistar: Movistar is a mobile telecoms operator owned by Spanish national telecoms firm Telefonica with operations in Spain and Latin America and also in several European countries under the 02 brand. It's Spanish and can trace its heritage back through several sponsors like Caisse d'Epargne, Banesto and Reynolds to the 1980s but I understand the team is, for tax purposes, run out of Luxembourg for now. Be sure to pronounce the team name right, it is not "movie star":

Omega Pharma – Quick-Step: contrary to the name Omega Pharma is not a pharmaceuticals company. Instead it sells para-pharmaceutical products like wound dressings, vitamin supplements and other products sold over-the-counter in pharmacies. Its best selling product in France is "La Jouvence de l'Abbé Soury" a plant-based liquid claimed to help "heavy legs", a very French complaint and nothing to do with cycling. Quick-Step is a brand of laminated flooring that might seem indissociable from Belgian cycling but it's an American business and part of Mohawk Industries. Each sponsor is particular about hiring riders to suit key markets, for example Mark Cavendish in the UK and Tony Martin for Germany.
Orica – Greenedge: Orica is an Australian company that makes explosives and other speciality chemicals for the mining industry. It bought Nobel, the Norwegian dynamite firm several years ago. Australia has been a big part of the global mining boom and the company does not have a great reputation with explosive disasters as well as several fines for environmental damage but sponsoring a cycling team is seen as a way to put something back. Greenedge meanwhile is a holding name as the team searches for a co-sponsor, green as in the Australia but also the environment and edge as cutting edge.
Trek Factory Racing: US bike brand Trek is behind this team but note the wider sphere of Trek Factory racers with triathletes and mountain biker riders all in the same livery even if their not registered to the World Tour squad.
Team Sky: Sky is a satellite television channel with operations in Britain, Germany and Italy. The brand is ultimately controlled by Newscorp and the cosmopolitan Murdoch family. The team is partly owned by British and Italian Sky which helps to explain the presence of several Italian riders. 2014 brings extra visibility for 21st Century Fox, another company within the Murdoch media empire as well as Jaguar, a car brand belonging to India's Tata Motors.
Tinkoff – Saxo: Tinkoff is a Russian bank and credit card issuer that operates online, copying the model of Capital One in the US. Saxo is a currency brokerage from Denmark that offers software platforms to the banking industry.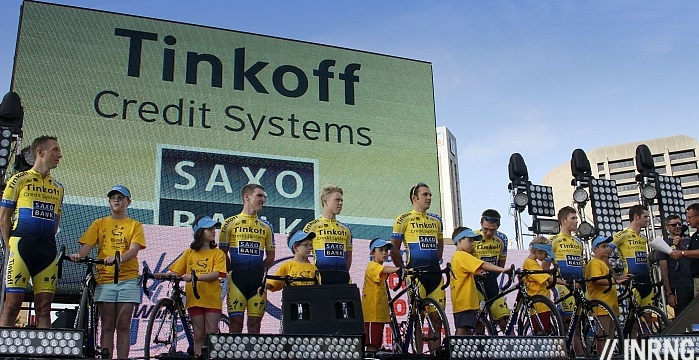 Pro Continental teams

Androni Giocattoli – Venezuela: giocattoli is Italian for toys and Androni makes a range of plastic toys under licence including a range Hello Kitty toys. Venezuela is of course the South American nation and the team has recruited several riders from here. As the jersey shows, if the jersey is real estate then team manager Gianni Savio goes for the Hong Kong approach of crowding as much in as possible.
Bardiani Valvole – CSF Inox: two names but the same company, Bardiani makes steel valves for the food industry and CSF produces steel products for food hygiene use. The next time you see video of a food factory with liquids being pumped and poured as products move along conveyor belts it might feature Bardiani's valves or CSF's steel piping.
Bretagne – Séché Environnement: Bretagne is the cycling-mad region of north-west France that juts out into the Atlantic and its regional government is funding the team. The region is home to France's favourite psychopath Bernard Hinault was well as the promising Warren Barguil. Séché is a recycling company that manages waste and other products. They're an outsider for a Tour de France wildcard.
Caja Rural – Seguros RGA: Caja Rural is a Spanish banking brand, it covers over 70 different small banks run on a cooperative basis. Seguros RGA, "RGA Securities", is a financial services brand belonging to Caja Rural. It's Spain's number two squad and guaranteed of an invite to all the big races in Spain. Like Bardiani-CSF it's a sneaky example of including extra sponsors in the team name because all squads are allowed to have two sponsor names.
CCC Polsat Polkowice: CCC is a chain of shoe shops in Poland and Polsat is satellite TV channel. Now you might have just read that a team can only have two sponsor names so what are CCC, Polsat and Polkowice doing together. I wonder too but Polkowice is the name of the town where the team is from.
Cofidis: is a French consumer credit company offering loans in France, Belgium and Spain. It concentrates on the sub-prime segment and has drawn criticism for aggressive tactics. The team was once one of the world's top squads but simultaneously a doping madhouse as its riders won classics and stood on to the podium of the Tour de France. It cleaned up its act long ago but results have gradually become more modest with the team leaving the World Tour at the end of 2009.
Colombia: is a quasi-national Colombian team but the funding is diverse with the national government making a contribution via the Coldesportes (Colombia Sports) agency and then a range of co-sponsors chipping in funding and equipment. A lively team but they suffer from seeing the best national riders poached for other teams.
Drapac Professional Cycling: Drapac Group is a specialist property investment and development company that has surfed the rising tide of real estate prices in Australia. But team founder Michael Drapac is more than a sponsor, the squad is keen to help riders develop with studies and learning other skills, a mission a few other teams might support but few shout about in public.
IAM Cycling: Independent Asset Management is a Swiss fund management company that has focussed on private funds but is moving to sell its funds to the general public. One of the largest and strongest Pro Continental teams.

NetApp – Endura: NetApp is a Californian company offering data storage and other IT services. Endura is a Scottish cycle clothing manufacturer who also supply Movistar. The team was formed from the merger of two eponymous sponsors and looks a good bet to ride the Tour de France.
Rusvelo: is essentially the Russian track cycling program with a road team to allow the endurance athletes to race on the road and is funded by the Russian government.
Team MTN Qhubeka: MTN is a mobile phone operator from South Africa with operations across Africa and beyond. The continent often lacks the infrastructure of traditional telecoms companies and MTN has grabbed a big share of the mobile market. Qhubeka is a charity project in South Africa to get people cycling. It helps rural communities by giving bicycles to children in return for work done to improve their environment and their community, this way the kids can get to school or provide improved access to healthcare.
Team Novo Nordisk: Novo Nordisk is a Danish pharmaceutical company with a range of insulin products and it is funding a pro team comprised only of diabetic athletes as a way to show the condition need not prevent an active life.
Topsport Vlaanderen – Baloise: Topsport is a Flemish sports foundation funded by the regional government and is helping younger riders in the pro careers. Baloise is a Swiss insurance and savings company.
United Healthcare: a US healthcare insurance provider. The team is looking to grow and will be riding in Europe this year.
Yellow Fluo: a bright jersey with darker past. The team is a survivor and should be changing its name to Neri as Italian firm Neri Sottoli is the prime sponsor. It's a food supplier. Sottoli is derived from "under oil" and means food preserved in olive oil, think antipasti like olives or mushrooms in oil.
Wanty-Gobert: Wanty is a mini-conglomerate with activities ranging from quarrying to civil engineering and roadsurfacing, all united by large public works and the raw materials needed for these. Groupe Gobert supplies building materials like insulation or paving stones.