Saxo-Tinkoff unveiled their new yellow and blue jerseys today meaning all the 18 World Tour jerseys are out and pictured in various forms above.
Tinkoff's yellow and blue design prompted sighs of relief on Twitter after complaints about the trend for black clothing in the pro peloton for 2014, even Oleg Tinkov joined in. Yes OPQS and Trek Factory Racing join Team Sky with predominantly black kit but arguably there are as many team in green as there are in black and besides, blue is by far the most widespread choice.  Are we mistaking a team jersey for a fashion item?
Blue is new black with 13 teams featuring at least a blue stripe and there are six teams with predominantly blue kit: Astana, FDJ.fr, Garmin-Sharp, Lampre-Merida, Movistar and Orica-Greenedge. There's a perceptive gap here as the green of Greenedge is in my mind and Lampre's fuscia outshines the blue.
What's a jersey for?
Much of the criticism of the 2014 team jerseys is along the lines of "Oh, I wouldn't wear that" but surely this mistakes the purpose of a jersey? A pro team jersey is a billboard, not a fashion item. You wouldn't hang a framed advert from Orica or Omega Pharma on the wall any more than you'd wear their kit and expect to look sharp. Instead jerseys are designed to get noticed and associate with the sponsor's identity. Companies have "brand manuals" filled strict guidelines and sports sponsorship has to comply rather than get creative. Even when fashion gets involved the results are restrictive, see the Giro's maglia rosa where designs by Versace and Paul Smith just manage to make it look like a pink jersey.
Bike industry exception
Perhaps the exception is the bike brand. The rise of factory teams brings a need to reflect the brand and to offer something for weekend warriors. If you ride a Trek then then some neutral team kit will match your bike – plus those pin stripes are slimming. BMC and Trek offer something reasonable. Cervélo owners with a Garmin can buy in too as long as they don't mind the argyle while Cannondale's lime green is a brave choice, very visible but wearable?
A wet day in Belgium
For fans and racers alike the real test is whether you can distinguish between the jerseys in poor light. Imagine the scenario: a gloomy early season day, a shaky heli-cam and you're watching a pixellated internet stream; or you're tired, your glasses are covered in dirt and there's traffic blocking your view of the break up the road: is that a Sky, Trek or OPQS rider that's just attacked the kopgroep?
Hopefully details and accessories come to the rescue, think Trek's asymmetric black and white shoulders or white helmets for OPQS and black for Sky. As for blue, if you're confusing Astana with Movistar, visit an optician.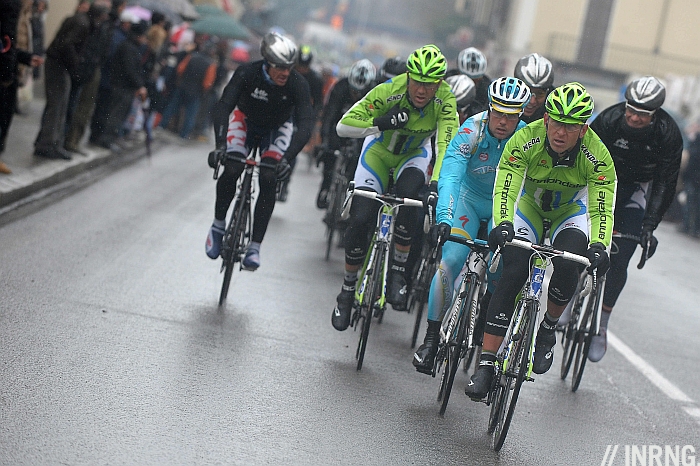 Back in black
When it rains half the peloton goes into stealth ninja mode with black waterproofs. This is actually against the rules:


Even if it's illegal it doesn't make sense. Just because it's wet doesn't mean a team should lose its visual identity and hide sponsors logos under black gear. And yes, the Gabba and similar garments can be made in any shade under the sun.
Whilst we're at it…
The sight of new kit is like seeing a flower bud emerging in spring, it signifies the approach of a new season. But 2014 brings another year of pinning numbers on to a jersey. It's a pre-race ritual but surely belongs to the days of the toestrap and downtube shifting? Why can't riders have permanent numbers printed onto their jerseys instead of safety pins and numbered sheets?
There's talk of chipping all riders and using geo-location to supply realtime race data and automatic captions but we'll still need to ID riders and permanent numbers printed on the jerseys is surely an idea to explore?
Summary
Taste is personal but judging team kit on its looks can be a mistake. Replica kit sales are small trivial when compared to the billboard function. Meanwhile there's as much green as there is black and most of the peloton is blue. But as one Twitter correspondent remarked, it's easier to spot shades of green than shades of black. This will be more complicated when it rains if last year's all-black waterproofs remain in fashion. Never mind that it's illegal, spotting team mates and hidden logos are bad enough.
The tests will be how easy it is to differentiate teams from a helicopter shot and if riders can spot their team mates but by then we'll be talking about the racing rather than who is wearing what.