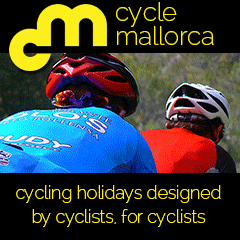 All sponsors of the website get a loud thank-you and here for October and beyond are Cycle Mallorca, a new company that offers cycling holidays on the island of Mallorca.
For many European cyclists Mallorca is a destination to escape the cold winter. For many more it's a big tourist destination with a peak in the summer and but there's grey-haired clientèle all year. It's ideal for the cyclist as it means there's an international airport with flights all year as well as a range of tourist accommodation. Best of all, the inland roads are ideal for cycling with plenty of variety and scenery.

The weather is a draw but Mallorca's a cycle-friendly place with signs posted by the road at the major climbs to announce the gradient and length of the road ahead. The north-west of the island is mountainous and several passes including the Puig Major and the famous climb of Coll dels Reis, better known as Sa Calobra, a small fishing cove only accessed by one road which winds its way through the rocks and round 270° hairpin bends. It's bound to feature one day to feature in the "Roads to Ride" series on here.
There's also the Mallorca 312, a 312km gran fondo ride that laps the whole island. Team Sky is has training camps at altitude in Tenerife but also block books a hotel for the winter months in Mallorca too. February sees the Spanish season start with the Trofeo Majorca, a collection of one day races. But it's the pelotons of riders from Britain, Ireland, Germany, Denmark and more that make up the big numbers.
Site sponsors Cycle Mallorca have a choice of seven villas available between January and April 2014 and Oct 2014-April 2015 with as much support as you want, from airport transfers to bike hire and more. Their idea is to choose the best places to stay and then track down high quality accommodation and, if you want, even supply good food cooked by a chef. The idea is to welcome groups although they can cater for one or two riders at a time. And as the name suggests, they don't just specialise in Mallorca, it's all they do. You can follow them on Twitter too: @cyclemallorca1
Why the thanks? I don't view ads on here as a mere advert, a billboard or banner in the wind. Instead their support helps this site run. The Inner Ring is not a business but it has costs from bandwidth to photos and travel. And the sponsorship's an extra incentive to, say, spend a lunch break reading a Court of Arbitration judgement. Better still the funding helps travel and there are plans to visit some of the Giro and Tour's big stages, mountain and time trial to get more insight, plus hopefully a trip to Belgium next spring to sample the beer and frites crosswinds and cobbles.
So thanks again to Cycle Mallorca.