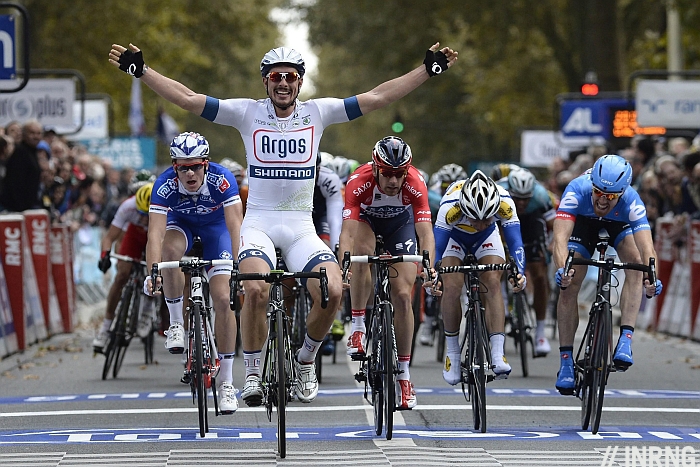 John Degenkolb won Paris-Tours today. The German won the bunch sprint ahead of Michael Mørkøv and Arnaud Démare but only after he, Mørkøv and Démare had been on the attack with 10km to go in a break with the likes of Sylvain Chavanel, Sep Vanmarcke and Jetse Bol.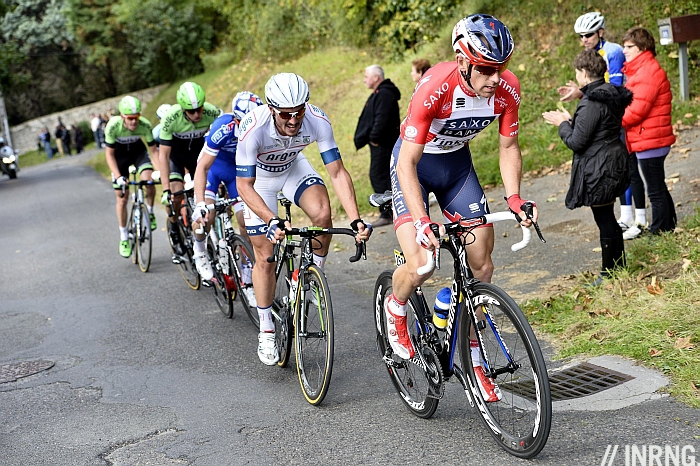 In way the attack confirmed the form and freshness of these three riders and the effort involved to go with the attacks was not much bigger that made by fourth placed Tyler Farrar as he had to climb, corner and brake like the rest of them. Indeed Démare and Degenkolb knew they should sit tight and let the others do the work. But it shows what it takes to win the race, this is not an event where a sprinter can be ferried to the finish in the vacuum-version of a Sedan chair.
Degenkolb Loses His Charm
It's the end of Degenkolb's season and a four race winning streak that started after he lost his lucky charm necklace during Stage 1 of the Tour de l'Eurométropole earlier this month. Superstition can be a big issue for some riders, perhaps Degenkolb's jewellery was more sentimental than lucky?
One Team, Two Sprinters
Démare lost out but team mate Nacer Bouhanni has now taken two stages of the Tour of Beijing. Both FDJ and Argos-Shimano have two sprinters capable of winning big and their cohabitation is always going to be of interest. Of course other teams have back-up sprinters but here we have two reasonably equal leaders. Teams have looked at split schedules, awarding leadership according to the course type (Degenkolb and Bouhanni don't mind a few hills) and other ways to differentiate. It's a sensible strategy having two sprint options, it makes the team less reliant on just one rider.
Paris-Tours Espoirs
The U-23 race was won by Flavien Dassonville. Over the years some winners have gone on to greater things, think Tom Boonen, Thor Hushovd or Jurgen Roelandts but for every star there's a Mathieu Halleguen or Fabien Patanchon too.
Dumoulin wins Coupe de France
Another Paris-Tours Espoirs winner was Samuel Dumoulin in 2001. He turned pro the following year with the Jean Delatour team but had trouble starting his career when race officials blocked him. He's 1.59m tall (5 feet and 2 inches) and was blocked from signing on in a race when he was taken for a child in replica kit. He is still racing of course, he has won the season-long Coupe de France trophy which is based on a series of French races. He will ride on in 2014 with Ag2r. He's married to team manager Vincent Lavanu's daughter.
Paris-Tours Alley Cat
It's sad to see Paris-Tours lose its status, both in terms of popular recognition and UCI level. But the finish of the race is wild and if it was a World Tour race sending all the big teams into such small races would inevitably bring accidents as there would be more riders fighting for space rather than being dropped in the run-in. In other words, as exciting as the finish of this race is, perhaps it only works because the race is 1.HC.
Gilbert's Open Letter
Philippe Gilbert wrote an open letter denouncing the working conditions faced by riders. Long distances, circus acts, he laments the way the sport is made into a spectacle with an inflation rate applied to climbs and cobbles as each race seeks to outbid others for the label of the most extreme event. He has a point but the sport is changing, look at the grand tours which might have big climbs but the days of 200km or more mountain stages in the final week of a grand tour are ending as races grasp that seven hours just makes the riders so tired they won't attack.
UCI Athlete Commission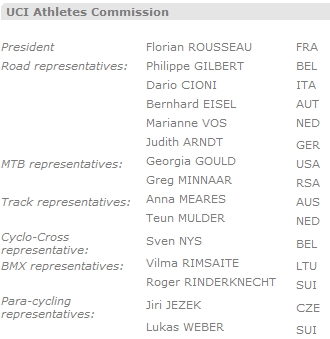 Gilbert's method was odd. You might not know it but he's on the UCI's Athlete Commission, a panel which is supposed to represent riders' interests to the UCI. Clearly his open letter suggests that he's had to bypass this outfit. Note the presence of Dario Cioni who stopped racing at the end of 2011 and know works for Team Sky as a PR handler, it's odd to see him on there. Still, he had a long career as a rider and with some notable results for example in 2004 he was fifth in the Tour de Romandie, fourth in the Giro and third in the Tour of Switzerland.
Obituary Notices
Cioni is still in the sport but many are leaving. Often people look forward to retirement, especially after a successful career. But end of season news about rider retirements often seems to read like an obituary. Victories and other achievements belong to the past, there's talk of the rider being missed and a sense of loss seems to be conveyed. Still, you can see why things are written this way but remember that even the lowliest rider out of contract right now probably won a stack of elite U-23 races to turn pro in the first place. Also for all the hardship endured on the road, in airports and cheap motels from Philippe Gilbert and others, the UCI minimum wage is about 50% greater than the average household income for the likes of Belgium, France or Italy.