The first true mountain stage of Vuelta with a first category climb and then a very difficult summit finish. We've had plenty of exciting racing in the first week but the battle for the red jersey has only seen small scale skirmishes. Now it's time to make a real selection in the race and eliminate some of the pretenders.
Stage 9 Review
You know it's a good finish when riders have to be collected by helpers as they cross the line to stop them falling off. Now the riders might not like it but oxygen debt comes with a high rate of interest for TV viewers and yesterday saw the race post staff at the finish line to collect wobbling riders.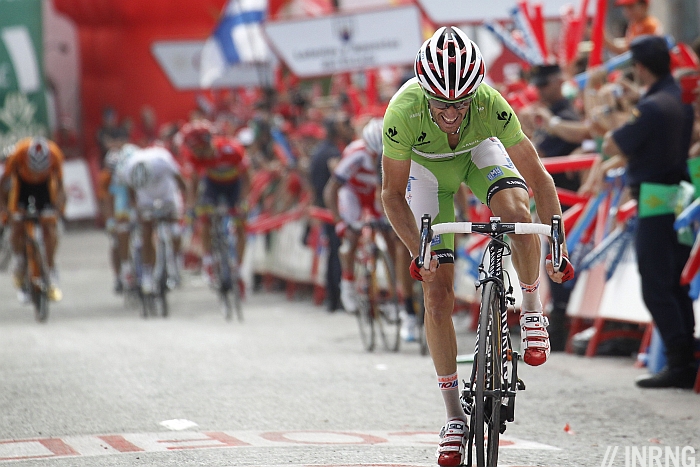 Better still for Spanish audience, a home win with with Dani Moreno… and a genuine tilt at the GC? That's unknown for now and Moreno has made a name for himself in recent years as a support rider who is very able on the short climbs so we'll see what he can do today.
A mention of Warren Barguil too. A year ago he won the Tour de l'Avenir, now he's ninth in this stage and proving consistent. Today might be too much for the Argos-Shimano rider but he's proving his talent already.
Stage 10 Preview
The Route: the race heads towards the city of Granada and then borrows the mountains to its east. This is the first proper mountain stage of the race. Without further ado, here's the first climb:
The Alto de Monachil is a proper climb rather than a warm-up kind of approach road. It's 8.5km long at an average of 7.5% but maxxing at 15%. The road is wide and well-surfaced. It's been used before the race and other early season stage races and you might remember Cadel Evans in trouble in 2009 when he flatted and had to wait a long time for a neutral service vehicle to supply a wheel which took an age to change, meanwhile Alejandro Valverde rode off to the win.
The Finish: the 5% average gradient is meaningless. It starts off easy and descents and the last 8km are savage plus the road is narrow too. This is a highly selective climb that almost risks being too reductive, a pure test of power to weight. Note the slope eases and by the finish line, it's slightly downhill.
The Scenario: we'll see the GC contenders come out to play. I can't imagine a break sticking given the pressure for this stage and given how much faster the main riders can go up the final climb compared to a break.
It'll be a good test for race leader Dani Moreno. It's one thing to pick of stage wins and take the lead but another to defend it; although at the risk of stating the obvious, you can only take the lead by being very strong. But this is a big stage and every rider is going to be tested: Alejandro Valverde, Joaquim Rodriguez, Igor Anton, Nicolas Roche, Vincenzo Nibali and Chris Horner have no where to hide.
Who else to watch? Ivan Basso continues to impress but this long climb with steep slopes might not suit the fondista. Leopold König has already won but this suggests he could strike again whilst Ag2r's Domenico Pozzovivo is a good pick although he'd probably prefer the finish to be uphill in case of a sprint amongst a few others. Sky have a lot on the line, the team's ambitions are in danger of not being met and it'll be interesting to see Rigoberto Uran and Sergio Henao because on paper they'd be good picks today but so far they're not quite in top form. Finally there's Thibaut Pinot and sidekick Kenny Elissonde who had a mechanical two days ago in case you noticed he'd lost time.
Weather: hot and sunny but with the chance of a rain shower in the afternoon, especially in the mountains
TV: tune in to see the race climb out of Monachil soon after 4.30pm Euro time with the finish planned for 5.45pm.
Daily Díaz
Last day in Andalusia for the peloton. In a similar way, during 20th century many Andalusians left their land looking for better chances elsewhere. Most of them chose other Spanish regions, such as Madrid, Barcelona or Valencia. It was a movement from the towns to the cities, from agriculture to industry and tourism.
If Galicia is considered a conservative region, Andalusia is often seen as the main headquarters of PSOE (socialist party), which has won almost every election there since the democracy was established after Franco's death in 1975. Felipe González, Spanish socialist prime minister for 14 years, was Andalusian, and so was Alfonso Guerra, his right hand.
Torredelcampo, today's stage departure city, means "tower in the field"
In km 141,4 (45,4 to the finish line) the race will pass through the city of Granada. The last big city conquered by the Christians in the Reconquista (1492), its most visited tourist attraction is the Alhambra (red fortress) built by the Moors. There is also a brand of beer with that name.
Sierra Nevada is the name of a ski station (where Dani Moreno won in 2011) and a National Park where the highest peak of the Iberian Peninsula is (Mulhacén, 3,478 metres above sea level). It is a popular destination for both professional cyclists and amateurs.
Gracias to cycling podcaster and history teacher Manuel Pérez Díaz for the local information. You can follow him on Twitter as perezdiazmanuel