The profile doesn't do today's course justice, this is the most technical time trial seen in the Tour de France for years, the kind of route where even a team manager will sweat the car around this course. To make things even harder, there's a high chance of a thunderstorm and a downpour.
It's a crucial moment in the race. If Chris Froome seems unshakable in yellow, the other places are still up for grabs.
Stage 16 Review
There was no doubting the winner. Rui Costa simply rode away on the Col de Manse to take the stage, leaving riders like Philippe Gilbert, Thomas Voeckler and Thomas De Gendt trailing. No surprise, he won the Tour of Switzerland in part because of a mountain time trial.
Behind the Katusha team set a fierce pace on the Col de Manse and soon seven riders were left: Chris Froome, Richie Porte, Alberto Contador, Roman Kreuziger, Nairo Quintana, Joaquim Rodriguez and Bauke Mollema. Contador tried several attacks and Porte was dropped but was able to get back. On the descent Contador was forcing the pace, leaning into the corners like a kid trying to imitate Dani Pedrosa and a man trying intimidate Chris Froome. But a shuffle on a corner Contador scrape his knee whilst Froome ride onto the grass verge, unclipping and stumbling but not falling. This left the pair nervous, Contador with a weeping knee whilst Froome crying foul play after the stage.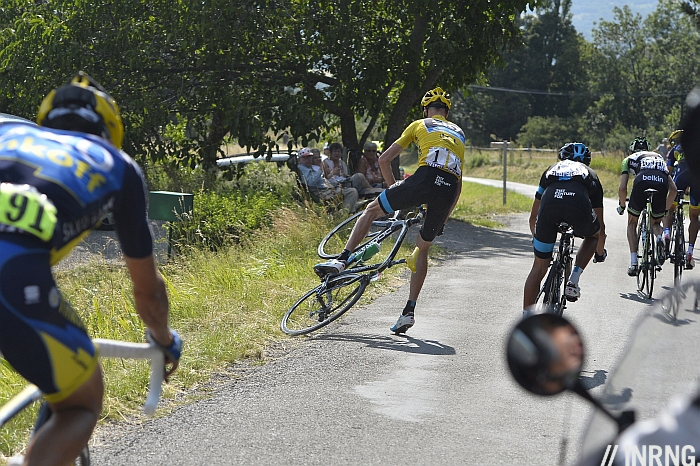 Movistar had a very successful day. As well as the stage win the saw Nairo Quintana leapfrog Laurens Ten Dam into fifth place overall and without the Colombian having to put his nose in the wind, ideal ahead of today's effort. Plus Michał Kwiatkowski lost more time, helping extend Quintana's lead in best young rider competition.
The Route

Km 6.5 – Côte de Puy-Sanières 6.4km at 6% – category 2
Km 20.0 – Côte de Réallon 6.9km at 6.3% – category 2
32km in the middle of the Alps, the race starts in Embrun and climbs the road to Puy-Sanières. It's a winding road in places as it climbs past green pastures with splendid views of Lake Serre-Ponçon below. The slope is irregular at times, the 6% label is an average and requires riders to pace themselves and get their gearing right. The first time check is taken at the top.
The descent is on a small and narrow road and steeper than the climb up. It's a proper Alpine descent where riders will be freewheeling in an aero tuck one minute, sitting up to brake and sprinting out of corners although it's not loaded with hairpin bends.
The climb towards Réallon might feel really long. It's another small road where the gradient keeps changing. Do you shift gears or power up that ramp? After 20km the race reaches the second time check. Then a false flat and after St Apollinaire the road opens up into the cycling equivalent of a Super-G ski course with wide bends, at least relatively compared to the roads before – to be taken at high speed.
There's almost 900m of vertical gain today, as FDJ's Jérémy Roy pointed out on here during his May visit, it's the same amount as climbing Alpe d'Huez (well almost). Of course it's via two climbs but this makes it two mountain time trials… with two descents added on. It means the first check will tell us who is climbing well but the second will let us know who is at ease on the descents. Pacing will be difficult as even the uphill sections are irregular and this is before the descents. If mountain time trials are common in the Tour de France, the use of descents like this is rare and for obvious safety reasons downhill time trials are rare in the sport. Today's stage is therefore exceptional… and exceptionally dangerous.
The Scenario
Chris Froome is the best climber and was a close second to Tony Martin in the Mont St Michel time trial. With this in mind surely only a bolt of lightning could stop him. But actually he's got a good lead and might want to save his legs for the coming days. Not that he'll swap his aero helmet for pith one, sipp on a Pimms and enjoy an Alpine safari but he could decide to cruise at 95%. Note he wasn't convincing in the Vuelta time trial – third but he was descending with caution – but he'd not visited the course before.
Bauke Mollema sits second overall but has Alberto Contador and Roman Kreuziger right behind him. The Saxo-Tinkoff riders seem to be in the ascendant for the third week whilst Mollema seemed uncomfortable, almost sitting diagonally on the bike.
Nairo Quintana is a good pick. He surprised some with his time trial win in the Tour of the Basque Country on a very technical course. Alejandro Valverde was strong in the Stage 11 time trial and will be much more at ease with the route here.
Amongst the others, it's hard to imagine a top-3 but Andrew Talansky is one to watch too. 12th to Mont St Michel, he's better suited to the climbing. Meanwhile Jean-Christophe Péraud continues his stealthy raid into the top-10 and could consolidate his position.
The course looks too hilly for Tony Martin. He can climb ok and his technical skills are valuable on this course but I can't see him in the top three on a normal day. But look at the weather forecast. The German will be doing a rain dance as he's off at 12.39pm. He's got Jonathan Castroviejo ahead and the two could benefit from dry roads. The weather could benefit others, think Rein Taaramäe or Tejay van Garderen. The enigmatic Thomas de Gendt could be another outsider but he was working hard in the breakaway yesterday.
Tech Talk
Many riders have visited this course to see the roads for themselves so there should not be any surprises. But opinions vary on bike choice. Chris Froome is expected to ride a road bike with tri-bar extensions but others will use an adapted road bike and then swap to a pure TT bike, perhaps with a giant chainring, for the last part downhill to gain time.
Weather
10 am to 12 pm: sunny then clouds. 22-24°C.
12pm to 2pm: Lots of clouds, small showers. 22-24°C.
2pm to 4pm: big thunderstorms. 20-24°C
4pm to 6pm: thunderstorms. 22°C
Thunderstorms mean wet roads, an obvious danger. But it means conditions can change very suddenly. The wind can get up, temperatures can change. Plus the sun can reappear and quickly dry the roads.
TV: live from 2.00pm Euro time onwards. The first rider sets off at 10.15am with Chris Froome leaving 4.33pm and he's expected to arrive at 5.20pm.