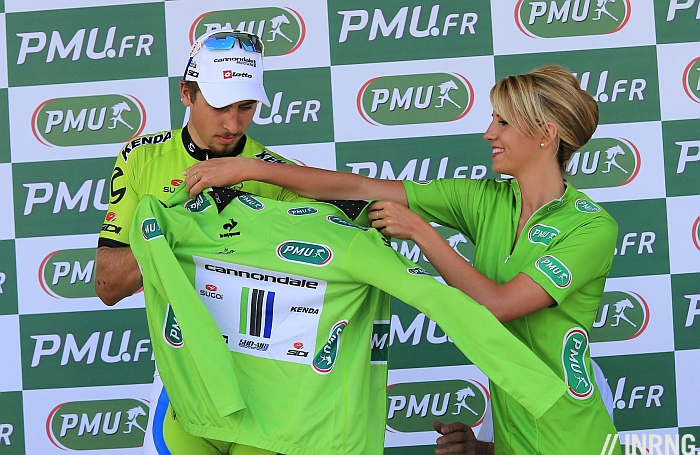 Cycling represents great value for a sponsor. You've probably seen the news that a sponsor can get big publicity for a modest outlay, a big return for a small investment. What's not to like?
But talk of return ignores the other side of the coin: the risk. Sponsor a pro team and it can blow up in your face with a doping scandal. Even if all your riders are healthy and honest then backing a team still isn't for every brand.
But whilst several teams are struggling for sponsors, multinational corporates are backing the Tour de France, partnering with the event instead of its participants. Here's a look at what it costs to get your company name on leader's jersey and more.
Many pro cycling sponsors are firms you have not heard of. Follow the sport closely and you probably know what Belkin and BMC are about but firms like Lampre, Belisol, Argos or Quick Step can leave even keen cycling fans perplexed (answers here). The point to note is that the Tour is global sports event but few global brands consider pro team sponsorship.
Value
To sponsor a decent team in the Tour you need about €10 million a year. There are set-up costs for a new squad and budgets vary, get more co-sponsors and you can get more income. The rewards can be big, a study by Repucom and cyclingnews.com says for every dollar spent, $5.4 are returned in publicity.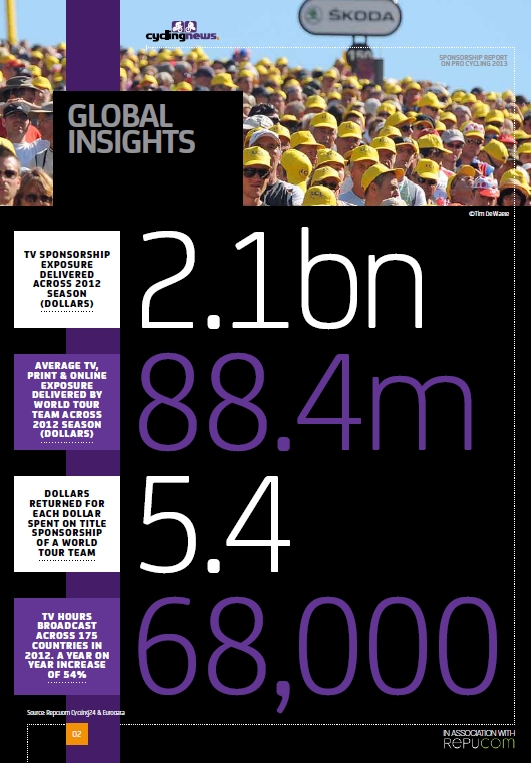 Risk vs Return
But return has to be measured against risk. Do you have any savings? Because if you do some assets are offering a big return, for example Greek bonds offer 11% instead of the usual 2-4% return. Or you could stick the lot on Andy Schleck to Wednesday's time trial stage in the Tour, that will return 300 times your "investment" should it happen. This shows the problem, sadly pro cycling has been seen as a high risk matter.
Image questions
Sports sponsorship is not for everyone. And each sport has a different demographic, attracting a particular audience with varied male/female splits, geographic locations, income and consumption habits.
As well as the risk-reward calculation there's the numerical bias: you lose more often then you win. Even in the Tour de France where there are several prizes on offer, there are 22 teams chasing 21 stage wins and several teams will finish the race without much to speak of. You might get publicity on TV with the logo but this is not always valuable. A team might get airtime for going in a breakaway but al.l this TV can just link your brand to plucky losers.
Reputation worse than reality?
Backing a team needn't mean a doping scandal. But if the board of a large company is considering sports sponsorship, cycling's reputation could weigh more than the actual risk. A team that takes care to hire the right managers and riders can cut the risk substantially, just see Garmin-Sharp or FDJ but pick many more names. Even if a sponsor is not cycling-savvy google is enough to know you hire Danilo Di Luca at your peril. It was said Festina sold many watches in the aftermath of the eponymous doping scandal in 1998 but it's a small brand that got notoriety. A big company won't take chances with its brand.
The good news here is that if cycling can put the scandals in the past then sponsors will return, cycling becomes a safer bet and remains a great way to convey a message about team work. But for now risk-averse companies are reluctant to link their brands and cash with teams.
Cheap, safe, success: pick all three
What if there was a way to avoid doping scandals, associate with success, to get guaranteed publicity in the Tour de France and save money? It might sound too good to be true but the next time you watch the Tour de France, look around. You'll see the yellow jersey sponsored by LCL, a bank, the green jersey by PMU, the French state betting company and apparently the world's second biggest gaming company by some measures and the polka-dot jersey is sponsored by Carrefour, a supermarket. These are all big blue chip companies. In addition we see big multinationals like Nestlé and Volkswagen Group all over the race too with their brands like Vittel and Skoda respectively. These companies won't back a team but will sponsor the race. Some names appear only in July but let's salute Skoda, a big sponsor of events all year.
Just find €1.5 million
Sponsoring a jersey in the Tour de France is cheap. Just find €1.5 million and you could sign a deal for the green jersey, that's what it costs in cash terms. In return you get a logo on the green jersey, a branded podium ceremony, the intermediate sprint decked out in the corporate ID and a ticket to ride in the publicity caravan that passes the race.
But if only sponsorship was as transactional as a cash payment and renting space on a jersey. Instead a sponsor on the Tour will spend up to a million Euros, perhaps more, on additional items during the three weeks. Based on an article in L'Equipe last year by Frédérique Galametz (paper edition, no link available), here is what PMU will bring:
200,000 green plastic hands
100,000 branded flags
50,000 replica green jerseys
45 staff on duty for three weeks
22 vehicles from dressed up publicity caravan items to three trucks to haul the gear
It's not just plastic hands and polyester shirts, the Tour is a great moment for corporate VIP work, a chance to invite clients and management to experience something. Some teams are beginning to exploit this too, offering a seat in the team car to VIPs and guests.
Sponsoring the Tour is a good short cut. You don't have to front up money for a team to ride an untelevised event in the middle of nowhere, instead you get the publicity of the biggest race of the year. But event sponsorship has its downsides. Mercifully there are no naming rights, we talk about the yellow jersey rather than the LCL jersey but this means reduced publicity.
Conclusion
Sponsoring a pro team brings rewards but risks too. Several teams are struggling to find funding for 2014, in the Tour alone there's Euskaltel-Euskadi, Vacansoleil-DCM, Europcar and Sojasun. Meanwhile Orica-Greenedge, Belkin and Radioshack-Leopard (Trek next year) are riding in 2014 but searching for co-sponsors.
Meanwhile the Tour de France is packed with big corporate sponsors, giant multinationals delighted to spend millions. Nestlé is all over the race with brands like Powerbar, Nesquik and Vittel. Skoda is a massive sponsor of the sport as it supplies vehicles and cash to the Tour and many other races around the world. This allows them to cash in on the publicity bonanza of the race but without the risks.
If the sport can leave its reputation for risk in the past then there's plenty to gain, companies will see the returns on offer. But for now there are too many squads worried about the future whilst the Tour's profits grow.