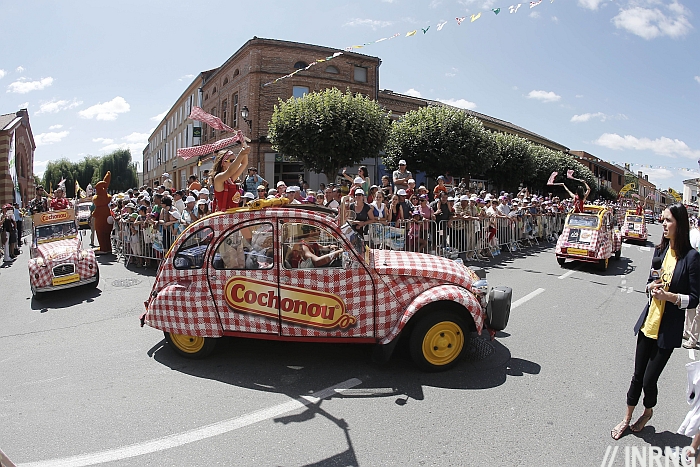 You're never short of a story during the Tour de France. The racing gets covered in full but there's plenty more going on too. It's the level of coverage that makes July such a rich month for cycling.
With no racing on today here's a collection of notes and thoughts, from presidential leaks to team mergers, sunglasses to sausage.
Presidential Leak


Yesterday's stage was so fast that there was no time for the riders to stop for a pee. So when Chris Froome crossed the finish line yesterday one of his first thoughts was to visit the nearest toilet. Normally the race rules say he must go straight to the podium for the official ceremony but he couldn't hold on. However things got complicated because anti-doping rules meant his first urination had to be for the anti-doping control. This is more than a routine pipi, there's protocol and paperwork to attend to. This caused a minor incident because President François Hollande was kept waiting on the podium. No harm was done but for a few minutes Froome appeared to have gone missing as the President stood waiting on the podium.
First week winners
Orica-Greenedge have had a great start with two stage wins and the yellow jersey allowing everyone to forget the gatecrashing bus (the gantry has been repaired in full now). But has it all been overtaken by their rock video?
An anecdote: your correspondent witnessed a public naturalisation ceremony where immigrants were sworn in as new Aussies. The process was solemn and formal… except for the theme music of AC/DC's Thunderstruck that was played along with the national anthem.
Clips like this make the team look fun. This matters in cycling because it's a sport where you lose most of the time. Even the most successful riders and teams like Mark Cavendish and OPQS are very well to win more than 10% of their races. Flip that and they lose nine times out of ten and the rate is worse for the average squad and dire for a modest team. In other words since you can't always win then the story of how you try matters.
Impey and Martin's French Lessons

Daryl Impey and Dan Martin both spent time with amateur team VC La Pomme Marseille before turning pro. Without much success in the Tour so far, the French media are quick to highlight the French background. But if it was a staging post to something more, it was a tough time where immigrant riders are shipped in, housed in rough areas and not exactly the glory of French amateur cycling.
With many nations now offering more comfortable routes into pro cycling via development teams – think Australia or Britain – it seems fewer riders will turn pro after a spell with an amateur squad in France or Italy but these squads remain hungry for foreign talent. Instead of recruiting Irish or South Africans, it's likely the new "foreign legion" contingent will be made up of riders from Eastern Europe, Asia and Africa.
Cofidis on TV
The ad breaks during the French TV coverage feature ads for Cofidis. A good way to spot the jersey because the team have been near-invisible in the race. It's bad luck, eight of their nine crashed in Corsica but it shows the gulf between the top teams and the wild card invites.
Hidden from TV
Other things are not shown on TV. French TV helicopters are given GPS co-ordinates of field displays by the farmers' union so they can zoom in on the agri-action. But other things are less welcome. L'Equipe reports a vehicle is travelling ahead of the race to jetspray any unwanted graffiti, for example blasting a giant syringe painted on the road yesterday. This didn't stop TV shorts of a huge penis painted on the road.
Ryder's Eyes


Some say he's impersonating Elvis but I like Ryder Hesjedal's eyewear. It's different and the glasses by Swedish company POC make him easy to spot – although his 17cm bar drop position is a giveaway – and breaks from the near-identical sunglasses of the bunch.
It makes you wonder why riders don't sport more fashionable eyewear. Sponsorship is the reason, they're paid to wear a brand and of course metal frames and glass lenses are out of the question for sports. But most fashion glasses feature polycarbonate frames and plastic lenses and Oakley belongs to Luxxotica Group, the Italian firm that also owns Ray Ban and makes sunglasses for Prada and Chanel.
French ambitions
Pierre Rolland might be in the polka-dot jersey but is this a lack of ambition? This is the most mountainous Tour for years and a chance for the climbers to shine. But sprinting for points means Rolland's given up on the GC. Wise or not? It depends on your views, maybe he could finish fifth on GC by riding a calculating race but this could go unnoticed. Better to get the hi-vis jersey?
Podcasts
Rolland's ambition was a point made yesterday by French commentator Patrick Chassé during the daily Europe 1 radio show. He spars with Richard Virenque every day and if you want French audio to download, look up the Club Des Sports feed on Europe 1.
If you prefer English, try the Humans Invent podcast with British journalists Richard Moore, Daniel Friebe and Lionel Birnie as well as guest appearances from others. It's an entertaining look back each day and you'll find it online at audioboo.fm or via iTunes.
Europcar + Sojasun
Two teams each in search of a co-sponsor and so far there's no good news to report. So why don't Europcar and Sojasun merge asks a reader by email? It's possible but not as easy as it seems. One of the reasons why these teams need to survive is because they've each got a structure behind them where the pro team is at the top of a pyramid and below there's an amateur squad, talent detection and more. To combine the teams would be to close down one of these streams so it's not as simple as putting two pro teams together. Not that this would be easier either, two teams into one mean a lot of riders getting ejected and then the problem of two clans within the team.
Pssschit
You can hear the air hiss out of Thibaut Pinot's bubble, the pressure evacuating like a puncture after it was pumped up for months by the media before the Tour. Now the pressure hose is being attached to Romain Bardet. Loyal readers will know Bardet's been tipped for big things on here and that he's intelligent beyond his years. But there's a reluctance to mention this because it can only add to expectations and pressure. He gets a big interview in L'Equipe today and has plenty to say.
Fear of Speed
Pinot's problems apparently stem from a crash as a junior when he broke both arms. He told L'Equipe he's got a phobia of speed just like others are scared of snakes or spiders. The fear surfaces from time to time, a crash of team mate Arnold Jeannesson in the Tour of the Basque Country almost took out Pinot and this seems to have set off the mental crisis again. Pinot can recover, indeed the story goes that as a junior he was back on his bike rode down a flight of stairs with two arms in plaster.
Descend with confidence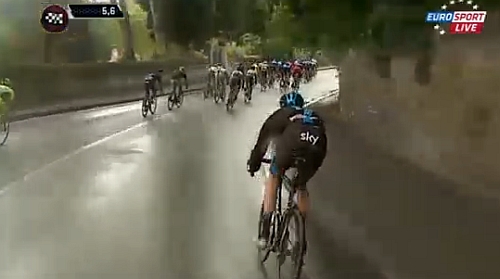 It's something that happens to many, see Bradley Wiggins. The good news is this can be fixed. Descending is skill to be worked on, a psychologist can help and equipment like wider tyres or lower pressure can offer that extra security. In the 1990s Gianni Bugno was a contender for grand tours and took to descending with a Walkman – remember them? – loaded with Mozart to calm him. Others will play, for example Philippe Gilbert is known to bounce shoulders with training partners on a descent and lock up a wheel for fun during a hairpin bend. Another rider confided he got over the fear… by crashing: the fear of injury was so big it meant tension on the descents but most times you crash you get up with nothing more than torn bartape and wounded pride.
Forecast
The weather for the Tour looks set to stay hot for the rest of the week. Normally a flight north would see temperatures dip but a heatwave is here.
French Press

Finally two links to read. After covering the climbers and the sprinters, L'Equipe have a superb piece in English on the time trial. It covers history, tech and the individual suffering and comes with videos, illustrations and more. It's Web 3.0 stuff.
If you stop in the mountains, you're dead. The guys grab everything, your hat, your glasses. One year in the Pyrenees some Basques were waiting above the entrance to a tunnel and starting pissing when the caravan came. We were welcomed with a curtain of piss. You had to close your eyes and mouth to pass.
At other times words are enough to paint a picture. No more than Le Monde's daily blog during the Tour de France. Today features an interview with Elodie, a physiotherapist spending three weeks working on the Tour's caravan to promote saucisson. It's in French and explains how nine tons of sausage are handed out during the race along with bruised legs, sunburn and tales of orgies.