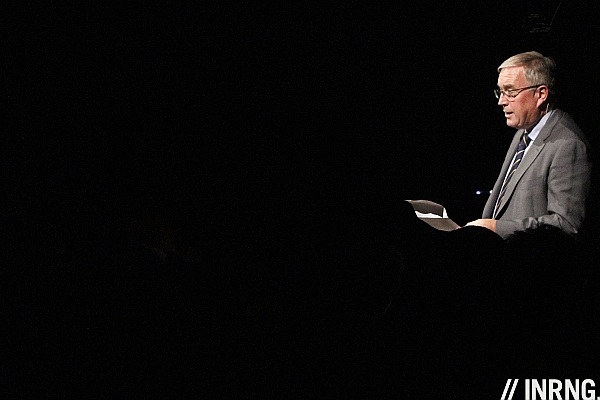 With Brian Cookson announcing he's standing for election to be the President of the UCI many have been asking how you get elected to the job?
When is the vote, who gets to choose and how can you have your say?
The President is elected by The Congress. This itself is a meeting of cycling officials from around the world who belong to federations belonging to the UCI. The next Congress takes place in Italy during the world championships in Florence in September. Under the UCI Constitution these officials appoint voting members, a total of 42, who are divided into regions as follows:
| | | |
| --- | --- | --- |
| Africa | 7 delegates | 17% |
| Asia | 9 delegates | 21% |
| America | 9 delegates | 21% |
| Europe | 14 delegates | 33% |
| Oceania | 3 delegates | 7% |
| Total | 42 delegates | 100% |
| | | |
These 42 are the ones who vote to select the President of the UCI. McQuaid was first elected in 2005 and faced a challenge in 2005 and was then re-elected in 2009 without a challenge.
To be elected President a simple majority is needed, so 22 delegates out of 42, assuming all 42 vote rather than abstain. Should a third or more candidates come stand for election then the vote has two rounds. On the first round the two with the highest vote win and go through to the second round whereby the majority is needed.
A candidate has to be nominated by a national federation. Brian Cookson has the support of British Cyling but Pat McQuaid's position is not yet sorted. There's a vote coming up in Ireland but in the meantime he's trying to get on a Swiss ticket given he is resident in Switzerland because that's where the UCI is based.
Global Electorate
If you have strong views on Pat McQuaid that's probably because you've got a strong interest in pro cycling on the road. But remember delegates in Asia or Africa have different interests. Sure some might welcome pro teams and they've probably read about the USADA case but turf wards with WADA or governance issues are not for them.
They've got legitimate local concerns instead such as securing IOC funding for a sports complex, qualifying their national team for a regional competition and so on. Imagine you're the head of, say, the Bangladesh federation. You care little for Lance Armstrong, you're more interested in local cycling and trying to get some funding and riders for the Asian games. In other words all the chaos and cock-ups in Aigle, from serious concerns to badly-drafted press releases mean nothing to them. Instead the globalisation agenda of the UCI is a big deal and they'll look to reward Pat McQuaid for the good work done here.
As things stand it's said Cookson could win support in Europe but McQuaid has Africa and Asia sewn-up. But unlike other items on the agenda for the Congress, the vote for a President is a secret ballot. So it's not certain that regional confederations vote en bloc, it is up to individuals to act in private.
The Contest
There are no rules for the campaign itself. Cookson has hired a PR company and is trying to portray a presidential image, he is set to publish a manifesto to add to the feel of a political campaign.
As we've already seen there are other methods. There's still no news on the UCI website about Cookson's bid. I gather the UCI press department has said it will issue a release if Cookson requests it but did they wait for the Czech riders or the para-cylists currently featured on their website to send in some news? Of course not and given Cookson is launching something directly related to the UCI it's curious the governing body has yet to mention such relevant news. It certainly knows Cookson is standing as no sooner had the Briton announced his bid than Pat McQuaid sent off a letter to senior cycling officials around the world to smearing the new candidate. It's a rough game.
Have Your Say
Only 42 people get to vote but it's crucial to understand these delegates are mandated by national federations and if you're a member of one of these then note the people are supposed to act in the interest of their members. Even if you're not a member you might find your taxes go to a national federation so you can legitimately ask what their stance is too.
The Job
The President of the UCI is full-time job and anyone assuming this role has to surrender their other jobs, for example Brian Cookson would have to resign from his role at British Cycling.
The salary isn't known but the UCI pays for a large house for Pat McQuaid above Lake Geneva with scenic views of the mountains which does not come cheap. Even better for the President, Swiss law allows salaries for associations like the UCI and other non-profit international bodies to be tax free.
The Organisation, Not the Man
Finally the contest might have two men so far but surely what's needed is a debate of ideas and reform rather than personalities? The problem with the UCI is institutional, if McQuaid has slipped up in recent times it's because the means to contain the President from picking fights with, say, WADA are not strong enough. Ironically McQuaid thought he'd secured nomination from the Irish Federation on a pledge to improve the UCI's governance. If he can resuscitate this it could help him win support.
Summary
42 delegates from national federations grouped in to regional confederations get to pick the President this September. But for all the talk of two man in a contest, let's hope we get institutional change so the UCI as a corporate body can be run better as the UCI's problems go well beyond one man.