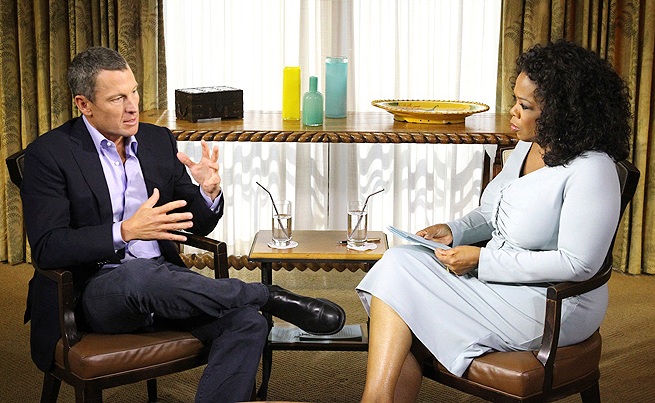 Everyone seems to have a verdict on the Oprah show. Reviewing last night's TV would be a novelty for this blog so if you want a good take see Bonnie Ford on ESPN for a strong piece that goes from body language to the big picture.
Given we already knew Armstrong was doping, there were not many answers to long standing questions during the show. In fact we got some revelations that only bring more questions. Here are questions for Armstrong, for the sport, its officials, the media and even the riders.
Chapeau
Oprah did ask about detail and procedure more than I expected, I thought she might want to explore emotion – maybe this is coming in Part II? For example when Armstrong talked about testosterone use he quips about "running low" because he'd lost a testicle Oprah didn't fall for it, she punched back with a question on blood transfusions.
Questions for Armstrong
He stated the level playing field fallacy, "I didn't have access to anything else that nobody else did." He and his entourage spent more money than others in the sport and it's possible that by chance he responded better to blood manipulation.
Does he believe he just did the same as others or will he consider that US Postal/Discovery was spending more than others?
Armstrong said he was not doping during his comeback in 2009 and 2010 but some blood data suggest otherwise.
To clear this up would he be willing to give up his SRM power files so people can compare his training and race performances from 2009 to past years?
There are the personal issues here with those he's clashed with. At one point he said he couldn't remember those he sued because there were so many along the way.
What steps can he take to make amends?
Is he expecting legal action from Emma O'Reilly or will he be reaching a settlement with her? The same for others?
Does he know why the investigation led by Jeff Novitzky was suddenly dropped?
Update: He stated he didn't dope since 2005. We've seen him working with Ferrari after this date but run with this for a minute. Because if the ban is reduced from a lifetime to eight years then 2005 + 8 = 2013. Meaning if Armstrong can assist USADA in their prosecution and convince them he's been clean since the 2005 then he can race this summer. Big ifs but maybe this sheds light on his agenda? Thanks to James Vaughan for raising this point in the comments below.
Questions for Bruyneel and others
The silence coming from those in Lance Armstrong's entourage is deafening. Perhaps legal considerations mean they can't speak out. But even the most loyal of Armstrong fans dressed in the livery of Livestrong leisurewear can speak about what happened now. This means plenty of people should have account for their time on the US Postal team bus.
Is Johan Bruyneel still going to arbitration with USADA?
Where is Katusha manager Viatcheslav Vladimirovich Ekimov?
Who else in the team management knew about this?
Questions for the UCI
Someone at the UCI seems to have stayed up to watch the show. A press release came out before 9.00am Euro time and "welcomes Lance Armstrong's decision finally to come clean." A refreshing change from labelling people "scumbags", no?
The press release reads fine if you skim it quickly but re-read it and we're still not clear on several things. First the backdated TUE letter after Armstrong tested positive in 1999:
What did the UCI know at the time here? Did it have suspicions? Did it increase the tests on Armstrong for cortisone?
Let's take the donation, the subject that won't go away. We've had different versions out there about the sum, the timing and the number of payments but this still hasn't been cleared up. Last night Armstrong said the UCI asked him for the donation which matters because we'd been led to believe that it was Armstrong who volunteered the money.
Can we finally see the donation receipt(s) in public?
Why did the UCI ask Armstrong for money? Did it solicit other athletes?
The press release states "there were no positive tests which were covered up" which is fine but we know this. We also know there was the suspicious test at the 2001 Tour of Switzerland. It was not a positive test that got buried, no sir. But Armstrong's lab samples suggested EPO use, only not in such strong terms to secure a conviction:
Did the UCI know about the suspect data?
Was there a meeting? Armstrong said there was no "secret meeting" but just the other day Martial Saugy claims the UCI arranged a meeting
if the UCI knew about a potential borderline case what did it do next? Call Armstrong? Test him more? Ask for money?
Questions for the media
At times the Armstrong story is becoming a celebrity feast with vultures circling over the carcass of fallen man. No doubt Armstrong's hubris brought nemesis but the way some are feasting isn't pretty.
Can some of the energy expended on covering the TV appearance of one man can now be expended on probing the sport, its institutions and its culture?
Some sections are doing a great job here but at times others are one step away from reporting on events in the way tabloids track Kim Kardashian, a breathless "he said, she said" account that takes us nowhere beyond the gutter of gossip.
Questions for the peloton
Today's riders are supposed to be the public face of the sport. Speaking out is awkward but if they stay silent then Armstrong is going to be the image of the sport. It's unfair and awkward but leading riders need to confront the problem and condemn the widespread fraud of past generations. Easier said than done but team PR staff need to meet, the rider union should think and before the Tour Down Under a loud message from the sport could help them being asked the same questions all year long. Sorry guys.
What's next?
Part two of the interview. The footage has been spliced with enough explainers and commercial breaks to fit two episodes and I understand the next instalment is about Armstrong's personal feelings, the charity work with Livestrong and his plans for the future.
Beyond this it'll be interesting to see where Armstrong goes next. If Oprah's interviewed him then most other TV outlets are going to want a go too. Armstrong's said he'd join a Truth and Reconciliation process and it seems WADA and USADA are longing to get a star witness. This will rumble on for some time.
Conclusion
At times last night's Oprah show felt like a repeat episode from the past. People keep talking about "closure," first USADA would achieve it, now a public admission would do it. Only each time we're left with more questions than answers. Cycling's a resilient sport, the racing starts soon but we can't escape the old problems until a series of questions get satisfactory answers.
I wrote the other day that Oprah was just the prologue to Armstrong's redemption. He's out of the starting hut and the act of going public will probably take some weight of his shoulders but it wasn't a great performance. He's come out but it doesn't feel he's come clean. Like a rider who loses time in the prologue he's now got even more ground to make up in his redemption tour.
This race has a big peloton. We can't just look to Armstrong. We need to ask the others in the sport, from Armstrong's collaborators to the UCI and then go wider to the media and the pro peloton. Finally let's leave the last word to Betsy Andreu. Like so many she's been wronged for years because she was right all along.