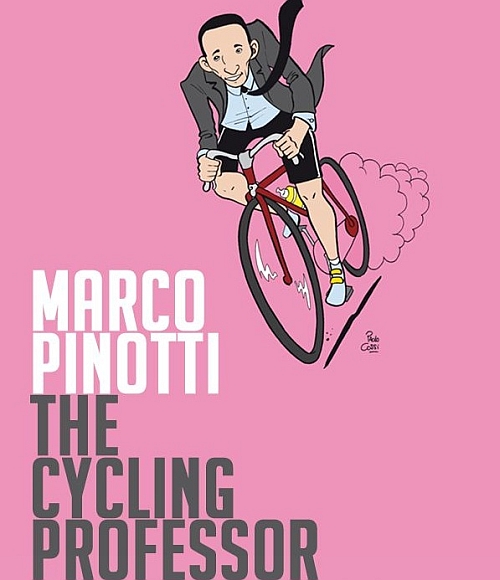 "To give an idea of how hard a race that lasts more than twenty days feels, try to remember where you were or what you were doing three weeks ago."
This simple explanation of how hard a grand tour can be is a good example of the book's tone. Written by Pinotti himself, there's no florid prose nor hyperbole. Marco Pinotti is not just a professional cyclist but a northern Italian and a graduate engineer and be brings a concise analytical take to the sport.
He's good placing himself in the sport. He notices the places he visits, whether the wonder of finishing a stage of the Giro on the Piazza dei Miracoli in Pisa, observing the landscapes in the Basque Country or Oman or noticing that riding down Paris's Champs Elysées with closed roads is a privilege normally reserved for visiting heads of state. The awareness is humble at times too, Pinotti knows his accomplishments are extraordinary, to wear the Giro's pink jersey is something few can do but there's never any boasting. Indeed despite being a world class rider he seems more proud of being top of the class in his graduate studies.
This is no ordinary sports biography. Perhaps because he's not a household name the tone has to be different, but this is more a series of observations, a notebook and at times a manual of pro cycling. Yes it starts with childhood and finishes at the end of the 2012 season but narration is not chronological. Instead the logic is theme and experience, for example crashes or diet, or notes on particular races over the years.
At times it's impersonal. Pinotti mentions his wife and child but only in the context of racing, injuries and the family life of a travelling cyclist; he does not even name them, presumably for family privacy. As such this is the story Pinotti the professional cyclist rather than the life of Pinotti: don't buy this if you want peloton gossip or Monte Cristo tales of revenge over rivals. There's still plenty of personal insight – some might be surprised at the mention of Lance Armstrong – and it's an intelligent guide to the sport and the calendar packed full of detail, such as the warm-up routine before a time trial or notes on what to eat or broader views on technical innovation and globalisation.
Despite the engineering studies you wonder if Pinotti's second career could involve a press card because his writing looks beyond the route of a race, the textual equivalent of a wide-angle lens as he notes the environment, the economy and more. Some translations can stall at times, especially with the technical language of sport, but this is a clear read and Pinotti's voice seems as clear in English as it is in Italian.
Where to buy
The book is available in Italian in print – Il Mestiere del Ciclista ("The Cycling Profession") – and as an e-book in English via Amazon for their Kindle or with the Kindle app for other devices, from PC to tablet.
Summary
A engineer by education, Pinotti brings an analytical and observant take to his career and pro cycling. One minute the book is discussing international travel and new foods, the next there are tips on how to cope with jetlag and hot weather and it fits together well. It's an easy read and rewarding to see Pinotti's hard work and application pay off and satisfying that he sees beyond the bubble of pro cycling.