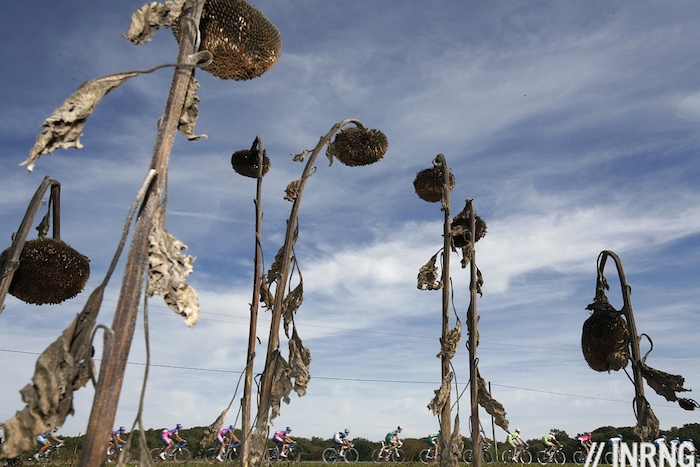 Labelled "the sprinters' classic", this Sunday's race might have a flat route and a long finishing straight but in fact most of the winners since 2000 have come from breakaways and attacks. Since the majority of bike races end in a bunch sprint, it means the race is far from the foregone conclusion its title suggests and it can offer an action-packed final half-hour.
The Route: 235.5km. Like a discount airline that claims it flies to Paris only to land in an airfield miles from the capital this race does not start in Paris. Instead the start is in Châteauneuf-en-Thymerais, exactly 100km outside of Paris.
The route heads south almost all day, except for a hockey-stick shaped curve at the end when it crosses the river Loire and curls west before heading north into Tours. As the profile shows the route is flat and a dull procession past the large fields of French agribusiness interspersed with a few glorious chateaux. This means some exposed section but no wind is forecast so this shouldn't be a problem.
The profile doesn't show it but are three climbs near the end of the race which, if not high, are highly strategic. The Côte de Crochu is 28.5km from the finish and is as close as the locals get to the Alps with its hairpins and 8% gradient although it's taken at speed in the big ring. Next the Côte de Beau Soleil is 10km from the finish and not to be confused with Monaco's Beausoleil, a useful location for pro hill reps. Instead this is another short climb but it is distinctive for the narrowness of the road. Suddenly a giant race is funnelled into small roads and the peloton stretched out by the short climb and the elastic can snap, especially with the sharp turns at the top and then another narrow descent surrounded by stone walls. Finally the Côte de l'Épan is just 7km from the finish and a final wall at 8% to smash, it has often served as a trampoline for those trying to jump away.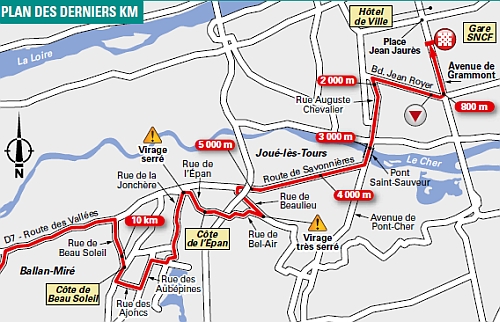 The Finish: once upon a time the Avenue de Grammont in Tours was an endless road, the world's longest finishing straight. But municipal meddling has put a tramway in town, frustratingly the transport needs of locals triumphing over this race. Nevertheless the finishing straight is 800m long, plenty of time for a big sprint. As the map above shows the race snakes its way into town and this makes it hard to control. With 5km to go things open up and note the sharp turn with 800m to go.
The Scenario: an early breakaway should go. Note this might not be any old move but several riders with no contracts for next year will be desperate by now and their future in the sport might depend on making the move. It's hard to imagine this kind of pressure, no?
Several teams have an interest to set up a sprint so we should see any escapes controlled but with 30km to go things get open as the twisty route and sharp climbs encourage attacks. Think of riders like 2011 winner Greg Van Avermaet, Marco Marcato, Jacob Fuglsang or Zdenek Stybar to try a move.
If not then it will be a bunch sprint and BMC come with Adam Blythe as back up for "GVA". If not there are many sprinters. Amongst the best are John Degenkolb (Argos-Shimano) and Nacer Bouhanni (FDJ-BigMat). Degenkolb has been having an excellent end of season with stage wins in the Vuelta, fourth place in the Worlds and the GP d'Isbergues and two podium places in the last seven days. A strong rider he is able to cope with the climbs so he's my joint pick for the sprint. The other is Bouhanni who puts the punch in puncheur and is an uppercut above the rest. Yes, he's an ex-boxer but now sprinting very well. The French national champion is in great form and extra-confident, after recent races he has been donning legwarmers and a jacket and adding an extra 50km of training and even did a cyclo-cross race for threshold training.
Then come a host of what we could call second tier sprinters: Gert Steegmans, Gerhard Ciolek, Giacomo Nizzolo, Davide Appollonio, Jimmy Casper, Steele von Hoff, Michael Kreder,  Michael Matthews, Graeme Brown, Adrien Petit, Baden Cooke and more. I don't mean "second tier" in a bad way, there are some very good riders here but they are not in regular winner category you would place Mark Cavendish, André Greipel, Marcel Kittel or Peter Sagan.
Startlist: available to download as a one page PDF.
Weather: damp and cool with a top temperature of just 17°C (63°F). A light breeze from the north-east makes for a tailwind for most of the day and a slight headwind at the end but at no more than 20km/h it's not quite enough to salami-slice the peloton.
TV: there's a live feed from French TV for the last hour so images will be available from cyclingfans.com and steephill.tv and Eurosport and other channels around the world be showing it although some with delayed coverage. The finish is expected between 3.45 and 4.15pm Euro time.
History: the race goes back to 1896 and it was then run from Paris-Tours and the winner Eugène Prévost clocked an impressive 31.2km for the 250km route but it was not repeated again for a few years. By 1906 the race was staged by L'Auto, then the newspaper behind the Tour de France and to this day the race is run by ASO, the Tour company. Then the race has been on and off over the years and has seen several changes:
In the first world war it was run in reverse with the finish in Paris
It snowed in 1921 and when Francis Pélissier punctured his hands were so cold he ripped the tyre of his rim with his teeth and rode on his wooden rim to win the race
1959  saw the addition of the first hill, the Mont des Allouettes
In the 1970s it started in Tours and finished in Versailles outside Paris
It later moved to route from Blois to Chaville
Only in 1988 did the race revert to Tours
Gustaf Daneels (1934, 1936, 1937), Paul Mayé (1941, 1942, 1945), Guido Reybroeck (1964, 1966, 1968) and Erik Zabel (1994, 2003, 2005) all share the record of three wins.
EDIT: two hours after publishing this L'Equipe publish a similar preview that suggests this is not the sprinters classic either. They've crunched the numbers and since 1988 – the year the race returned to Tours – we've had 10 bunch sprints and 14 breakaways.