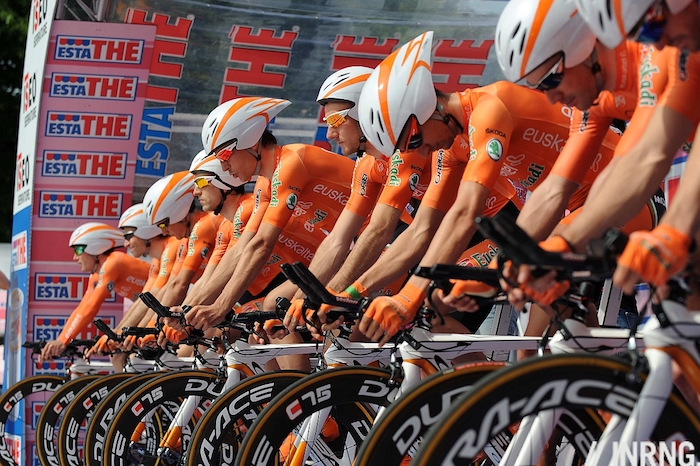 With new sponsorship secured for several years, a plan in place and fresh management the future of the Euskaltel-Euskadi team is secure.
Yet in order to survive the team is changing so much that its identity and attitude could be gone. A team famous for its attacking style could now end up with the soul of a spreadsheet and the spirit of a rulebook.
Over the years the Basque team has been visible and it's not just the bright jerseys. Often in a breakaways, the team's riders have animated many a race. Whilst Samuel Sanchez and Igor Anton have been bigger names, the squad has always been one of the most modest in financial terms and has had to take risks to win, placing men in breakaways has been a routine strategy. This year Ag2r went the longest without a win but last year it was Euskaltel-Euskadi. Over the years wins have been slim. Here is the chart for how many wins they have taken each year:
The team also had a clear identity. Again it's not just the orange kit. In a world where teams represent laminate flooring or bottled gas, this team had a regional vocation as the team only recruited riders from the Basque region, or at least those with close connections. A proud and wealthy part of Spain – complete with violent secessionists too – the Basque region has a strong tradition of cycling and is one of the hotbeds of Spanish cycling. The team arose out of this twin tradition: regional identity and cycling popularity. First created in 1994 it has been sponsored by Basque firms like Orbea bikes and Euskaltel, a local telecoms firm as well as a fan-based subscription system plus funding from the Basque regional government.
It couldn't last forever. Teams with a specific vocation often seem unsustainable, whether it was the vegetarian Linda McCartney team or the diabetic Team Type 1 squad which is scaling back its ambitions for the years ahead. It's time to quote di Lampedusa's famous line from Il Gattopardo:
"If we want things to stay as they are, things will have to change"
In order to stay in the top tier of teams the team is having to change its ways. Gone is the policy of regional recruitment as the team hires riders from well beyond the reason. In some ways this is fine, few employers are allowed to hire on the basis of an accident of birth; imagine if, say, Apple only hired Californians. The shake-up means the team has secured €40 million in sponsorship for the next four years, impressive given the economic crisis in Spain. But it can no longer rely solely on local recruitment, the team is now signing foreigners. It marks a big change in what was once the de facto team for the Basque region and for some, an aspiring Basque nation. New joiners like Russia's Sacha Serebreyakov will be in for a shock.
But this is only one change. Now the team is following the recruitment-by-spreadsheet policy deftly used by Ag2r last year and hiring riders for their points haul. Take Ricardo Mestre, a Portuguese rider who won his home tour in 2011. It's a big race but Mestre is 30 and not had many other wins, he is no talent to develop. Instead he comes with points. A deal wasn't signed but the team tried to hire Oscar Freire on the deal where he could still enjoy retirement, all whilst lending his UCI points to the team.
The dash for points is not too surprising, the team have spent the latter half of the season trying to hunt down points and in a way if they get relegated we could trace the moment back to Liège-Bastogne-Liège when Igor Anton fell in the neutral start and broke his collarbone, ending a crucial chance to score points in the spring and early summer.
Now recruitment is being directed towards foreigners with points rather than Basque riders with attitude. Amets Txurruka was told he wouldn't get a contract so he's joining Spanish team Caja Rural, the kind of rider you'd think the team would hold on to. And the worry is that hiring riders for their past points doesn't do any good. See how Ag2r fared this year with just four wins all season and now they've executed a total change by hiring exciting riders like Domenico Pozzovivo and Carlos Betancur who, even if they might not fit in, provide fireworks. Indeed new team manager Igor González de Galdeano says hunting foreigners for their points is a temporary solution, telling Biciclismo the signing of non-Basques "is nothing more than a transitional phase" and that they could revert if the local talent comes through.
Finally a note to say the changes are to the pro team. The underlying Fundación Euskadi will continue to support Basque cycling, fulfilling the role it has done for the past 20 years.
Conclusion
Never the strongest team, Euskaltel-Euskadi compensated with hi-viz kit and long-range attacks. But there's only so much this could achieve, without a sprinter wins have been scarce and they've been especially reliant on Samuel Sanchez for success. The result? They're fighting Saxo Bank to avoid relegation from the UCI World Tour. Like a hot air balloon where the passengers are cutting loose the ballast sacks to stay up in the air, Euskaltel-Euskadi is jettisoning its identity to stay in the sport. Or if not throwing it away, diluting it.
The team has always been changing. It ditched the Basque flag for the orange colours of sponsor Euskaltel but the plans for 2013 mark a fundamental change. We should salute the innovation shown by management and sponsors to keep the team going, happily the squad's financial problems appear to be behind them. And also recruitment based on birthplace is a form of discrimination that, if not outrageous, can be questioned. But it's time to mark the passage of an old way and observe how a traditional team is trying to stay afloat in an era of rising team budgets. Maybe this is not the end of the Euskadi spirit in pro cycling but we have seen the final year of the old format.