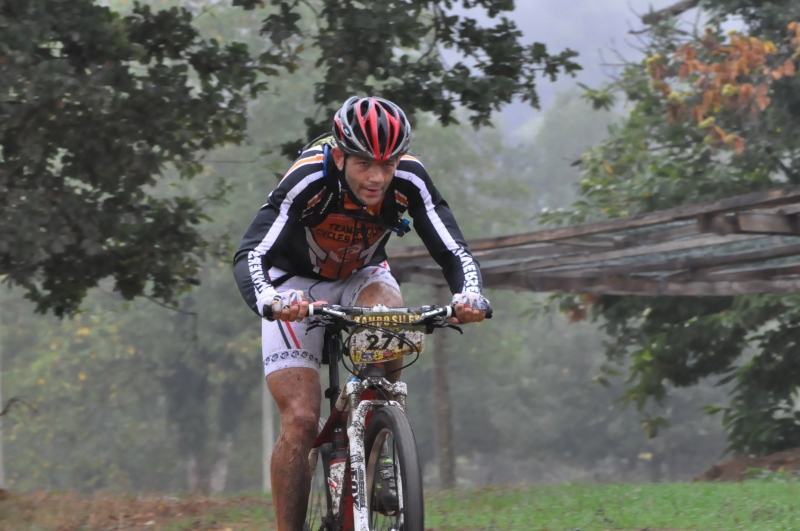 I can reassure readers that the 20 October is a normal day in France. The first day of April is reserved for poisson d'avril jokes. The news that Christophe Bassons has been given a one year ban for missing an anti-doping control is no laughing matter.
How did this happen? Should he banned? Here's a look at the case, the rules and more.
On 1 September Bassons was riding the French MTB Marathon championships but abandoned. Here's what he told L'Equipe (my translation)
"I quit the race with 20km to go. When I stopped someone from the race asked my name, noted my number and then told the race officials. I know it was a mistake not to have waited until the end of the race to see if my name to see if my name was going to appear on the list of riders to control. I started driving back to Bordeaux and it's some after two and a half hours after I quit that I get a phone call from the race timekeeper saying I need to give a sample. It was too late to get back to the race"
Normally the lead riders are tested and then others are picked at random, often using a sack with numbered balls inside or other random methods. It seems Bassons was one of the chance picks and we should assume a low probability a conspiracy to pick his name out of the hat whilst officials knew he'd gone home.
A ban seems harsh but it is the rule. If a rider is called for an anti-doping control and then skips the test then they receive an automatic full ban. Here is the WADA Code (my emphasis):
The following constitute anti-doping rule violations:…
2.3 Refusing or failing without compelling justification to submit to Sample collection after notification as authorized in applicable anti-doping rules, or otherwise evading Sample collection
Note this not the same as an out-of-competition test where three missed tests invoke a ban. Instead this an in-competition test and fleeing this means a ban.
It has to be this way because let's imagine a rider who has is "glowing" with banned substances in their body only to hear they've been called for a control which will find them positive. Guilty, they flee to avoid the test. Normally riders are not notified of a test until they cross the line but the recent USADA decision includes evidence that some riders and teams were able to find out who was going to be controlled in the closing stages of a race. The WADA Code specifies a two year ban.
dura lex sed lex
The law is hard but is the law
It is almost impossible to imagine Bassons skipped the test out of precaution or fear of testing positive. Tired, he simply wanted to get started on the long drive home. This is a man with courage in his veins. But thankfully the rules don't care for our subjective interpretations and opinions. The athlete who waves a get-out-jail-free card because of his charity work or another who claims he rushed home to nurse a sick puppy is saved whilst less creative fugitives get burned alive. The rules have to be black and white.
In fact Bassons has got off with a reduced ban. Normally the automatic penalty is a two year ban and the WADA Code specifies this can be reduce by up to one half (my emphasis):
10.5.2 No Significant Fault or Negligence: If an Athlete or other Person establishes in an individual case that he or she bears No Significant Fault or Negligence, then the otherwise applicable period of Ineligibility may be reduced, but the reduced period of Ineligibility may not be less than one-half of the period of Ineligibility otherwise applicable.
So whilst the ban is cruel, the French Federation have applied the maximum reduction possible. The race itself didn't have a duty to tell him to stay as normally the identity of riders to be controlled is kept secret until the race is finished.
Conclusion
It's tragic that of all people in the news this week we see Christophe Bassons banned for a year. But this doesn't change much, he has such a stock of credibility that few would imagine him skipping a test for anything other than an admin error or simply fatigue. For many it's the equivalent of an anti-mafia crusader getting a parking ticket.
Good luck to anyone trying to have a pop at Bassons because of this as it's likely to backfire. The silver lining to the cloud is that no rider is above or beyond the rules. If only this was always the case.
Photo: Velo Silex and thanks to ex-FFC President Daniel Baal for the "dura lex" quote.