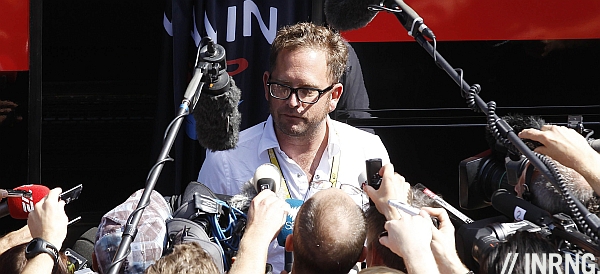 Jonathan Vaughters, manager of the Garmin-Sharp team has confessed to doping in the New York Times. In fact it was the second time he's confessed, only this time it was unambiguous. Now he's made it clear, a ban from team management is possible yet unlikely.
Back in November 2010 Vaughters gave an interview to cyclingnews.com and recounted his win in a mountain time trial on Mont Ventoux during the 1999 Dauphiné:
Well, for sure, it was the best form of my life as a bike rider, but I wasn't… I was just sort of… I will leave it at this; I wasn't overly pleased with that victory. It was interesting to me. It answered a lot of questions. But it wasn't the most ecstatic moment of my life by any means.
I wrote about the interview and them, as now, believed this was a whopper-size hint about using EPO whilst at US Postal. But it still required us to read between the lines. Now this time there's no coded language:
I chose to dope. I am sorry for that decision, and I deeply regret it
For those saying a line in a newspaper is one thing but full details of the mechanics from sourcing the substances to determining dosages is another then your wish is probably fulfilled. It is reasonable to assume that the US Anti-Doping Agency (USADA) has been given all the relevant information as part of its investigation into the so-called "US Postal conspiracy".
Why now?
Some will say it is all too late. Why did he not go public until now? The answer is obvious: he would have been buried alive. There was no incentive in the past to speak out, it brought way more costs than benefits. Look at every single whistle-blower, far from sounding alarm they set off lawsuits, bans, negative comments and more. Ask Christophe Bassons, Filippo Simeoni, Jörg Jaksche, Floyd Landis and more. We can at least salute Vaughters for acting in other ways, notably creating a team that prides itself in riding clean.
But now USADA is on the case and this changes a lot. Several former riders have given testimony to the US agency. Indeed this is why the confession is now public because if many in the cycling world could read between the lines the readership of the New York Times is quite different. Plus it's always better to put your story out first rather than wake up one morning to find negative headlines.
Vaughters banned?
An admission counts as an "anti-doping violation" under the WADA code and Vaughters is still a licence holder in the sport therefore we could expect a ban to be imposed. Note USADA probably learned of things well before we read the NYT so the clock has been ticking well before Sunday's piece. Here's the UCI rulebook, parroting the WADA Code:
Methods of establishing facts and presumptions
23. Facts related to anti-doping rule violations may be established by any reliable means, including admissions.
In other words an admission is equal to a positive test. However there is a limitation to past activities of eight years under the WADA Code. When Bjarne Riis confessed in 2007 he didn't get a ban because of this. However as we see with USADA, they have stated the statute of limitations does not apply when investigating the "US Postal conspiracy" because of a precedent where the clock can be reset, although is still disputed. So if USADA are going after the ex-US Postal riders then a ban seems a possibility although perhaps Vaughters was not actively involved in the conspiracy, therefore he is outside the statute of limitations and thus safe.
What would Vaughters do during this period? Twitter might give us an answer:
This whole MBA application process is interesting. One of the essay questions: Have you ever encountered a unique ethical dilemma? YES

— Jonathan Vaughters (@Vaughters) July 27, 2012
A team manager applying for business school? Don't read too much into it. The application form would be a good read.
Conclusion
A ban is possible but not certain and it seems the UCI isn't trying to seize control. Many other team managers have made similar confessions or were even caught. As NYT piece makes clear cycling is Vaughters' life and it would be hard to imagine him walking away, especially since he's got a big team to run.
An article about ideas to clean up sport for the future only highlights the past. There are many views on Vaughter's confession, from welcoming his move to a wait and see all the way to declaring he has no place with young riders. Decades ago French writer Antoine Blondin once wrote about doping as the "dark side of the moon", complete with "seas of doubt" and "craters of suspicion." He had a point, things are distant and unknown, so a range of opinions are likely. This variety reflects the incomplete nature of the confession: it is late and buried in the NYT piece. This is an observation, not a judgement.
Vaughter's media-friendly stance means he stands out and he's managed usefully to frame his "I cheated" story within a tale of helping the sport clean up. But it's still just a short stage in a long story. I suspect it's a relief for Vaughters to finally put this out in the open after dropping giant hints but this is a story of a systemic problem and not one man, nor one team. For now it's USADA and the arbitration panel and not the NYT that matters.