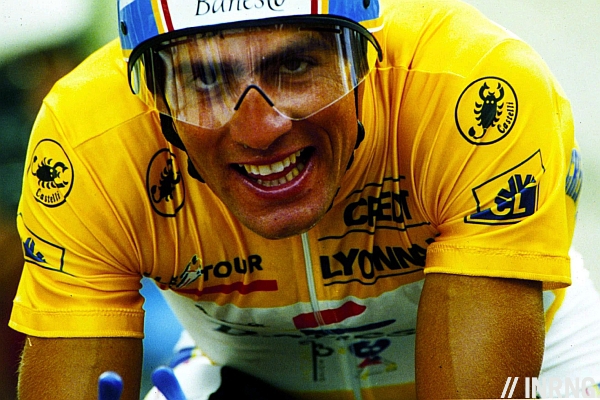 A new research paper suggests the five-time Tour de France winner is still a force on the bike and could even hold his place in the pro peloton today.
The International Journal of Sports Physiology and Performance claims he has lost little of his fitness and his power values "still compare favorably with those exhibited by active professional cyclists".
Indurain has been for an effort test in the lab and the Spanish sports scientist Iñigo Mujika has written up the results. The paper's abstract says
"age-related fitness declines in athletes can be due to both aging and detraining. Very little is known about the physiological and performance decline of professional cyclists after retirement from competition. To gain some insight into the aging and detraining process of elite cyclists, 5-time Tour de France winner and Olympic Champion Miguel Indurain performed a progressive cycle ergometer test to exhaustion 14 years after retirement from professional cycling"
and concludes:
"His maximal values were: oxygen uptake 5.29 l.min-1 (57.4 ml.kg-1.min-1), aerobic power output 450 W (4.88 W.kg-1), heart rate 191 bpm, blood lactate 11.2 mM. Values at the individual lactate threshold (ILT): 4.28 l.min-1 (46.4 ml.kg-1.min-1), 329 W (3.57 W.kg-1), 159 bpm, 2.4 mM. Values at the 4 mM onset of blood lactate accumulation (OBLA): 4.68 l.min-1 (50.8 ml.kg-1.min-1), 369 W (4.00 W.kg-1), 170 bpm. Average cycling gross efficiency between 100 and 350 W was 20.1%, with a peak value of 22.3% at 350 W"
It also adds:
"Larger declines in maximal and submaximal values relative to body mass (19.4-26.1%) indicate that body composition changed more than aerobic characteristics"
This is a polite way of saying he's put on some weight. He now weighs over 92kg, compared to 80kg back in the day.
Indurain has long been regarded as unique physical specimen, captured best by the memorable cover of Cycle Sport magazine from 1996. So perhaps today's conclusion is that Indurain still has the ability to ride at an intensity needed to stay with elite riders despite being 46 years old is no suprise? I'm not so sure, I'd welcome comments but suspect his numbers might be a bit low. Obviously he'd have to lose some weight too.
Whilst he is retired, Indurain regularly rides with his son, also Miguel and besides, at 46 he's only a bit older than the likes of Jens Voigt and Christopher Horner.
Plus this seems to be one test on one rider. For it to be more meaningful we'd want to see a bigger sample size.
The good news
You can keep a lot of your physical strength into old age, although Indurain isn't exactly ancient. Contemporaries like Maurizio Fondriest, Michele Bartoli and even the more senior Francesco Moser still ride their bikes today with the same style as the past.
For me it's always a pleasure to see ex-riders continue to cycle, many have had enough after making a career out of it, the thrill is gone for many who suffer almost daily.
The bad news
If you're in the masters or veteran age bracket then the candle-count on your birthday cake might not be the excuse you need to account for any decline in your fitness and power levels. Sorry.
Conclusion
I don't have a subscription to read the full paper. Happily Indurain seems fit, healthy and still content to ride his bike. Can he make a comeback? Well perhaps he could cope in the bunch but I can remember the moment he retired. It was in 1996 in the Vuelta: he was dropped on the Mirador del Fito and climbed off the bike, never to race again. So I'm not sure he'd even want to trot around as pack-fodder. Although if he's short of a Euro, a post-Vuelta criterium could be fun.
But we can all take heart from the suggestion that youthful fitness does not have to decline. And as we all know, cycling is not an impact sport so hopefully Indurain can keep riding for decades.
Thanks to reader MMG for sharing the story