The Tour de France last three weeks but the build-up begins in October when the route is announced. The road to victory isn't about the finish line, it's the journey too and so this time there's more than one racing winning moment.
And if you think Wiggins won because of the time trials, think twice. Strip away the time trials from the overall results and he would still have the fastest time.
October 2011
The first point didn't even happen in the race but instead goes back to 2011 when the route was designed. Unveiled in October last year, the route promised more time trials and less climbing. Back then some were even tipping the likes of Tony Martin and Fabian Cancellara but I thought otherwise, there was still a lot of climbing and it wrote would only be accessible to Martin if he lost a lot of weight. Instead when the route was leaked I named Cadel Evans, Bradley Wiggins and Alberto Contador as the prime contenders.
February 2012
But Alberto Contador's legal avenues reached a dead end and he finally copped a ban to rule him out of the Tour. It's impossible and perhaps futile to play counter-factual arguments about what Contador's presence would have meant because it's just a fact that he wasn't there and in the language of Team Sky, an element beyond their control. Play this game with hindsight and given the way Wiggins has been riding this year, what if he didn't crash out last year? Perhaps we'll get an answer in 2013?
Team Sky
Whilst some squads waited for the national championships in June to judge a rider's form, Sky knew who they were taking for a long time, relying on downloaded power data rather than seeing who had a good day out. Just one example of a different approach. The team has an interest in playing up their professionalism and it is getting other squads annoyed, partly because they're organised and partly because they want to be more organised but lack the resources. But it certainly seems the squad has focus on detail like no other and came to the race with a team able to control the race in the mountains whilst Vincenzo Nibali, Cadel Evans and Jurgen Van den Broeck were left isolated.
Paris-Nice and the Critérium du Dauphiné
People asked if he'd peaked too soon after winning Paris-Nice in March. But even the most old-school rider can peak in March and come back for July. The race in March gave us two big clues. I wondered if Wiggins could cope with the Montée Jalabert climb on Stage 5 given the steep slopes. But we saw Richie Porte deployed to set a fierce pace and Wiggins rode an extraordinary high cadence to winch his way up. At Dauphiné everything just looked so controlled. When they climbed the Joux Plane Twitter erupted with talk of US Postal and we'd not seen such a strong team since Astana dominated the Dauphiné in 2007 but there was a difference in that Sky spent a lot to recruit riders like Porte, Rogers and Boasson Hagen and get them to work as a unit. They'd be the undisputed leaders on several other teams but the Dauphiné showed just how well they'd work together.
Chris Froome's puncture on the way to Seraing
After five pre-Tour examples, now we get to the racing. Froome lost 1.25 thanks to a puncture late on Stage 1. This meant there was no need for Sky to think about splitting the leadership role after Wiggins took the yellow jersey. The media went to town with talk of Froome's ambitions but a simple puncture fixed this.
The Metz massacre
The giant crash on Stage 6 removed several riders from the race. Did it remove any threats to Wiggins? It's speculation but Ryder Hesjedal had broken Wiggins' "record" on the Rocacorba climb near Girona and could have been exciting in the mountains. But the crash was also about staying upright, and here Wiggins was out of trouble.
The Planche des Belles Filles
A clever addition to the race route, this short climb was exciting. A fast tempo approach saw the riders hit the early slopes at high speed and the pace was intense all the way to the top by which time only Chris Froome, Wiggins, Cadel Evans, Vincenzo Nibali and Rein Taraamae were left.
Besançon time trial
L'Equipe likened Wiggins to a heron, flying across the landscape with his long limbs trailing beneath him. A 1-2 for Team Sky, Fabian Cancellara was a minute off.
La Toussuire
A classic mountain stage in the Alps, all final questions about Wiggins' ability to cope with climbing were put to rest. Whilst Pierre Rolland won the day after some bold breakaway riding, Wiggins arrived with a select group of Froome, Thibaut Pinot, Jurgen Van den Broeck and Vincenzo Nibali. Cadel Evans had tried an earlier attack but this backfired and he was dropped.
The Final Week
By now there was little suspense. The others might have wanted to attack but they couldn't escape the Sky steamroller. This lack of suspense was rammed home when on the final Pyrenean stage Nibali was on a bad day and sent his team to the front to ride tempo as a bluff, pretending he was going to attack but instead tapping a rhythm for the Sicilian to hold the wheels and this saw Cadel Evans crack. Then in the final time trial Wiggins put over a minute into Froome, over two minutes into van Garderen, over three minutes into Nibali and over four into Van den Broeck.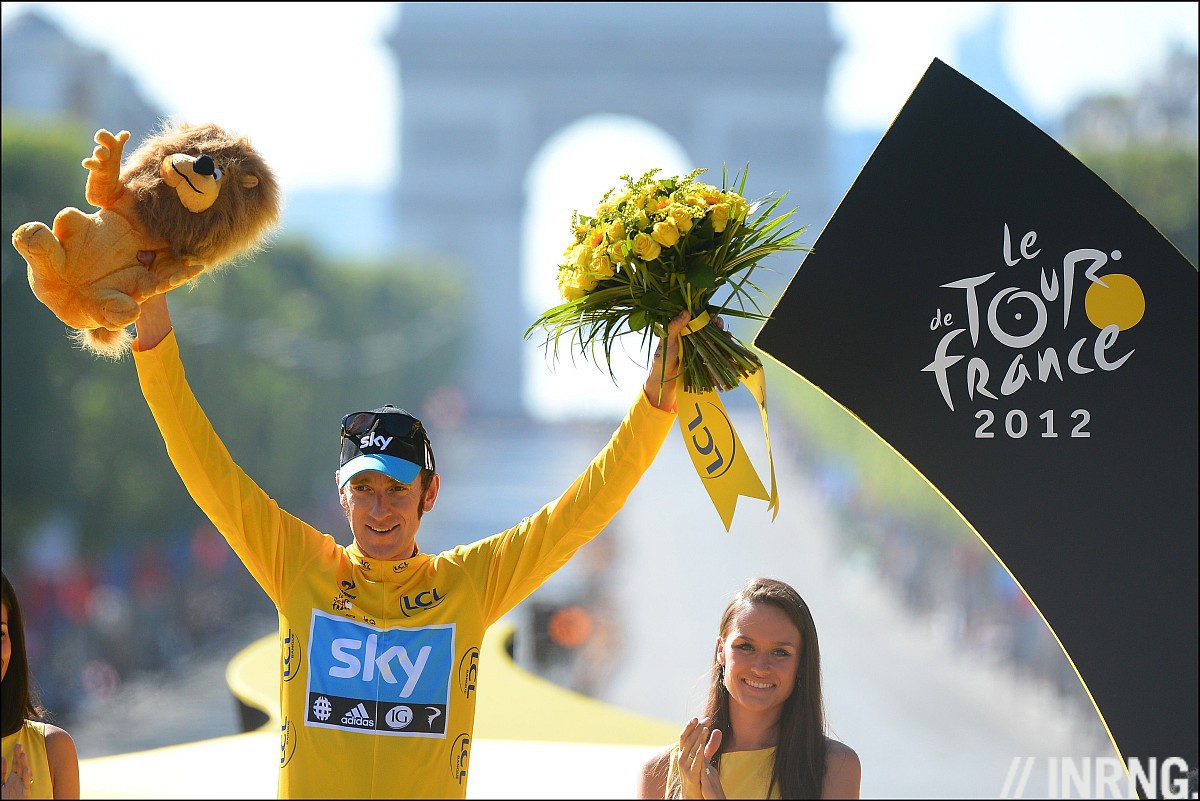 Conclusion
It looked like the time trial bias in this year's course suited Wiggins but in fact he proved he could outclimb his rivals. In fact, strip out the prologue, the Stage 9 time trial and the Stage 19 time trial Bradley Wiggins still finished with the fastest time, ahead of Vincenzo Nibali and Chris Froome, the only change to the podium is that Nibali would be second overall at 23 seconds with Froome in third at 1.21. Now we can play with hypotheticals all day but this fact demonstrates Wiggins didn't just ride away from the others in the time trials, he did it elsewhere too.
If the climb to the Planche des Belle Filles showed Wiggins could climb, this was a short and intense effort. Instead for me Wiggins secured the win with his riding in the mountains and it was on the road to La Toussuire that we saw the best demonstration of this. Only Thibaut Pinot and Chris Froome were capable of climbing faster than Wiggins that day. The stage to La Toussuire was the demonstration and consecration of Wiggins' individual abilities and the dominance of Team Sky which won six stages.
Vive le Tour!