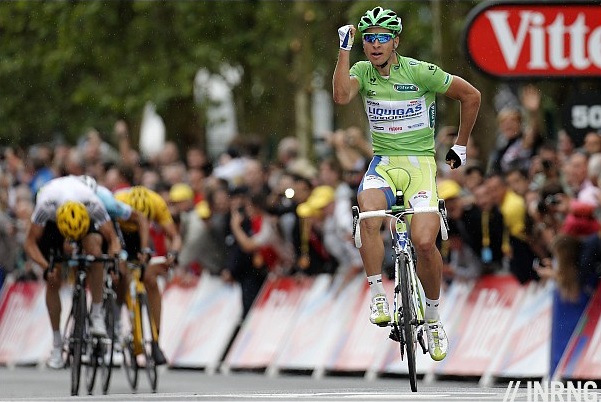 It hard to write about Sagan. He's so good you quickly run out of adjectives. Today's results don't even tell the full story, he finished a second clear of the others but in fact had time to look back, sit up, cross himself and then perform a goofy "running man" celebration. It makes you wonder what the other riders think.
Great win by Sagan again he, is class!but can't say I enjoy his victory salutes in the face of his competitors!

— Robbie Hunter (@RobbieHunter) July 3, 2012
That's Garmin-Sharp's Robbie Hunter and you suspect his feeling is shared by others. I can understand where they are coming from but his self-expression seems joyous rather than cruel. In this Olympic year the ease of his wins is not unlike Usain Bolt's success in recent years.
Still, it's not just the riders, the way he makes it look so easy is frustrating a few TV executives who want a big audience and suspense rather than near-certainty of a Sagan win. But we've only had three road stages and many won't suit Sagan as well. Still, it's not the first time the Tour has been confronted with effortless success. In recent years Cavendish has been imperial in the sprints. In the past the race has seen the likes of Freddy Maertens – perhaps the most comparable rider to Sagan right now – and of course Eddy Merckx. When faced with the Belgian's monopolisation of the race Pierre Chany, L'Equipe's chief writer, had the perfect response:
"has anyone wondered whether Molière damaged theatre… Bach harmed music?"
He's not a Slovak, he's a Fastvak
Sagan was born in January 1990, making him the first rider born in the 90s to win a stage of the Tour de France. He is from Žilina in Slovakia, an industrial town in Slovakia not far from both the Czech Republic and Poland and today dominated by the large factor of Kia, a Korean auto manufacturer. The winters are cold, a reason he took up cyclo-cross. Long a recognised terrain on the ever-changing maps of Europe, Slovakia regained its status as an independent nation in 1993.
He first appeared on the international radar at the 2007 at the European mountain bike championships where he took a bronze medal, despite being one of the youngest riders in the race. But he'd obviously impressed at home in Slovakia to reach this level, indeed he was known for riding in ordinary shoes on flat pedals. In one round of the Slovak MTB cup it appears he borrowed his older sister's bike and won. He became national junior cross champion and also took wins in international cyclocross races at junior level like the French Cup and the Superprestige.
In 2008 he was still in the juniors and took world cyclo-cross championships when he took silver behind Arnaud Jouffroy, today a pro with FDJ-BigMat. He was also second in the junior Paris-Roubaix, behind Andy Fenn who is today with Omega Pharma- Quickstep after spending most of the last two hours riding solo in the lead. But the highlight of the year was a rainbow jersey and the world champion crown as junior mountain bike champion. By this time he appeared on Specialized's radar. You can see him toying around on one of their bikes here:
His talent saw him go for a test with the Quickstep team but it didn't work out, the squad said he wanted too much money. Instead Cannondale came on board and he soon found himself joining the Liquigas squad. It's similar to Cadel Evans who was riding MTB but thanks to Cannondale got a spot on the Saeco team, sponsored by the US manufacturer.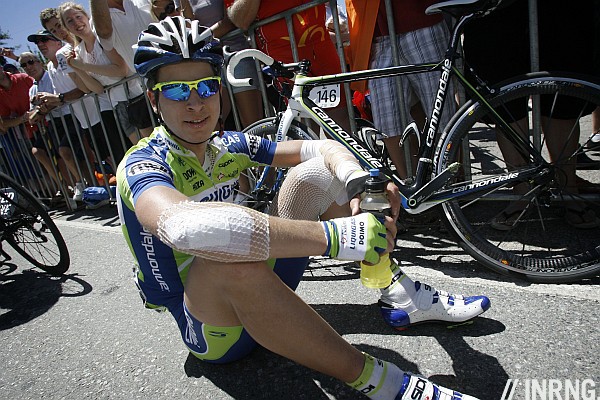 His debut as a neo-pro was remarkable. In the Tour Down Under a breakaway formed on the hardest stage. Cadel Evans, Alejandro Valverde and Luis Leon Sanchez broke away and were joined by Sagan the neo-pro. To add to the surprise, he was covered in bandages after a fall but this clearly didn't hold him back. In fact he astonished his team after the crash, he looked like he'd been in a fight with a cheese grater but in broken Italian said "io domani start", "I starting [the stage] tomorrow". A win wasn't far away and he returned to Europe. On a bitterly cold day in Paris-Nice he jumped away with Nico Roche and left the Irishman and Joaquim Rodriguez behind on the finish line. A couple of days later he attacked on a small climb near the finish and won the stage in to Aix-en-Provence and finished the race with the green jersey.
By now he was being called Chuck Norris and Rambo by team mates impressed at his power. Management started to bow too, they hired his older brother Juraj as a rider midway through the season. Juraj (yoo-rye) Sagan had been an amateur in France with the unfortunately named Team Albert Bigot and wasn't really making a name for himself, although he was still one of Slovakia's best road racing exports along with Peter Velits. But Peter got Juraj a job.
By 2011 everything continued, except on a higher level. By the end of the year his stage win in the Tour of Switzerland was one my highlights of the season, here's the video:
If you don't have time to watch the stage just note won a mountain stage after getting the better of Damiano Cunego. Later in the year he started his first grand tour with the Vuelta and of course he won a stage. And another. And another.
By now you know the story. But we barely know the man. Aged 22 he seems courteous to his team mates and when asked today whether the win was as easy as it looked replied "no win is ever easy". All the same his confidence and belief is almost unparelled. He apparently discussed his victory salutes with friends before leaving for the Tour. Let's stop for a minute and think about that – could you imagine hanging with some friends and saying "ok guys, give me some suggestions for victory salutes".
What next?
There's probably no answer yet. In the short term he might have his eye on tomorrow's stage, certainly he'll want points to build on his green jersey. Slightly longer range he'll want to make it to Paris and of course there's the Olympic Games and upsetting Mark Cavendish in front of The Queen in Buckingham Palace. Has he planned a victory salute?
Longer term there's talk of a grand tour success, especially if he can reshape his body a bit. He's chunky and this suits him for the classics but if he could slim down – in profile, not body fat since he's lean – then he could climb better and become even more versatile. But this is speculation and for now, why on earth should he change anything?
Summary
At times he seems as elusive to writers as he does to riders, able to drop the bunch in an uphill sprint whilst being hard to understand and describe. The more he wins, the more the superlatives run out. He assassinates adjectives and shreds the thesaurus for breakfast.
What next? He has plenty of time to chose, just like he picks his victory salute.