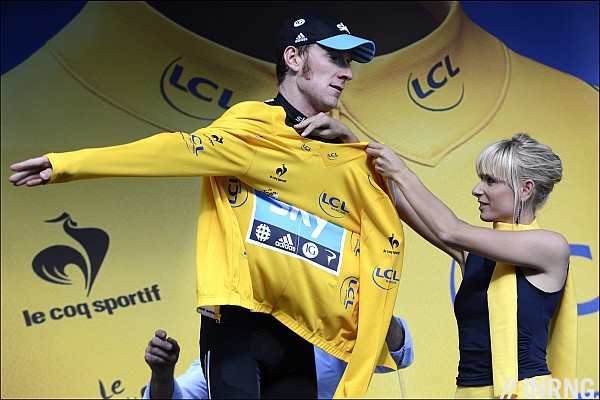 In the Dauphiné race back in June Bradley Wiggins beat Cadel Evans in the time trial stage by a margin of 103 seconds. He did the same again yesterday, but on a course that was over 10km shorter; far from peaking too soon, Wiggins' performance advantage over Cadel Evans seems to have grown, although take care not to extrapolate one day's racing too far. Still, Wiggins' background is on the track and taking almost two minutes in a time trial is the equivalent of catching your rival in the pursuit race.
But all is not lost for the others. The race is still not at the halfway point and all the media like to say anything can happen. There's an element of desperation, a message of "don't touch that dial" in case the audience begins to switch off. But it is also true, there are random events, the errant spectator who knocks Wiggins off his bike, the hairpin bend on a wet day or the tiny shard of glass that lies waiting somewhere on a French road. But there are also tactical considerations, the events that riders can shape.
Attack
Easier said than done. But during Stage 8 on the road to Porrentruy we saw Team Sky at work from the start of the stage in order to contain the early attacks. This work came at price, Cavendish and Eisel were dropped early, Boasson Hagen later and finally Rogers and Porte lost contact, leaving Wiggins and Froome isolated when Van den Broeck and Evans attacked them. Their moves failed but there's a glimmer of hope. If teams can do this again, sending threatening riders up the road right from the start then it will force Sky to commit early. Obviously this invites rivals to commit equally early, for example if BMC send Van Garderen in an early move then Evans could later be isolated.
Attack, attack
It's said Wiggins is not the best descender. I've not seen this myself but Nibali and Evans have already tried to put him under pressure so they must believe it. Wednesday's stage over the Grand Colombier is an ideal place for attack as it is cruelly steep in places and has a high speed descent before some tricky roads than don't suit a chase. The same for Thursday's Alpine stage, where the descent of the Col du Mollard is short but infamous.
Attack, attack, attack
The race hasn't reached the Alps yet. As much as Wiggins looks strong, he is still untested at altitude. So far he's had things perfect for an former track pursuit rider with short and intense climbs and a time trial. High altitude is something else. However Wiggins' stock phrase is "we've trained for that" and personally I think he'll cope fine.
Surprise
It seems hard to surprise Team Sky. They've apparently videoed the route of the upcoming stages, they've got strong riders and catching them out seems difficult. But you don't have to attack in the mountains. Instead we've seen stages in the past when some big names have gone up the road to exploit the moyenne montagne or medium mountains. This is what race organiser Christian Prudhomme is hoping for and there are plenty of stages where you might look and thing "that's not hard enough" but in fact the riders can do plenty to make it hard.
Planning
If Sky have checked out all the stages, so have other teams. But some of the big teams have not and I find this amazing. There is still time to check the route of upcoming stages, to send a member of staff on a reconnaissance mission, to make some phone calls or just spend hours on Google Earth or better, use cyclingthealps.com. This might not help a rider overall Wiggins but it could get them 30 seconds in the final time trial and help them move up within the top-10.
Alliances
There's talk of Evans and Nibali "forming an alliance" to depose Team Sky. In practice this would mean a joint attack or perhaps taking turns to attack with a pact not to chase each other down but to make Sky do the work. But I've heard talk of "grand alliances" before yet never seen it on the road. Teams and riders can find shared interests, aligned incentives and sometimes business deals can take place. But for now Evans and Nibali are fierce opponents in the hunt for a podium spot. An alliance? Forget it.
Le Jour Sans
For all the sports science and physiological planning it's common to have a bad day, a stage when the legs feel like wood or when you just make mistakes, for example losing confidence on a descent. Rivals might wait for this to happen, risky since it might never happen yet risk-free for them if it does. Certainly this adds to the suspense and fans of Wiggins will awake each morning with their fingers crossed.
Media Stirring
Not all journalists are neutral observers and certainly in sports there's a lot of partisan support. Wiggins has already lit up a press conference some vocabulary unused by Shakespeare or Wilde. Personally I think he got something off his chest rather than got flustered. But don't be surprised if a journalist tries to stir the pot and this destabilises Wiggins. If he gets bothered then he might lose mental energy, and maybe even sleep less well.
Wiggins vs. Froome
Others might try to stir things differently, this time by encouraging Chris Froome. Flattering the Kenyan-born rider, seizing every word he says that implies any difference, some might try to drive a wedge between Froome and Wiggins. The answer is simple, Froome just needs to think of the podium this year, look to the future and… put Paul Weller and Ian Brown on his playlist.
No change?
Listing reasons to attack is one thing but there are also reasons why the riders will not attack. Now you might think that if you're within reach of the podium of the Tour de France then it's time to do anything to get there. But there's an asymmetry in the attack, a risk that many will not want to take.
Let's take Dennis Menchov and Katusha. The rider sits in fifth place overall this morning then might still fancy the podium. But if he attacks in the mountains there's a good chance he is caught, if not by Sky then by BMC and Liquigas-Cannondale. Once caught he could be dropped, valuable energy is wasted, and he slips several places on the GC. In short an attack could lift Menchov up a place or two but if it fails he could easily lose five places.
Riders don't race with a spreadsheet in their mind but we can't ignore the money. UCI points are so valuable these days for teams that they convert into salary and remember that finishing 14th overall brings in as many points as a stage win. Riders have a big incentive to camp on their positions rather than risk trying to climb up a place.
Conclusion
Is the Tour over? No, of course not. We've seen many riders suffer misfortune so far and more could happen to anyone, including the yellow jersey. But we have a firm idea that Bradley Wiggins is the most complete rider in the race, he's got a team mate in Chris Froome ready to help and a squad full of big names like Rogers and Porte at his service. Tour commentator Laurent Jalabert says he thinks the morale of the other contenders must be "in the bottom of their socks", or rock-bottom in less poetic English and I agree. Wiggins is in yellow because he's outclassed the others rather than finding himself getting luckier. Can he be beaten? Yes… but the chances of overhauling him are small and the risks riders must take are big. Faced with this equation don't expect fireworks but do look out for Nibali, Evans, Van den Broeck to try.
Beyond the fight for the yellow jersey there is plenty more to look forward to, from who will finish on the podium, to the battles for stages and we have no idea who will win the king of the mountains jersey or the white jersey. If you think the rest of the Tour looks boring maybe it's time to take up a new sport?