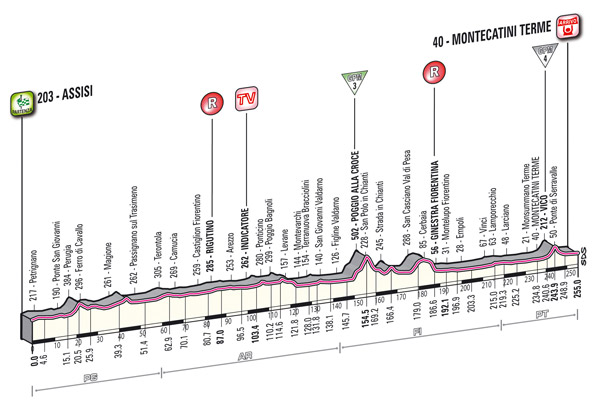 A stage for the sprinters, yes. But somehow this is still a unique stage. First it is literally the halfway stage of the three weeks and the mezzogiro or half-Giro point is reached. Next this is the longest stage in the race. It's also a trip past the homes of many Italian riders, past and present. And there's also some climbing right at the end to frustrate the sprinters.
The finish town of Montecatini is a genteel place where well-heeled Italians go for spa treatments and secretly experience the life of a pro cyclist. They get to drink various mineral waters, go on special diets, they can be covered in mud and may sit in hot water one minute and then be dunked in icy water the next.
Explosive finish?
Getting closer to the racing and Montecatini is where the relics of Christianity's Saint Barbara are kept. The patron saint of those who handle explosives, perhaps she will smile on Greenedge's Matthew Goss in celebration of the team's new sponsorship by Orica, the Australian firm that supplies explosives for the mining industry.
History repeating?
Away from superstition, perhaps we can look back to history for other clues. The last time the Giro arrived the stage was won by Mario Cipollini in his rainbow jersey, perhaps an omen for Mark Cavendish who could repeat the feat if he took can survive the climb around Vico and Nievole.
Home advantage?
On more practical terms this stage is also in Mark Cavendish's second home region. He spent several years living in nearby town and so should know these roads perfectly. But Cavendish isn't alone in knowing the roads, the race sweeps into Toscana or Tuscany in English and this area is a rich homeland of Italian cycling. From past greats like Gino Bartali to more recent names like Cipollini, the region has produced many champions and a substantial share of Italy's professional riders hail from the area.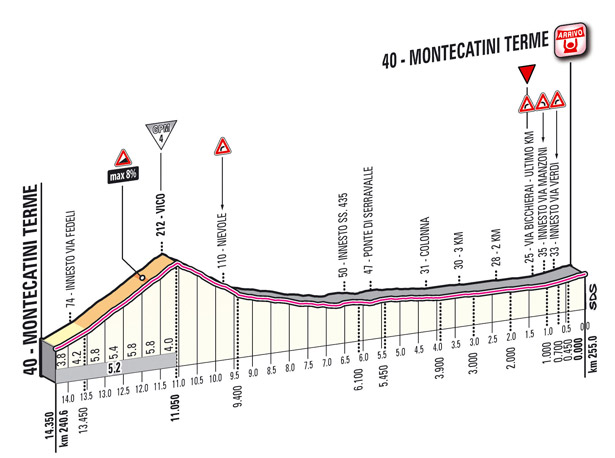 Note the final climb, 5.2% steep and with ramps at 8%. It's a short sharp shock albeit with a regular slope but there's time to get back on over the top even the descent will be hectic at high speed. This is just enough to make the result uncertain.