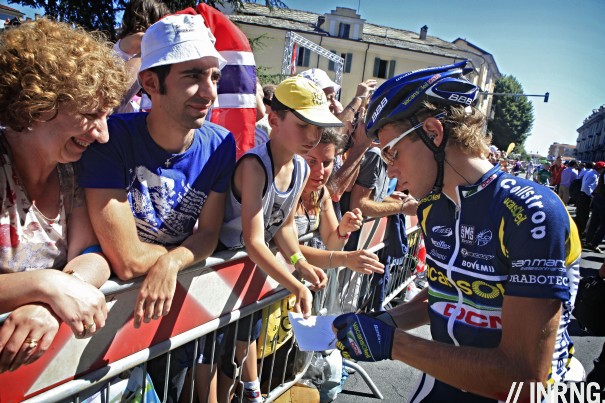 You're probably male and aged between 25 and 45. No, this blog doesn't have some high-tech way to monitor readership, it's more that men in this age group are the biggest followers of cycling in the US, UK and Australia and other English speaking countries so there's a good chance you fit into this category as you're reading an English-language niche cycling blog.
Regardless of your age, gender or location, I'm pretty certain you're a big fan of cycle sport. A casual fan might visit cyclingnews.com from time to time, a blog like this one is more specialist. But in both cases we're talking about some actively seeking news, results and more. And this is quite different from the vast majority of those who watch races. When it comes to watching bike races, cycling fans are a minority.
In the light of yesterday's piece about new funding models for the sport, let's distinguish between fans and the audience. Note this isn't to categorise and above all it's not to oppose two groups. Just some handy labels for illustration.
Fans are those with an active interest in the sport who go out of their way to find information and take enjoyment from following the sport whether on TV or maybe travelling some distance to watch a race.
The Audience are more passive, viewers who turn on the TV mid afternoon to catch a race, perhaps they know the TV schedule says there's a race on but maybe they hopped channels and decided to stay tuned. We're also talking about many of those who watch the big races like the Tour de France because it's a nice day out.
The thing to remember is that the broad audience is much bigger than the fan base. That's why teams are mainly sponsored by companies selling banking or car rental instead of specialist niche things like bicycle frames or cycling shoes. We're talking mass market consumerism instead of niche hobby.
Do you know who the biggest watchers of bike races are in France, Spain, Belgium, Italy and Switzerland? The over-60s. And the second largest component of the audience? Women aged 35-55. Yes, the sport you love is mostly watched by "pensioners" and "housewives". It's obvious when you think about it: there's a massive amount of racing on week days. Most sports time their events for the weekend or prime time TV slots. But the Giro, Tour and Vuelta offer 45 days in total of mid-week viewing and that's before you add on coverage of all the other weekday races, like stages in Tirreno-Adriatico, the Vuelta a Murcia, the Tour de Suisse and many more, not to mention one day events that don't happen on a weekend. In short, the majority of racing and TV coverage is shown between 3.00 pm and 5.00 pm, a time when most Europeans are at work, leaving a relatively small audience of people at home. It's no surprise that the "best" mountain stages of the upcoming Giro coincide with Saturday and Sunday, the TV audience will swell and the organisers want some action to hook the viewers.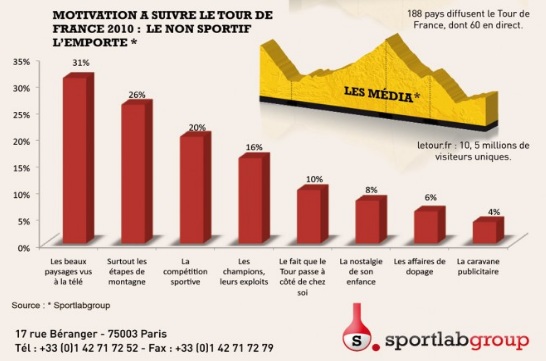 As well as knowing who watches, market research reveals why many are tuning in: to watch the countryside roll past rather than watch the racing. The graphic above from a French agency shows 31% of people say they follow the Tour de France for the "beautiful countryside seen on TV", ahead of 20% who follow for "competitive sport" although in between this we have 26% who want to see the "mountain stages", perhaps for both scenery and sport.
Because of the Tour and Giro it is possible to imagine France and Italy as places where cycling is wildly popular. Not quite. This might horrify readers but the average Frenchman would struggle to pick Alberto Contador or Thomas Voeckler in a police-style line up. Come July the recognition rate improves. The millions lined by the road tend to cheer whoever is doing battle on the roads. But even if they are there to cheer "the yellow jersey" without knowing the rider's name note the applause and support is genuine.
Perhaps fans should thank the more casual audience members? You might pity someone who can't tell their yellow jersey from their polka-dot but without the millions who tune in to watch the races then sponsorship would be rare and massively reduced. It's because cycling can literally reach parts of rural Europe that other sports can't that we have many well-resourced teams and giant races that go on for weeks, contests that dwarf almost every other sport.
Divergence?
The only conflict here is perhaps different people want different things. I've heard talk of making race radios available for fans to listen to mid-race. For example with digital TV or a webcast you could open up the channel of a team and hear what's going on. More broadly fans could be encouraged to root for particular teams as well as their sponsor. I like this but for now the vast majority of the audience are neutrals who probably don't even know about race radios.
The Belgian exception
This is drifting into stereotype but Belgium is the place where fans and audience overlap substantially. Many locals will know who is in a particular race and are often knowledgeable on the subtleties of the sport. Tom Boonen and Philippe Gilbert are instantly recognisable.
Conclusion
It's a point I've made on here before but the single largest segment of the audience for a bike race is probably composed of senior citizens tuning into watch the landscape. But that's great, it is thanks to the mass market appeal that cycle sport gets its funding.
All the same, cycling fans and the TV audience are not the same fans are just a subset of the broad audience. Of course I've simplified things here. Two labels is reductive and there's plenty of overlap. A casual observer today can easily find an infectious pleasure and become "inoculated by a spoke" as Louis Nucera once said.
The sport enjoys fast growth in English-speaking countries and this can be seen by growth in the number of racing licences, participation and cycle sales. But it is the reach into millions of ordinary households that brings the big money to the sport. As pro cycling looks at new models a major consideration is how to reach more households and hundreds of millions of consumers rather than a better connection to existing fans. It's about tapping the mass market rather than consolidating existing fans like yourself.