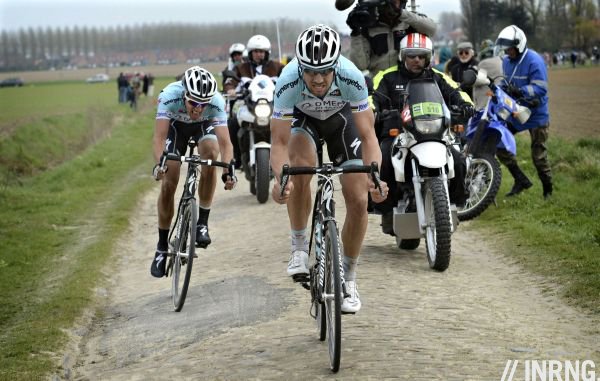 A fast start, an early breakaway, crashes in the Arenberg forest. So far, so typical of Paris-Roubaix.
Then with 56km to Tom Boonen and team mate Nicki Terpstra got a gap and then on the cobbled section at Auchy-lez-Orchies, Tom Boonen rode away from his team mate, launching a solo move that saw him ride to a record-equalling fourth win in the queen of classics. This was the moment the race was won.
It was cold on the startline but riders soon warmed up. The first hour saw the race cover 48.4km as moves tried to go clear but kept getting chased back. Every team wanted to be in the move so every time something went it was chased down by a squad that had missed out. Finally after 70km a break of 12 got away.
The break hit the Arenberg Forest cobbled section together but blew apart after a NetApp rider slide and then crashed, taking down others on what looked like damp cobbles. Behind, the bunch rolled over the cobbles in a more stable manner, led by Sylvain Chavanel.
It was after the Arenberg section that the first serious move went with Alessandro Ballan trying an attack with Juan-Antonio Flecha and several others. But Omega Pharma – Quickstep shut down the escape thanks to Gert Steegmans' hard work. When it came back, another team card to play and Sylvain Chavanel went up the road. The French champion was joined by a small group of less known riders, mostly French from which Europcar's Sébastien Turgot jumped away.
Behind Boonen tried a move and was followed by Filippo Pozzato and then Terpstra and Ballan came across. The cobbled roads are alleys where the gods bowl misfortune and Chavanel was struck by them with a puncture. In no time the Frenchman went from being at the front of the race to the back. All because of a puncture.
Boonen, Pozzato, Terpstra and Ballan caught Turgot. The Frenchman looked the odd one out but he's finished on the podium of Paris-Tours before and is the sort of bulky rider who should excel on the cobbles.
Then came the moment of madness. Boonen and Terpstra went clear, two team mates in tandem putting time into Pozzato and Ballan. Terpstra was working with Boonen but Boonen himself was going some giant turns. And it was on the cobbles of Auchy-lez-Orchies that Boonen rode away. There was a crosswind here and so there was little shelter on Boonen's wheel.
With 54km to the finish Boonen was leading the race alone. This wasn't supposed to happen.
In 2010 Fabian Cancellara attacked with 49km to go and soloed away. It was a bold move but you expected Cancellara to win, especially since there was little in the way of organisation from the chasers. It was impressive and his ride earned wild praise but all the same there was a sterility and certainty to the win. Cancellara rides away in the same way bears defecate in woodland. Once he got a gap the result seemed certain and it wasn't great TV.
By contrast Tom Boonen launched his move earlier than Cancellara. He kept going, a sensible idea since it forced the others behind to work in order to catch him but I thought he might ease up and the outcome was never certain. After all if he was caught by Pozzato and Ballan then he'd outsprint them, no? But he kept going.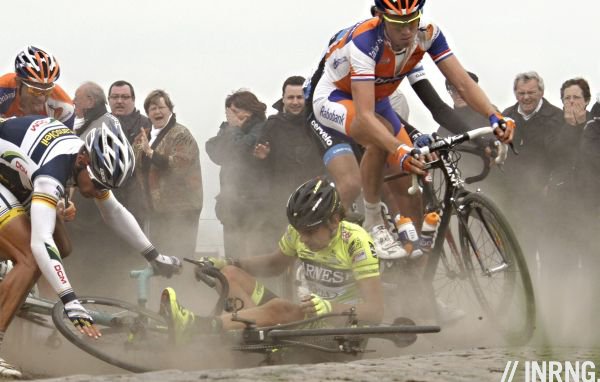 Behind dark Skys were gathering on the front of the peloton and the British team set to work in a chase, putting Matthew Hayman and Ian Stannard on the front of a chasing group that swelled to 14 riders but from which Pozzato crashed, sliding out on some dust in a corner and taking Stijn Devolder with him. But only the Sky team were chasing and this was to Boonen's advantage. As hard as Hayman and Stannard could ride, Boonen matched them, even taking out a few seconds here and there, all whilst in the group behind many riders hitched a ride with Sky's work. It was a thrilling chase and Boonen was visibly straining as he rode solo. He is no metronome chronoman.
With 26km to go Boonen's lead hit one minute as his directeur sportif Wilfried Peeters roared him on. With the gap growing, the group behind was racing for second place, especially since Sky's efforts fizzled out and nobody would join them. Lars Boom was the first to make a serious move, taking off with 17km to to. He came back but then Ballan went and was joined by Boom and Flecha. In hindsight again you wonder why Boonen was away up the road when he'd be expected to win against these guys in a sprint?
The answer is because Boonen could ride away. So he did. He knew the feeling in his legs, he knew the others might nor organise and besides he'd won the race three times before and had already won The Tour of Flanders, Gent Wevelgem and the E3 Harelbeke. Why not?
Boonen rode on and deserves every praiseworthy adjective you can send him. It was a masterclass of bold riding and power and highlighted the what the French call the attentisme of those behind. You'd normally translate this as "wait and see" but let's call it "waiting-ism", like some policy whereby the group of 14 chasers waited for Sky to reel Boonen in, or for him to crack. Only Boonen didn't wait.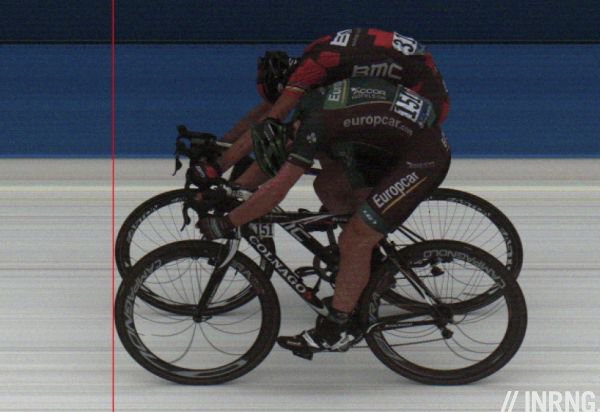 As if to make matters worse for the waiters, just Flecha, Ballan and Boom were readying for the sprint in the velodrome only to get caught by Turgot and Terpstra and it was Turgot who outsprinted them to second place. A feat more impressive given he'd broken some spokes on a wheel – after riding into Ballan earlier – and the rim was rubbing the brake blocks.
Better still for Boonen he now equals Roger De Vlaeminck as a four time winner of the race and also joins Rik Van Looy as someone who has won the cobbled trio of Paris-Roubaix, the Tour of Flanders and Gent Wevelgem in the same year.
Finally a salute to all 86 finishers who made the time cut – judged as 5% of the winner's time – and the other 27 riders who soldiered on only to be eliminated by the commissaires. All 113 deserve praise and you can download the full results here (PDF) to salute their names. George Hincapie made the cut… but Fred Guesdon was just a few seconds outside after 258km.
Tom Boonen rode the last 54km of Paris-Roubaix solo and this is the longest winning moment I can remember in any one day classic.