Gerrans wins Milan-Sanremo but the clip above is an illustration of the teamwork and success being enjoyed by all. Expletives are beeped out and at times the soundtrack is like Morse Code as riders and managers alike share the moment.

Quiet news day
Whilst Australian fans savour the win, a few have expressed frustration after sections of the Aussie media didn't report Simon Gerrans' win in Milan-Sanremo. Winning a monument is a big deal, this is no ordinary one day race, and in the country where Cadel Evans is a hero, many were hoping "Gerro" would get prime time attention, especially on the TV news bulletins.
But note the race didn't get big treatment in Italy. Here's the front page of La Gazzetta Dello Sport on the morning of the race: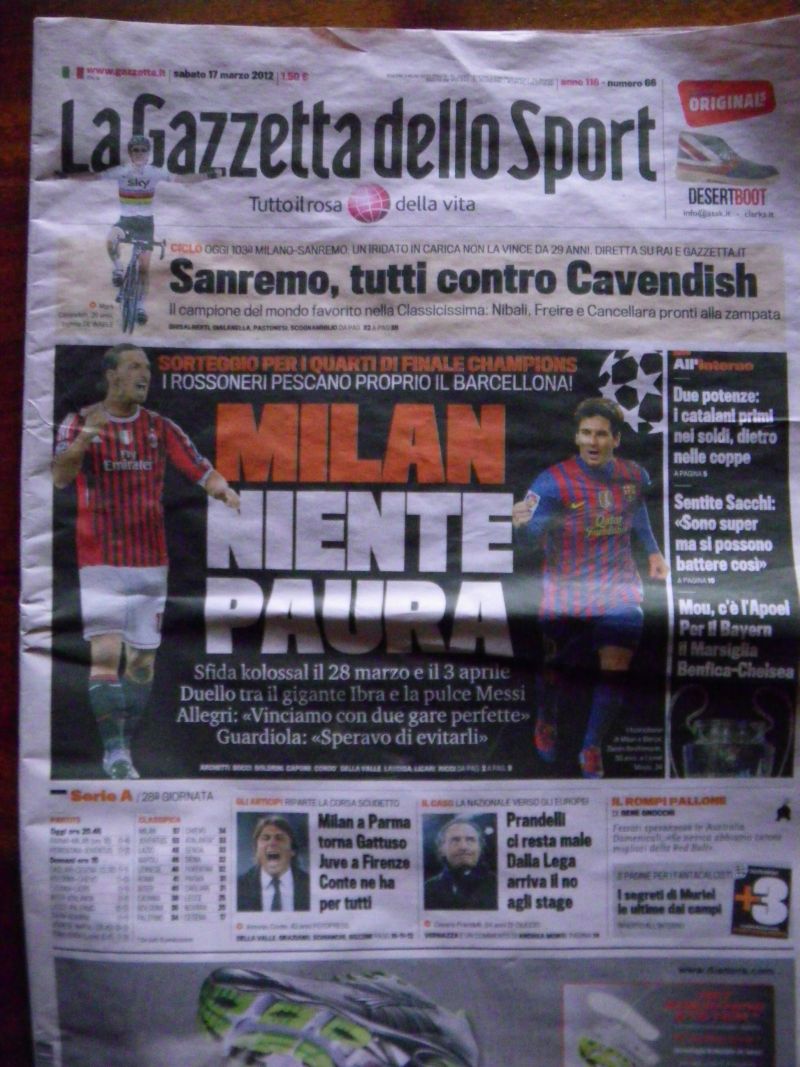 We have Mark Cavendish on the masthead but the main coverage is soccer and the news that a team from Milan will play a team from Barcelona. Open the paper and there are three pages of a Milan-Sanremo preview and another page for other cycling news. That's not much. Especially when you consider the newspaper is owned by RCS which is the race organiser too. Italy is football crazy and a race organised by the newspaper struggles for get coverage.
Monday morning update: Gerrans got some great coverage in the Sydney Morning Herald:
1600 Watts
From the power of soccer to the power of Cavendish. In an interview with La Gazzetta Dello Sport, he tells the Italian newspaper he produces "1590 to 1610 watts" in the sprint. Germans Marcel Kittel and André Greipel are said to pump out 1900 watts. In both cases this is peak power.
If Cavendish surrenders 300W to other sprinters, his winning advantage is elsewhere. He is short and in addition, very low on the bike. This makes him aerodynamic and offers reduced shelter to anyone on his wheel.
Cavendish weighs 70kg, 10kg lighter than Marcel Kittel. Indeed he claims to be at his Tour de France weight right now so there has to be another explanation as to why he was dropped on Le Manie in yesterday's Milan-Sanremo.
If you're not familiar with power measurements, these are usually measured with strain gages on the cranks and riders race and train with a bike computer that displays the power. Data from the whole ride can be downloaded.
Dutch energy food
Peijnenburg is a brand of biscuits and cakes that belongs to Lotus, the big Speculoos manufacturer. Hapklaar means ready to eat.
Photo sales
If you see a picture on here with the INRNG watermark in the corner then it is possible to buy a copy as a hi-res file to download, a print or even a mug. Just email me with the details of the photo and in turn I'll ask Cor Vos – the INRNG pro photographer – who will upload a copy of the photo to a website where you can put the hi-res or print into a basket. I don't make a cent from this but the photographer does and I'm only too pleased to help in the middle.