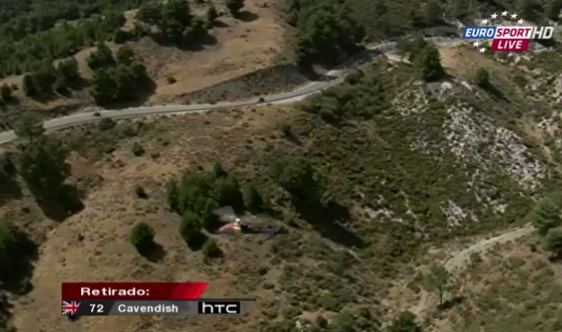 A quick precision on the rules. This afternoon Mark Cavendish has abandoned the Vuelta a Espana this afternoon. With Matthew Goss leaving the race, it's not ideal for the team nor the riders concerned, especially since both want their say in the World Championships in Denmark.
Some fans were asking on Twitter if Cavendish can now do his home event, the Tour of Britain starts soon and it would be an ideal stage race to build for the Worlds. But there's a rule forbidding riders who abandon a race from starting another…
2.6.026 Drop-out A rider dropping out of the race may not compete in any other cycling events for the duration of the stage race that he abandoned, on pain of a 15 day suspension and a fine of CHF 200 to 1,000. For major tours, the event directors and the commissaires panel jointly may, however, grant exceptions at the request of a rider and with the agreement of his team manager.
In other words normally you can't race again if you leave a stage race until the event is over… unless you get permission. Cavendish and Goss would need the permission of the Vuelta race organisers and the UCI.
I don't think this will be a problem, especially if they are both ill. A few days of rest to recover and there's the GP Ouest-France in Plouay, France this Sunday (where Matt Goss got his first big win last year). Indeed if getting the ok to resume racing soon isn't hard, perhaps the biggest problem for Cavendish and Goss is the lack of alternative races. A big stage race is ideal and even the Tour of Britain doesn't start for two and half weeks.