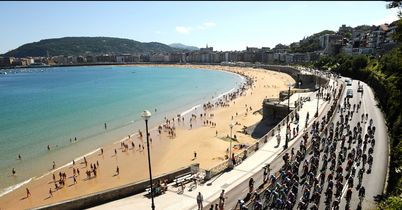 Tomorrow sees the Clasica Ciclista San Sebastian race. It's a good race in one of the heartlands of cycling… yet it's struggling financially with race organiser El Diario Vasco, like many other newspapers, unsure whether to continue with the event. The field sees a mix of Tour de France heroes meet fresher challengers, the course is such that a variety of riders can win.
San Sebastian is a coastal city and the capital of the Gipuzkoa province in the Basque region of Spain. There's plenty of politics here but sidestepping this, the area is one of the most prosperous in Spain thanks to plenty of active manufacturing. You'll find brands like BH, Orbea and Exteondo from the area and of course, Euskaltel. The famous orange-clad cycling team represents the Basque region and this is their home race.
San Sebastian itself is set on two sweeping bays with mountains behind. It's 234km with the Jaizkibel and Arkal each climbed twice in the latter half of the race and as such it's an race of attrition where the field of favourites is whittled down by the climbing involved. It's surely Spain's greatest one day race and is on the UCI World Tour calendar.
But the race has been struggling to make ends meet. Putting on such a big race has its costs, from prize funds to accommodation for teams, to all the logistical expenses involved. Against this there's income from publicity associated with the race and the sale of TV images but I don't know what the deal is here with the TV rights. In big races organisers can command big revenues from broadcasters but for smaller stage races on the Spanish calendar the organiser themselves pays a TV production company to film the event as the TV publicity is a draw for teams and race sponsors.
So a good field, passionate roadside fans, an exciting route and even scenic vistas along the way… yet there's talk of the race coming to an end. Yes Spain is beset with woes after a construction and property booms collapsed, with chronic unemployment and government cutbacks. But all the same, even if the organising newspaper wants to pull out you'd hope others would be interested in promoting this top race.