The cheat's latest weapon: dihydrogen monoxide
Too much doping news at the moment, I'll try to stay away from it a bit. But you can never escape it in the world of cycling and this story is worth mentioning.


The previous day he had given himself a micro-dosage of EPO for the first time in three months. Frei claimed that if he had drank enough water after the injection, the urine test would not have shown the EPO. However, he did not drink the required litre of water even when the controller arrived at six o'clock the next morning.
So writes cyclingnews.com. My jaw dropped to the floor here. One litre of water and you can fool the testers? For all the talk of sophisticated testing procedures, tightening nets and the bio passport, all it takes is a bottle of water and the EPO user gets past?
Detection is key to catching the cheats and if a drink of water is enough to thwart the testers, then surely the whole test needs to be revisited?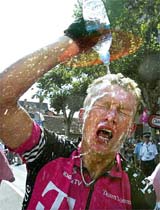 Ah ha?