Sprechen sie Deutsch?
Skil-Shimano will become Project 1t4i in 2012, a holding name until the new sponsor is named. They revealed their kit over the weekend.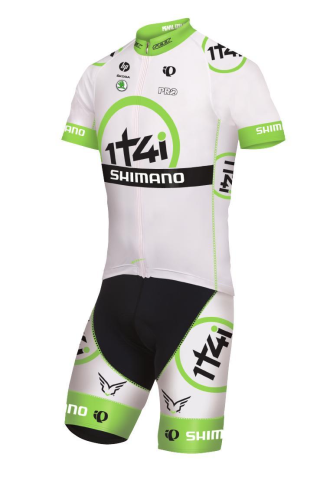 This is worth watching as the squad is trying something new. Once a small Dutch squad, they've got ambitions for more. They aim to create a team based in one place with open access for fans and the media. The new sponsor will be a "European multinational" but its identity is not yet known. But the team's press releases come in four languages: English, French, Dutch… and German.
Rumours say it's likely to be Bosch, the German industrial group that owns the Skil brand amongst others. Speculation aside, Skoda and HP are on board as well as Shimano. Despite Kittel's wins the team probably doesn't have enough points for the top league for 2012 but hopefully this is a long term story.
Chrono des Nations
Sunday saw the Chrono des Nations TT with Tony Martin and Amber Neben winning the men's and women's competitions, giving HTC-Highroad the last win of the season in Europe. That's it for the year as far as European racing is concerned and it's fitting that the Highroad squad won. Much has been made of Mark Cavendish and his sprint train but locomotives like Martin made a big contribution to the wins; it'll be interesting to see who, if anyone, starts chasing a breakaway 50km into a 200km stage of the Giro or Tour.
Second last on the day was Alexander Vinokourov, perhaps not my favourite rider but his comeback from injury is a story in its own right given the severity of his injuries. He had talked of retirement but will continue in 2012, largely because his haul of UCI points is crucial for the team.
Cobo stays
Juan-José Cobo has signed a contract to remain at Geox-TMC, thereby guaranteeing the squad a presence in the World Tour. Geox were very annoyed to discover they'd sponsored a team with a large budget but it would not get automatic entry in the Tour de France and Giro, now this seems assured. Cobo himself is quite a story. Without wanting to skip his time at Saunier Duval and the stories that made the sponsor flee the sport, he seems to have suffered from pressure and even depression. Good seasons were followed by bad ones where he cracked under the weight of expectations and almost left the sport for good, returning to work as an electrician at one point. Perhaps his name is more famous now but this time staying with the same squad could do him some good.
Kern's weak legs
Europcar's Christophe Kern had a storming Dauphiné, winning a mountain stage on his way to sixth place overall. He then won the French time trial championships. We forget it now but he went in to the Tour de France as Europcar's team leader but an injury took him out on Stage 5. It makes you wonder how things might of been if he'd stuck around… but imagine how he feels. Well in an interview with Vélo Magazine he explained how tough it was to cope with the injury, especially as he's had persistent knee problems in his career with one former coach calling him genou d'argile or "clay knee" because his knees kept giving away. But it's not the result of crushing power, he tells Vélo that he struggles to hit 1,000 watts in a sprint. If the number means nothing to you, let's just say you'd back almost any other rider to outsprint him in a two man sprint.
Schleck interview

Japanese TV is sometimes known abroad for its quirkiness. Here's time there's interview with the Schleck brothers from last Friday in the Youtube clip here above. Maybe of it what you will.