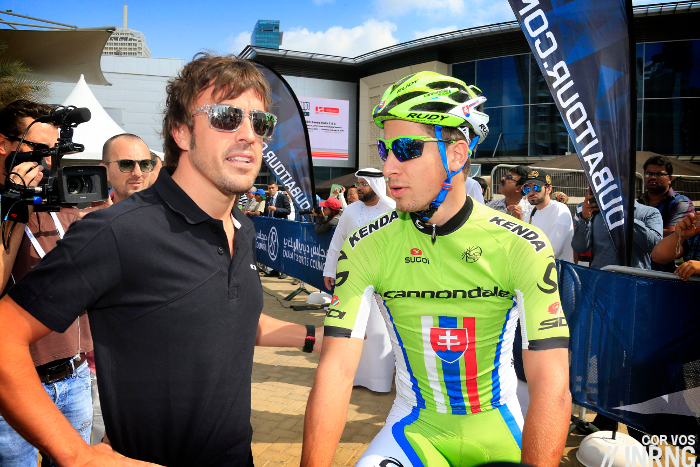 Want to see the future? Well today is the day because it marks three futuristic events: rider transfers, team registrations and hiring stagiaires for the rest of the season.
The meeting above of Fernando Alonso and Peter Sagan seemed to represent the future but six months later things seem to be turning out quite differently.
Transfer Season
There are two types of transfer. First there is a mid-season transfer window from 1-15 August and its rarely used. The main transfer is recruitment from one season to another. The rules say for any change of team between two seasons "the transfer period extends from 1 August to 31 December" and a "UCI ProTeam or licence applicant may only recruit riders during the transfer period. For the purposes of
b this article «recruit» shall be deemed to mean concluding a contract with a rider to ride for the UCI ProTeam or licence applicant's team".
Note the term "concluding a contract". A team can start talking months before and everything but signing the contract can be done before the 1 August. Rider and team can even sign contracts to agree to sign a contract on 1 August. In this sense the 1 August deadline a redundant and restrictive but it does have merit. Take the Belkin team, it risked an exodus if riders could sign elsewhere as soon as Belkin announced it would stop sponsoring. But riders knew they could complete the Tour de France and then think about signing contracts or at least have the chance of a counter-offer from the team. This security applied to the management too, it could tell its new and potential sponsors that all its riders had not signed elsewhere during July.
Just because a rider signs a deal on 1 August doesn't mean it gets announced. It can almost look rude for a team to trumpet new signings while pilfering the roster of other teams. So today only marks the start of the who-is-signing-where season and many big deals might not get announced for months even if the ink is dry as you read this today.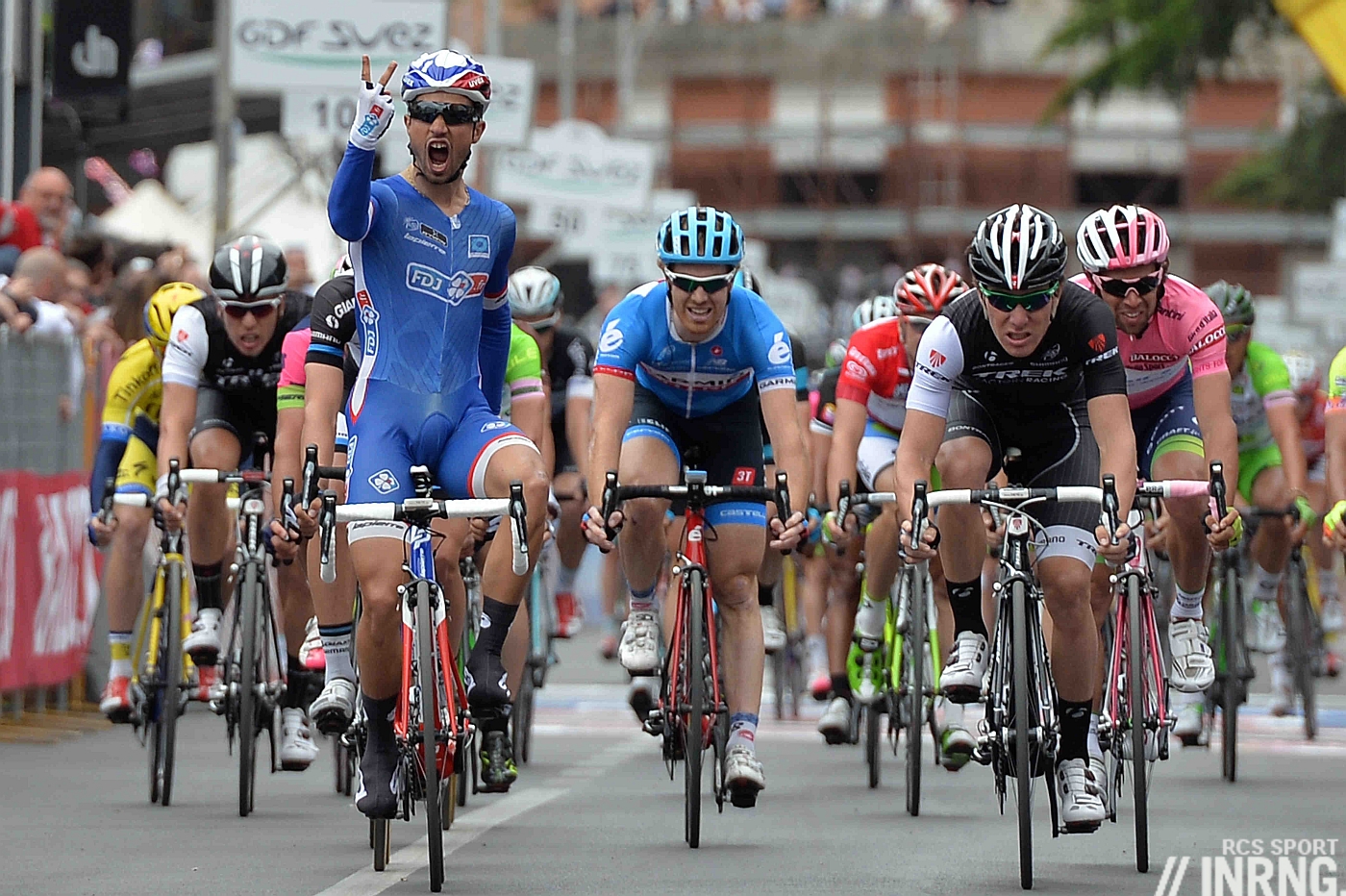 Does the merry-go-round matter? Yes. The gossip and intrigue might seem cheap but it has an economic value. Agents deliberately leak "Rider X is in talks with [big budget team]" to news outlets in order boost their client's profile and contract value.
But more fundamentally because it tells us about future strategies and tactics. Take Cofidis as an example, it's long been known that Nacer Bouhanni is joining. The French Pro Conti team has a budget bigger than some World Tour teams but few results to justify the spend. So it's having a big clear out this year, it's even changing to Orbea bikes. Out go it's three most expensive riders Christophe Le Mevel, Rein Taaramäe and Jérôme Coppel. Or see the story of Peter Sagan, promised to Tinkoff-Saxo for some time but the more interesting story is how he is surrounded by helpers to increase his chances in the classics… but how will this work for next year's Tour de France when the team wants to support Contador. Office politics.
There's also a less reported angle, the tale of riders being benched for months should they decide to go elsewhere. Thor Hushovd was dropped from Garmin's Vuelta team because he was off to BMC, Jacob Fuglsang spent months at home after deciding to leave Radioshack for Astana. Edvald Boasson Hagen and Rohan Dennis for example seem to be having a quiet summer. There's a punitive aspect here, being blocked from doing your job just because you decide to change employer seems harsh but it makes emminent sense for an employer, why invest and support a rider who's leaving?
Team Registration
Today is also the deadline for teams to present their bank guarantee for 2015 as well as sample copies of rider contracts. This is a formality and procedural paperwork ahead of the 1 October deadline for registering… but the relevance of this today is that the mooted Alonso team has to submit paperwork if it's going to start. But returning to the transfer section there's no word on a single recruit so far and the whole project looks dormant.
With Cannondale likely to withdraw it seems the best scenario for the World Tour is 17 teams chasing 18 places. In other words there's no stress about relegation and riders with points cannot cash in as much as they could have done because teams don't need to buy points to stay in the top-18. Some of the sharpest recruitment seems to be taking place at the Pro Conti level where MTN-Qhubeka, Cofidis, IAM Cycling and NetApp-Endura/Team Bora-Argon 18 are all looking to boost their teams knowing wild card invitations to the top races await without the paperwork and cost of a World Tour licence.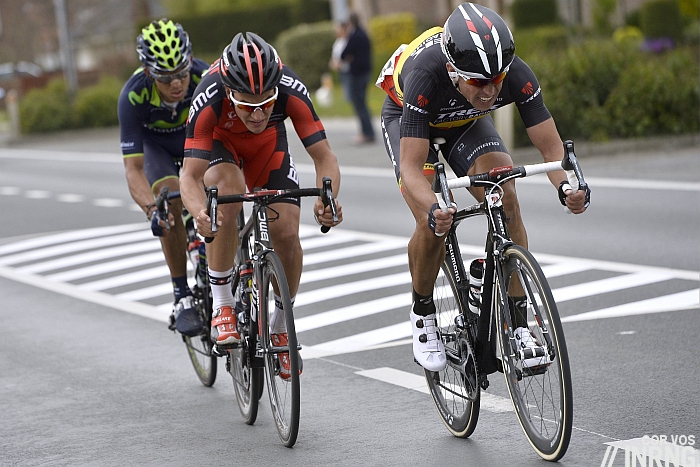 Stagiaire season
Now for the third element. Stagiaire is French for intern. Just as cycling borrows many French words, the term stagiaire seems to be used beyond France to describe amateur riders given a chance to join a pro team from now until the end of the season. Like any internship in an office or factory this is the chance to evaluate a prospective employee at work and up close. They might have a good CV packed with results as well as other attributes like good lab data or these days power numbers but what are they like to room with?
Silvan Dillier is the recent example to follow. Invited to join BMC Racing last year he won a stage of the Tour of Alberta as a stagiaire, an early sign he had what it takes. Fast forward a few months and he was a force in the spring classics. He was sixth overall in the Three Days of De Panne and maybe more visible as accomplice of Stijn Devolder in a Gent-Wevelgem breakaway. But the Swiss rider's the exception.
The stagiaire route is less essential than it once was. Talent detection still continues but riders are followed more closely for longer and many if not all teams have development teams and feeder squads and other versions of this. Often the question of personality is already known to some extent because many riders come from development squads linked to pro teams. But it's one thing being a big fish in the pond another being small fry on a pro team. Not all internships work out, in fact it's striking that the majority don't bring a pro contract. But the lack of a pro contract isn't failure. Some teams will take on three riders knowing only one or two will turn pro but they get some extra riders cheaply to help fill the end of season races. When half of the squad is longing to go on holiday these young riders are way more motivated. The rules don't say it has to be an amateur, it can include a UCI Continental pro (the third tier) and the recruits are limited to riding UCI continental races, for example the Europe or America tour events and so cannot take part in World Tour races.
Conclusion
Today sees some of the plans for 2015 go public, a glimpse into the future of cycling teams. There's gossip but some of it has a point, for example the fact that nobody is talking about Team Alonso suggests the plans are dormant.
If the transfer window opens today think of it more as the blinds being opened so you can get a glimpse inside of what happens, many contracts will be signed but only a few get announced. Meanwhile some teams have more long term plans and already some riders starting talks with teams for 2016.