Think of a crash in a bike race and it's easy to imagine leg injuries given the sport is associated with the leg muscles and the exposed skin. But when it comes to broken bones, it seems riders seem to break and fracture their collarbones all the time.
Off the top of my head, from men's pro cycling Fabian Cancellara, David Millar, Filippo Pozzato, Sebastian Langeveld, Wouter Mol, Carlos Quintero have done it this season, and there must be several more. Even the UCI's Alain Rumpf  too. Get well soon.
Here's a quick look at this bone which turns out to be unique.
Description
The clavicle is the formal medical name, from clavicula in Latin meaning "small key". You might see it in other languages as the sleutelbeen in Dutch, again "key bone" or clavicule and clavicola in French and Italian.
The bone itself is horizontal on your shoulder, from the front of the next out towards the top of your shoulder. You have one on each side and you can feel it. It's job is to act as a support for your arm, to help hold the arm in place when the shoulder moves. A support strut if you like.
It's also special in several ways according to Wikipedia:
The clavicle is the first bone to begin the process of ossification (laying down of minerals onto a preformed matrix) during development of the embryo.
It is one of the last bones to finish ossification at about 21–25 years of age.
Even though it is classified as a long bone, normally the clavicle has no bone marrow cavity like other long bones.
The most commonly broken bone is the clavicle, accounting for 5% of all fractures seen in hospital emergency admissions
Why do cyclists break their collarbones?
Breaks and fractures occur when there's a sudden force to the bone and a bike crash is an almost perfect example. When you go done there's a tendency to break the fall by putting your arm out. If you haven't done it yourself you've probably seen the TV slow-motion of a rider with the arm outstretched about to confront the tarmac. But the arm just sends the force of the impact up your arm to the collarbone. Snap.
Similarly if you don't deliberately put the arm out then you can land on the elbow and crack the bone too.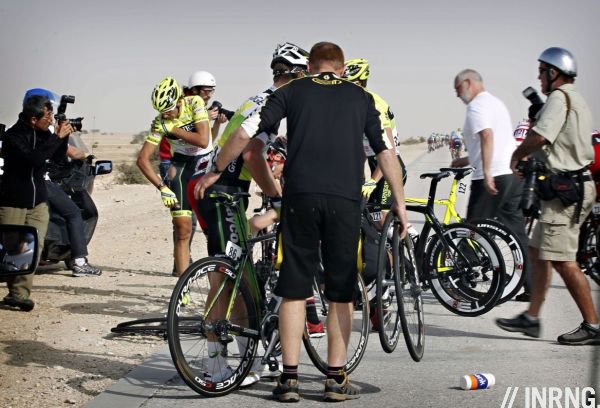 TV diagnosis
X-ray is the normal diagnosis but the radiowaves of TV offer a cheap alternative. If you watch a race on TV and see a rider go down and then get up, only to start holding their arm in a bid to take the weight of it then chances are the collarbone is in trouble. Just look at the picture above and the rider – Pozzato – is grabbing his arm and shoulder. The injury will swell and there's local pain. Normally a sling is given. If you leave the race, don't try to carry your suitcase.
Prognosis
All sorts of breaks and fractures can occur. If there's no displacement, meaning the bone is fractured but still in the right place then typically surgery isn't performed. If the bone is broken and in pieces – like Cancellara's X-ray above – then surgery puts things in place. In Cancellara's case he got an "intramedullary fixation device" which is a fancy word for a pin that's like a kebab skewer on which the broken pieces were slotted back together. If you want more on the surgery and process, see the cyclingtips blog for a useful explainer.
Recovery is one of those "piece of string" responses, it is very dependent on the injury and the medical support too. For a normal break it means four weeks off the bike and then a gradual return. But often healthy athletes recover faster and some can resume work on an indoor trainer within a few days. The most extreme example of recovery must go to Pozzato who broke his bone during the Tour of Qatar in February (pictured clutching his shoulder above). He tells his tale in a good interview with Daniel Freibe on cyclingnews.com:
"The doctor told me to stay off the bike for a month, to give the bone time to calcify. The problem was that I couldn't do anything for 40 days. I got angry with the doctor. I came back from Qatar on the Friday night, went into hospital on Saturday morning and told him to operate straight away. He said that was impossible, that I had to wait for 10 hours. I told him that I couldn't wait ten hours, that I needed to be aback on my bike in three days and racing at the weekend. He asked me whether I was mad. My girlfriend said I was mad, too, but it was such a crucial point of the season. Even [Farnese Vini-Selle Italia directeur sportif Luca] Scinto didn't want me to race. I said that I'd put my balls on the line and I wanted to give this everything. I told him that this was my decision. I didn't want to lose anything, even psychologically – you know that after a week off the bike you start to lose your condition. In the end I was back on the bike after four days. I think I made the right decision."
Pozzato has every right to claim the right decision given his second place in the recent Tour of Flanders. But I suspect elements of the medical profession will be horrified by his attitude, it worked this time but he could just as easily have got problems.
However some can ride with a broken collarbone. Tyler Hamilton rode the 2003 Tour de France with a fractured collarbone and a lot of pain. Thanks to taping and bravery he stayed in the race. The year before that he'd broken his shoulder yet carried on in the Giro d'Italia, gritting his teeth so hard that he needed dental work once the race was over.
Fiorenzo Magni was a champion cyclist with three wins in the Giro and three in the Tour of Flanders too but he's also remembered for breaking his collarbone and being unable to hold the bars properly, so his mechanics tied some rubber tubing to the handlebars for him to bite on for a time trial stage. Unorthodox and sadly he crashed again and broke his arm.
Wrist next
After the collarbone, the wrist is next for the cyclist as it too takes the impact on a crash. Carlos Barredo and Yukiya Arashiro are two out of action with this injury today.
Summary
Surprisingly the most frequently broken bone for everyone, it's also very common for cyclists as they're likely to land on their arms in a fall. From a small hairline fracture to the Cancellara bone wreck X-ray above, the pain and recovery period can vary. The next time you see someone clutching their arm after a crash in a race, chances are its the collarbone that's gone.