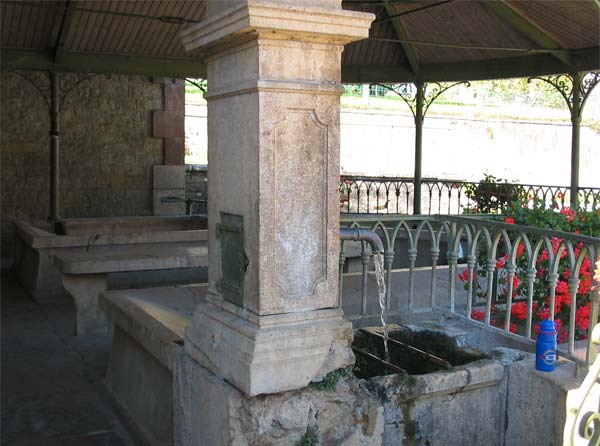 Eau yeah!
Evian, Perrier, Vittel, Volvic: France is famous for its mineral waters. Once sold as a tonic in pharmacies, bottled water has become a worldwide consumer phenomenon. At first gracing the tables of wealthier types in Europe and North America, today it is also a ready source of clean drinking water in the developing world.
But it's not always corporate property. One of the pleasant aspects of cycling in France, as well as other mountainous areas like Switzerland and Italy, is the abundance of spring water gushing from fountains. It's free, tastes great and sometimes almost too cold to drink. You can visit the town of Evian at the northern end of the Alps and top up your water bottle for free but practically every village and town in the Alps has fountain somewhere.
Safe to drink?
Sometimes this is signalled, you will see a plaque saying eau potable which means it is drinkable, as opposed to eau non potable which it is suggested you avoid. But be sensible here, if the water looks crystal clear and you are shrivelling up on a hot day in the mountains then a bottle won't do you much harm, often the water hasn't been tested by sanitary authorities or it's borderline. Or at least use the water to spray on you in order to keep cool.
Often a fountain is in part of a lavoir, a place for washing with a large trough of water and sloping walls so that in times past people could scrub their clothes clean. As pictured above the place has a roof, meaning shade on a hot day. It makes an ideal place to stop for a minute, to eat and drink. Combined with the bakeries mentioned the other day, you can ride all day in even the most rural areas of France.
Bottled water
Fountains aside you can buy water. Most are normal tasting but a few are heavily mineralised with a sour taste.
Waters like Vichy can be found in supermarkets but the high mineral content is useful on a hot day. The slightly salty taste can be diluted with a bit of fruit juice and this is a useful way to replenish not just lost water but lost salt.
This is part of a series on European foods with links to cycling or simply for fuel:
Part I: Nutella
Part II: Pâte de fruits
Part III: Stroopwafels
Part IV: Coffee
Part V: Frites
Part VI: Pasta
Part VII: French Bakeries
Part VIII: Water
Part IX: Sirop
Part X: Pharmaceuticals
Part XI: Summary
Part XII: Esta Thé
Part XIII: Grated carrots
Part XIV: Speculoos
Part XV: Belgian beer
Part XVI: Oman Coffee
Part XVI: Italian Ice-cream