The Giro needs a rest after a busy opening week with many stages that have seen the script ripped up. Climbers went backwards on mountaintop finishes and took time in time trials. It's been a week of skirmishing with riders battling for seconds. The race is heading to the Alps this week and the promise of real battles among the top riders. So far so good.
Tom Dumoulin had a dream opening week after a nightmare start to the year. All those second place finishes might have had him and his team managers waking up in the middle of the night in cold sweats but they're sleeping like babies. The first stage and the maglia rosa for much of the first week, finally he won a time trial after being beaten so many times this season. With success came questions, could he win the race overall? No he said, he'd not trained for this, it wasn't a goal but this didn't stop some thinking he may still try. But he was taken apart at the Vuelta, doesn't have a team built to help him in the mountains here and the Giro's mountainous stages dwarf anything the Vuelta offered so everything pointed to him being honest. A saddle sore has worsened his chances further. It's a constant refrain in cycling, as soon as rider triumphs in one domain questions ask whether they can tackle a new challenge. Win the opening week and it's not enough: can you win the Giro? Win two bunch sprints but can you get the red points jersey? It's understandable but leaves little time to dwell on the moment, the joy of victory.
Sometimes this tendency to project is cultivated by riders and their entourage. Days after Marcel Kittel took two stage wins, wore the pink and red jerseys and was splashed on the front pages he's quit, perhaps the fastest resignation from leadership the Italian peninsula has seen since Cincinnatus in 458 BC. The German sprinter fled with talk of preparing for upcoming races, his eye on the Tour de France and Worlds rather than this week's upcoming sprint finishes.
André Greipel has proved equally successful, if not the more versatile with with two stage wins on differing terrain. Tim Wellens took a big win too. It all marked a great week for the four Dutch and Belgian teams who have taken eight of the nine stages so far. The other among the nine was Diego Ulissi win for Lampre-Merida in Praia a Mare.
Primož Roglič has to be the revelation of the opening week and perhaps 2016. The Slovenian was fractions of a second from winning in Apeldoorn and won yesterday's Chianti time trial stage. It was a shock, this was not Primož inter pares but a result skewed by rain which rendered the course treacherous for late starters. The Giro has seen many roads resurfaced in time for the race only the new black robe can be incredibly slippery. Fortunately sending riders off in reverse GC order means those riders in contention for the maglia rosa are grouped and had to contend with similar conditions. The big names lost minutes to Roglič but seconds among each other. Here is a chart showing the gains and losses relative to Vincenzo Nibali arranged by their position on GC.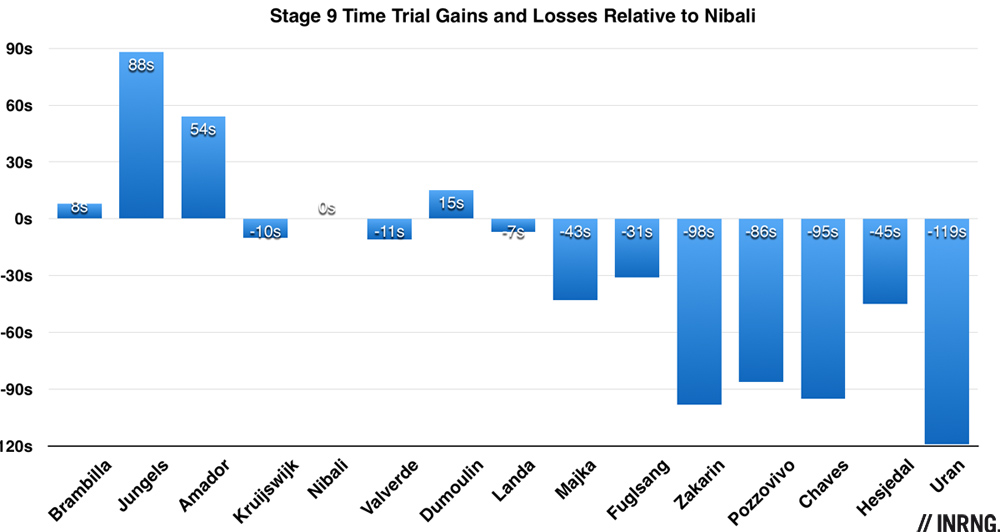 Roglič may have won the stage but Jungels and Amador took time and Landa saved the day. Ilnur Zakarin fell off and fell apart, tipped to lead the race he toppled down to 11th overall. Rigoberto Urán had an even worse time, crashing and losing even more time.
Nibali is still central to the race but doubts over his form, first raised at the Giro del Trentino, persist. These doubts were crystallised at Roccaraso where Nibali was more basking shark than Jaws. But there's no point extrapolating too far, Dumoulin beat Nibali on a gentle slope into a headwind, just the kind of place where you'd imagine a beefy rider to sock it to a climber, this wasn't much of a test of power to weight. His time trial performance was acceptable and even good, more so if you consider he was in tears before and after the stage after learning of the death of a 14 year old boy, crushed by a truck while out riding. Rosario Cost rode for the juvenile team in Messina, Sicily that's backed by Nibali. The seconds gained and lost here and there are small but enough to reveal fault lines within Astana, a team riven with tensions. The two captains are Vincenzo Nibali and Jacob Fuglsang but they're going in separate directions, Nibali is set to leave while the Dane is staying put. Sometimes the moment a rider signals they're leaving they're persona non grata – this happened to Fuglsang at Radioshack – but a Nibali win would be big for Astana, a triumph to suit everyone. Yet there are still split loyalties among riders and staff alike. The problems spread to the team car where Guiseppe Martinelli was defenestrated last winter only he is still in the lead car calling the shots over race radio. The team's ambitions for two riders on the podium looks improbable given the crowd of riders still in contention.
Movistar have two leaders in Andrey Amador and Alejandro Valverde but there's none of the workplace politics that's so evident at Astana. Amador leads on time but the team has been built around Valverde and the team can play both cards.
Steven Kruijswijk is having an excellent Giro too. If the first rule of stage racing is not to lose time he's played things just right and almost gone under the radar while Roglič took his stage win. But it's hard to imagine the maglia rosa hanging on his coathanger shoulders, a scary prospect for Gazzetta journalists struggling to spell a name so devoid of vowels. He'd have to launch a big mountain attack and distance everyone.
One person you can see on the rampage in the mountains is Mikel Landa. By now he was supposed to be playing catch-up having lost ground in the time trial. In fact he gained two places overall in the time trial and is less than a minute down on Andrey Amador and seconds behind Nibali and Valverde and with a comfortable lead on the likes of Rafał Majka, Esteban Chaves and Domenico Pozzovivo. As the Alps approach he's and Team Sky are in an ideal position, not so far near the top as to assume responsibility for the race, something their weakened team could struggle with.
Among the other GC contenders things are not yet over for Ilnur Zakarin. The Stork of Tatarstan lost minutes in the time trial but his climbing form has been excellent and if his injuries are superficial then he could fly back and take a podium spot. It's his his tenacity over three weeks that remains unknown.
What of Gianluca Brambilla? A stage win and a spell in the maglia rosa are a dream come true for the Italian but now questions turn to how long he can stay in the lead. Can he win the race? It's not such a wild question, he is a good climber and word is that he's got ambitions on the podium. He's been 13th overall in the race before so a top-10 seems eminently possible.
At the smaller end Nippo-Vini Fantini have been doing their best to enliven the race and get Damiano Cunego in the mountains jersey to the point of annoying the big teams, an exasperatedTom Dumoulin said he'd push Cunego into to the breakaway if it meant he'd go clear. The larger squads talk about "respect", as if these small teams and their efforts are like mosquitoes whose tiresome buzzing must be swatted away. The Giro's ecosystem needs these teams, without Nippo-Vini Fantini and Wilier Southeast the race could be a procession. It wasn't long ago that Giant-Alpecin was begging for wildcards under the Skil-Shimano name and had to resort to identical tactics too. For insight into the struggles you don't see on TV Genki Yamamoto is doing a diary every day in Japanese and his detailed accounts show the efforts involved just to set up his team mates for the breakaway.
DNS
If the small teams are battling for meagre results several riders have bailed already. Marcel Kittel flies home with a suitcase full of jerseys and wolverine soft toys; race director Mauro Vegni will have been delighted with the telegenic, articulate German's first week but less so with his exit. Normally you'd expect the sprinters to stay another week; surely Caleb Ewan's going to stop this time next week. Another abandon was Fabian Cancellara, as predicted here last week given he's got a business appointment next weekend. The Giro might be the second biggest race but the gulf with the Tour de France is evident here, few bail in July if they have a chance of making to the Champs Elysées. We can see this in other ways: prodigiously wealthy teams like BMC Racing are reduced to sending novices and B-list riders and the Giro's hotels can be mediocre mouldy ceilings and bunk beds but nobody cares yet it'd be a Twitter outrage in July.
What's next?
Talking of sleep cult directeur sportif Antonin Magne once said you win the Tour de France in your sleep, a nod to the importance of rest and recovery. By contrast you win the Giro by being awake, many stages offer the chance for an ambush or a surprise, the terrain of Italy and the Giro offers more than France. Tuesday sees a mid-mountain stage that could prove tricky, Wednesday and Thursday are for the sprinters and then Friday, Saturday and Sunday promise to be massive days with the Friuli stage, the mighty Dolomites and then the uphill time trial to finish off the week.