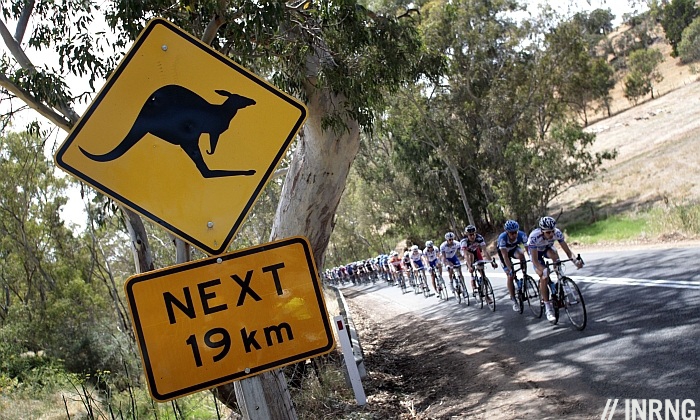 The World Tour gets underway with the Tour Down Under. After the pre-race criterium and photo ops with local wildlife the race begins on Tuesday and this year's route features the regular haunts as well as an intriguing finish to Uraidla just over the long climb to Norton Summit.
Stage 1 – 145km – Finish: 2.41pm (5.14 CET / 11.11pm EST)
A ride out of Adelaide towards Lyndoch where the bunch crosses the finish line and does three circuits. It's gently downhill to the line and a long straight line and a sprint finish is likely.
Stage 2 – 148.6km – Finish: 3.11pm (5.41 CET / 11.41 EST)
The race leaves the Adelaide suburbs to lap around Stirling. The finish is familiar and knowledge counts here, it's an uphill run to the line with an awkward approach that rises and falls. Timing matters here, go too early and you can be swamped and dropped. In recent years Diego Ulissi has won here and placed second, Juan-José Lobato and Jay McCarthy have won too so it's for a punchy sprinter and we'll soon see if Peter Sagan's form can stretch from a criterium win on Sunday to this. It's a vital finish for those hoping to win the race overall too as the time bonuses help while anyone sat on the wrong wheel could see a gap open up in front of them and the time losses quickly add up.
Stage 3 – 146.5km – Finish: 2.53pm (5.23 CET / 11.23 EST)
Another regular location, Victor Harbor has often rewarded sprinters and should again. In recent years they've added some climbing before the finish but this time the approach is flatter. The wind is the potential obstacle here, the race has split on the coastline here before.
Stage 4 – 128.2km – Finish: 2.00pm (5.00 CET / 10.30 EST)
It's not a summit finish, instead the big climb to Norton Summit could be even more interesting as it is chased by a flat portion across the top and then a downhill run to the finish. The climb itself is not steep, just 5.5km at 5% average but it's not wide and once any gaps appear in the peloton they'll be hard to close and then comes a tricky finish where riders will be sprinting for the stage win and precious time bonuses.
Stage 5 – 151.5km – Finish: 2.58pm (5.28 CET / 11.28 EST)
The crucial stage of the race with Old Willunga Hill. The race tours the vineyards and the coast at Aldinga, a circuit that's repeated again and again. After 120km the circuits end and the race turns to the hills. Old Willunga Hill is the key moment with 3km at an average if 7.5%, a steady gradient and a wide road most of the way. Vineyards conjure up sybaritic images of wine-tasting but the racing cyclist knows otherwise, the low vegetation means exposed terrain where a small breeze can be enough to split things up.
Normally this will determine the overall classification and the main contenders will set the pace on the first climb before giving everything on the final climb. It's a tactical finish, being on the right wheel matters as the speed is so high, the idea is to ride the slipstream of your rival and then strike out as late as possible but before everyone else.
Stage 6 – 90km – Finish: 3.30pm (6.00 CET / midnight EST)
The traditional curtain-closer criterium with 20 laps of the 4.5km circuit with two intermediate sprints along the way. There's the last chance for a sprinter and because the race can be so close the intermediate sprints and finish line can still decide the overall result, if not the winner then the top-10.
Time Bonuses: 10-6-4 seconds on the finish line every day and 3-2-1 at intermediate sprints
The Contenders: Richie Porte has won on Willunga every year since 2014, an impressive run and he's got the routine perfected, right down to attacking in a preferred place. It makes him the obvious pick but he's only won the race once overall, he's a punchy climber and as much has he can gap everyone on Willunga he's been undone by the time bonuses on other stages. This year he was third in the Australian time trial championships and 1m44 off Rohan Dennis, a substantial time gap which makes you wonder if Dennis is going to be climbing quicker up Willunga too. BMC Racing bring new recruit Simon Gerrans too, a past winner and this time as a road captain.
All eyes will be on Peter Sagan but Bora-Hansgrohe bring sprinter Sam Bennett who is trying to get over a cold while Jay McCarthy and Peter Kennaugh make a good tandem for GC as both are punchy riders for these short climbs and can finish fast to take the time bonuses.
Similarly Michelton-Scott will be delighted to repeat last year's four stage wins with Caleb Ewan in the sprints, he'll be fuming after losing out in Sunday's criterium and that's no bad thing for his chances. But new hire Cameron Meyer is worth watching, the mellifluous track rider is versatile and what is the Tour Down Under but a hilly points race?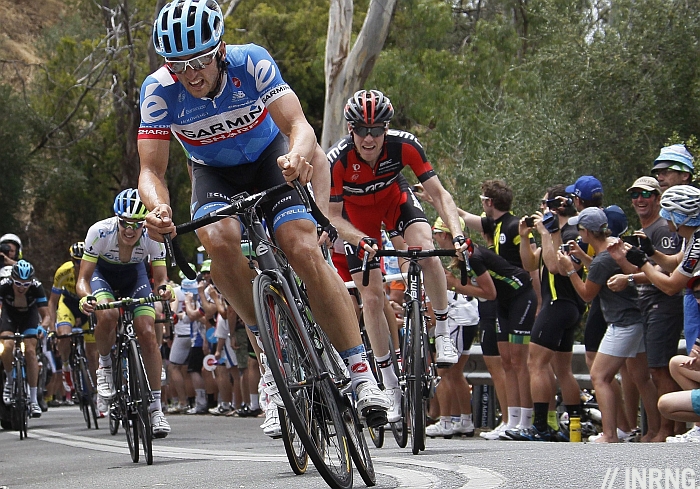 Nathan Haas has thrived in his home race and has everything on paper to win because he can climb, he can sprint for time bonuses and he's an Aussie. Not that nationality confers anything, just that he's spent the Euro winter training on warm roads and he's habitually been good in this race. Now with Katusha his problem has been being too visible in the penultimate phase of race rather than popping up to snipe the win but with confidence gained from big results like last year's 4th place Amstel Gold Race he can afford to wait.
UAE-Emirates bring Diego Ulissi who has long thrived in this race with stage wins and placings and he's a wily finisher for those time bonuses and given the way sport can serve things it'd be ironic if the rider suspended for salbutamol in the past popped up for the win. Meanwhile team mate Rui Costa ought to be suited to this course but as ever he's a rare winner. Bahrain-Merida's Ion Izagirre climbs well and it's hard to see him winning but easy to imagine a comfortable top-10 for the Basque.
Finally some more names in rapid fire. Remember Tom-Jelte Slagter? He won this race in 2013, took two stages of Paris-Nice in 2014 and gradually faded from the radar but he's still good for this race if Dimension Data's new man can rediscover the good old legs. Lotto-Jumbo's George Bennett has gone up in stature since winning the Tour of California and hanging in the top-10 overall in the Tour de France during the Pyrenees last summer. Sky's new recruit Egan Bernal is Colombian, has won the Tour de l'Avenir but is not the sterotype climber, he's good on a course like this too. Movistar often place a rider on GC and Ruben Fernandez and Marc Soler look like their best picks but form is unknown. Astana bring old and new with L-L Sanchez and Michael Valgren as their best bids. EF-Drapac's Brendan Canty climbs well but placing would be a result, let alone winning. Ag2r La Mondiale have won this race before, albeit in 2003 and one long range outsider is Pierre Latour who probably isn't in top form but Brigitte and Bernadette are suited to the "power" climbs in the race.
| | |
| --- | --- |
| | – |
| | Richie Porte |
| | Nathan Haas, Rohan Dennis |
| | Jay McCarthy, Ion Izagirre, Diego Ulissi, Cam Meyer |
| | Bernal, Gerrans, Slagter, Valgren, Canty, Soler, Fernandez |
Commentary: want to beat Richie Porte? Good luck, he's got a very strong team with two past winners and it'll be interesting to see how Dennis rides. Everyone else will have to rush for the time bonuses and the intermediate sprints matter as do the stages, especially Stage 3 in Stirling and Stage 4 over Norton Summit where race craft can shape the race ahead of the more straightforward power-to-weight ratio test up Willunga on Stage 5. With luck the race will still be in play on the final stage to ensure action all the way to the end.
Sprints… Meanwhile Caleb Ewan won't have it so easy in the sprints. He took four stage wins last year but this year's route alone makes that very hard given the return of the hilly Stirling circuit. Besides he lost out on Sunday so look to André Greipel, Elia Viviani and the team mates Peter Sagan and Sam Bennett to try and win the first stage win for a non-Australian since Wouter Wippert's triumph in 2015. A year ago Sagan was working for Bennett but with the Irishman being ill in recent days Sagan has been the leader.
TV: it's on Channel 9 in Australia. Until now they had a free stream but this year it is geo-restricted and for registered users, a hurdle but not insurmountable for those with a VPN account. It's also on the TourTracker app. Otherwise the race website has a list of broadcasters around the world with the TV rights.
That's the how and you'll find the when listed above stage-by-stage and US readers can enjoy live action in the evening. To add to this the action happens late in the race, for many readers in Europe it is quite possible to set your alarm clock for 30 minutes before the scheduled finish, check where the race is and if necessary, snooze more or rise and catch the final 10 minutes of each stage and you'll rarely miss anything, with the exception of Stages 4 and 5 which are worth watching for slightly longer.