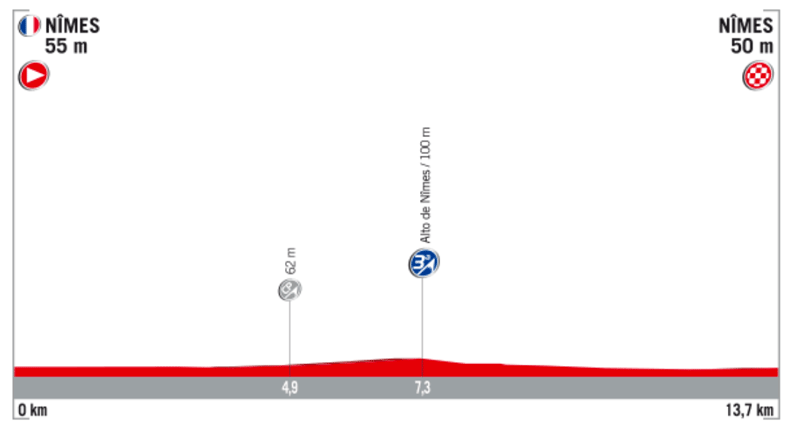 The Vuelta starts in France, in Nimes which is one of those cities where in the untranslatable lyrics of Claude Nougaro "l'Espagne pousse un peu sa corne". As for the racing this is a challenging technical course that passes all the cities postcard monuments.
The Route: 13.7km and 20 corners meaning it's hard for teams to hit top speed for long, this is course that reward cohesion and cornering rather than straight speed. There is a climb. It's not much and this only makes it harder, a long steady mountain pass would be much easier to distribute the effort on. Here the irregular climb is chased by a faster descent with some tight corners before the course opens up for the fastest sections. See the video by GCN if you want more.
The Contenders: BMC Racing seem to be everyone's pick. You can see why, they're experienced at this and Rohan Dennis is worth two riders. But "they" collectively include some riders with a lot less experience like late call-up Loic Vliegen.
Quick Step have a very strong team, what they lack in the pure power they make up for in acceleration and skills but we'll see how homogenous they are.
Team Sky bring a very strong squad where their domestiques like Gianni Moscon and Ian Stannard are powerhouses.
Beyond this trio it's hard to see a winner. Team Sunweb look good, Astana are strong collectively and Katusha could do well and FDJ are handy in the TTT these days but lack some of their bigger engines… but can they beat the three named above? Unlikely. Orica-Scott used to excel in this event but bring a collection of climbers.
| | |
| --- | --- |
| | BMC Racing, Team Sky |
| | Quick Step |
| | Team Sunweb, Astana |
Weather: hot, sunny and a top temperature of 34°C with a stiff breeze coming in from the north which could gust to 50mkm/h.
TV: It's on La1 in Spain and Eurosport around much of the world and often on the same broadcaster you watch the Tour de France on. There's live coverage of all teams with the first squad off at 5.30pm CEST with the final team set to arrive at 7.10pm CEST.
Daily Díaz: Mesdames et messieurs, soyez les bienvenues et bienvenus! For the third time ever, la Vuelta will depart from outside Spain. Nîmes is about 240 km away from the Spanish border (that's shorter than Milano-Sanremo or Amstel Gold Race), so no air transfers will be needed. What to say about the city? Choose the usual clichés (bullfighting in the Roman amphitheatre, Denim fabric of blue jeans, the amazing Maison Carrée, the spectacular Pont du Gard), or take a look at the local coat of arms: a crocodile chained to a palm tree, as a symbol of the African kingdom's conquest by the Roman legions (veterans from those wars were given lands in the Nîmes area).
Thanks to cycling podcaster and history teacher Manuel Pérez Díaz for the local cultural guides. You can follow him on Twitter as perezdiazmanuel